Compared to the fixed wing UAVs, it is much simpler for rotary systems to operate from the ships deck. This has led to the development of naval rotary UAVs (NRUAVs) who can perform all the maritime UAV missions with the addition of search and rescue but without the problems of landing and take off by fixed wing UAVs.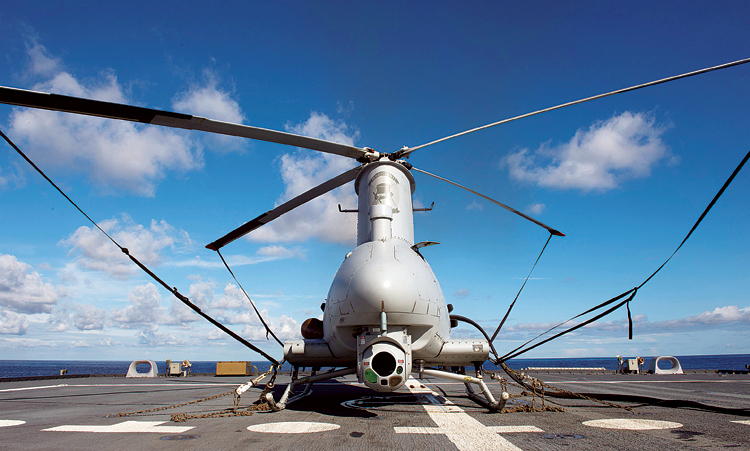 MQ-8B Fire Scout
The development of UAVs is literally undergoing a revolution to carry out all types of military and civilian requirements spanning a range of roles from Intelligence, Reconnaissance and Surveillance (ISR) to logistic support and armed systems. Major developments have taken place in fixed wing UAVs which operate from land. Some of these have undergone specific modifications to operate from ships. The modifications involve special arrangement for take- off and landing; material to protect the system from humid maritime conditions and sensors specially suited for operating effectively in the sea environment. Compared to the fixed wing UAVs, it is much simpler for rotary systems to operate from the ships deck. This has led to the development of naval rotary UAVs (NRUAVs) who can perform all the maritime UAV missions with the addition of search and rescue but without the problems of landing and take off by fixed wing UAVs. They can easily operate from land thus diversifying their role. NRUAV can provide 'Over the Horizon' surveillance which extends the reach of the 'eyes' of the mother ship by day and night. It is more pragmatic to develop a NRUAV from a existing proven helicopter platform than to develop a new platform. It will cost less, will be more reliable as it is already in service, short time for conversion into a rotary UAV and there will no requirement for stringent checking by the local aviation authorities.
Role of NRUAV. Possible roles of NRUAV are:
ISR including identification.
Targeting information, target designation and real time battle damage assessment.
Support littoral warfare and provide coastal surveillance.
Protects the country's interest in the Exclusive Economic Zone (EEZ).
Ideally suitable for supporting Search and Rescue (S&R) operations.
Human Assistance and Disaster Relief (HADR).
The surface/ground control stations can be networked to synergise all the NRUAV and other resources of the fleet to produce a common operational picture (COP).
Can provide real-time persistence surveillance and integrated with manned maritime patrol aircraft.
Provide information on Mine countermeasures, hydrography and meteorology.
Some developments in NRUAV globally are given in succeeding paragraphs.
Boeing
S-100 CAMCOPTER Variant. S-100 CAMCOPTER variant has been produced in partnership with Schiebel Industries and is ideally suited for expeditionary strike group of the US Navy. It has a short reaction time of 15 minutes for deployment , needs less space and is highly flexible as it can operate from ship and ashore. It can carry out ISR and resupply missions. It has autonomous navigation via pre-programmed GPS waypoints or can be operated directly with a pilot control unit; can operate both by day and night with operating from the ship up to sea state 5 and can simultaneously carry a wide variety of payloads, including a stabilized electro-optical/infrared sensor for day and night ISR collection and dissemination.
Northrop Grumman
Fire Scout. Fire Scout is a combat proven, autonomous helicopter system that provides real-time ISR and Target-acquisition (ISR&T), laser designation, to battle management users without relying on manned aircraft or space-based assets. Fire Scout has the ability operate from any air-capable ship or land base in support persistent ISR&T requirements. The current versions are:
MQ-8B Fire Scout. It provides very good situational awareness and precision targeting support for the US Navy. The MQ-8B Fire Scout has the ability to autonomously take off and land from any suitably-equipped air-capable warship and at unprepared landing zones. No pilot is required for launch and recovery.
The MQ-8B advanced control stations incorporate the US Navy's Tactical Control System (TCS), Tactical Common Data Link (TCDL), and robust communications. Its modular construction for payloads allows continuous up-gradation. It has a speed of 85 knots, Range/Endurance is 596 nmi/7.75 hrs, baseline payload is 300 lbs, typical payload is 50 lbs, its sensor payloads are EO/IR/LRF/Mine Detector/Communication Relay/Maritime Radar/Automatic Identification System (AIS). MQ-8B Fire Scout has also been deployed in Afghanistan to support counter- improvised explosive device (IED) operations. This system has completed more than 16,600 flight hours over 6,200 sorties. The US Navy has integrated a multi-mode maritime radar on MQ-8B and tested an onboard its weapons capability with the Advanced Precision Kill Weapon System (APKWS). The MQ-8B Fire Scout has also demonstrated the ability to operate concurrently with other manned aircraft while operating at-sea.
The MQ-8C Fire Scout. This is US Navy's next generation autonomous helicopter which combines the best of two proven air systems. It incorporates the acquisition architecture of the US Navy's MQ-8B Fire Scout, and the extended range, payload and cargo hauling capabilities of the Bell 407 helicopter. The MQ-8C Fire Scout is a fully autonomous, four-blade, single-engine unmanned helicopter. It has a speed of 135 knots (maximum), endurance of 1,227 nmi/12 hrs , Payload (internal) 500 lbs, Typical Payload and Maximum Sling Load of 2,650 lbs (Bell 407 feature). It carries EO/IR/LRF/Communication Relay/AIS/Maritime Radar (future) and COBRA Mine Detector (future). Configuration for carrying multiple payloads is available. The FAA-certified Bell 407 helicopter is a proven platform widely used with more than 1,100 Bell 407 helicopters in service with 4 million accumulated flight hours.
Naval Group and Airbus Helicopters consortium for joint design of French NRUAV
The French defense procurement agency DGA, has awarded the Naval Group and Airbus Helicopters consortium a contract to develop a NRUAV demonstrator for the French Navy. The purpose of the contract is to identify, deploy and test the technologies necessary for the integration of a tactical drone-system on a warship. It forms part of the preparation of the SDAM (Navy Airborne Drone System), whose entry into service is foreseen by the middle of the next decade. Other French defense technology companies including Hélicoptères Guimbal, Safran, Thales and ONERA, will be principal subcontractors on the project. This 700-kg VSR 700 drone is derived from a light civilian helicopter, the Cabri G2, testing of which has already started. The VSR700 can exceed 10 flight hours of endurance and has a payload capacity of up to 150 kg. Airbus Helicopters will be responsible for designing and developing the VSR700 drone as well as the various technologies needed for drones to perform aerial missions, such as data liaison, payload and a "see and avoid" capability enabling the drone's integration into airspace. The Airbus Helicopters VSR700 naval UAV, powered by a 155-hp Continental CD-155, will fly as a prototype in 2018 before a 2021 introduction.
Saab and UMS Aero Group AG (called UMS SKELDAR)
SKELDAR V-200. The maritime version of SKELDAR V-200 NRUAV is ready for induction into service. The company claims that it is unmatched in its class. The fact that it is not just an open interface to Battlefield Management System (BMS) and C4ISR systems, but also 4586 STANAG compliant, makes it easier to implement on any maritime vessel. The NRUAV is multi-role and ideal for a wide range of applications such as Reconnaissance, Identification, Target Acquisition and Electronic Warfare (EW). The Skeldar V-200 can carry a variety of radar and electro-optical payloads, such as the Visual Detection And Ranging (ViDAR) system from Sentient Vision, which claims that it covers more than 80 times the area of conventional EO/IR systems. It has a maximum take-off weight of 235 kg including 40 kg of payload, is powered by a heavy-fuel two-stroke engine from Hirth, which can run on Jet A1, JP5 and JP8. It has a top speed of 150 kph and a service ceiling of 3,000 m. UMS Skeldar has announced that it has delivered the V-200 to Indonesia, which has the world's second longest coastline.
Leonardo
Solo. SW-4 Solo weighs 1,800 kg, is optionally-piloted and is based on the manned EASA-certified, Polish-designed SW-4 Sokol. The unmanned version is capable of ISR and cargo re-supply tasks. With a payload of 470 kg, it has a range of 940 km and an endurance of six hours.
AWHERO. This is smaller which was acquired along with developer Sistemi Dinamici in December 2016. AWHERO is designed as a tactical UAV for both landbased and maritime use. In the maritime role it is designed to operate in severe weather and sea conditions for carrying tasks including protection and support, transport of supplies, engage in anti-submarine warfare and anti-piracy operations. It is claimed that it has an endurance of six hours with a 35 kg payload.
Indian Perspective
Hindustan Aeronautics Limited (HAL) and Malat (a unit of Israel Aerospace Industries) had started co development of NRUAV. The IAI-HALNRUAV project consisted of a Malatmade Helicopter Modification Suite (HeMoS) fitted on HAL's Chetan, an upgraded Chetak with Turbomeca TM 333 2M2 engines. The helicopter is planned to be used for unmanned operations and advanced intelligence, surveillance and reconnaissance (ISR) missions from warship decks. The system got delayed due to many problems like the lack of a correct landing and take-off system for moving platforms as the NRUAV was to feature with automatic vertical Take-off and Landing (AVTOL) from aviation-capable ships and from unprepared landing sites. It was reported in February 2017 that HAL has cancelled it contract with Israel and taken India's Aeronautical Development Establishment (ADE) on board to carry on with the project. Other details are not known.