It is a matter of national pride that Indian Navy has showed the way how best the advanced and technology intensive platforms from diverse sources could be acquired, absorbed and optimally exploited to augment its operational capabilities to emerge as a Blue Water Navy in true sense
Aircraft carrier INS Vikramaditya on sail
In suport of the nation's growing strengths and responsibilities, the Indian Navy is determined to create and sustain a three dimensional; technology enabled and networked force capable of safeguarding our maritime interests on the high seas and projecting combat power across the littoral.
The Indian Navy's Maritime Military Strategy which flows from the above "Vision Statement" has adopted a generic capability building approach. Introducing the Vision, it stipulates, "The Indian Navy is today a potent and capable force which is highly regarded for its professional competence. The planned induction of advanced platforms and technology, and creation of modern infrastructure, promise to boost the capabilities of the Service even further in the near future".
Indian Navy's Maritime Capability Perspective Plan
Aircraft Carrier Programme
The acquisition of extensively refitted and modernised, former Russian ICBM carrier Admiral Gorshkov, commissioned as INS Vikramaditya has added new dimension to blue water capability of Indian Navy. INS Vikramaditya is currently the only aircraft carrier engaged in extensive flying operations with MiG-29K aircraft as the sole fixed wing fighter into her Air Wing.
Construction of prestigious 37,500 tonnes Indigenous Aircraft Carrier (IAC-1) is on track and is likely to be commissioned by 2020. Vikrant would embark a mix of 30 aircraft, including MiG-29Ks and rotary wing assets to include KA 31 AEW helicopters. Fixed wing aircraft operations would be based on Short Take-Off but Arrested Recovery (STOBAR) concept on an angled flight deck with a 12 to 14° ski-jump. In the recent past the Government has accorded sanction for phase II for 40,000-tonne IAC-I to be commissioned as INS Vikrant.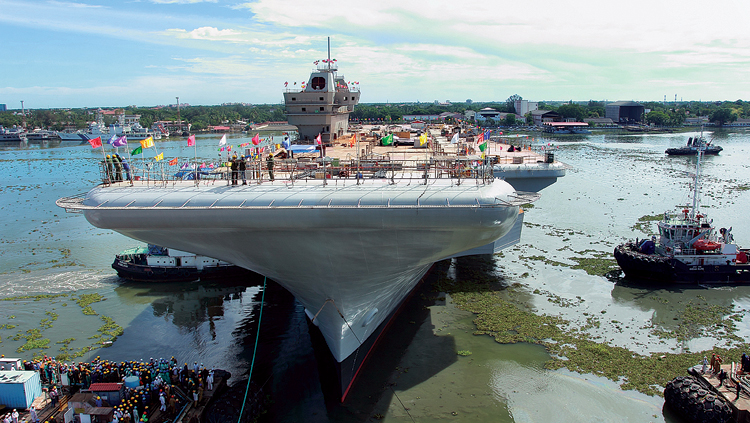 Undocking of IAC-1 Vikrant at the Cochin Shipyard
Considering the complexity of design development and construction, systems integration, the gestation period for IAC-II to be christened as INS Vishal, could well span over 10-15 years. It is learnt that IAC-2 of 65,000-tonne will have a conventional propulsion system with Catapult Assisted Take-off But Arrested Recovery (CATOBAR) which would offer flexibility for launching fighters as well as heavier aircraft for surveillance, early-warning, electronic warfare and other operations. Multi-Role Carrier Borne Fighters for which procurement process is in the works will be its backbone of the Air Wing.
Project 17& 17A
All four ships of Project 17 stealth frigates built by MDL have been commissioned. Project 17A comprises seven stealth frigates with advanced features and technology upgrades. The construction load of Project 17A will be shared between MDL for four ships and GRSE for three ships.
Projects 15A& 15B
Project 15A comprises of three Kolkata class Guided Missile Destroyers. The second and third ships have been named as Kochi and Bengaluru. The Government has also approved an additional four ships of the same class to be designated as Project 15B and to be constructed at MDL.
Project 1135.6-Talwar Class
Three follow-on Talwar Class GM frigates were commissioned as Indian Naval Ships Tej (sword), Tarkash (Quiver) and Trikand (Tri-Pronged). There are reports of possible acquisition of additional three ships of the same class to be constructed in Russia and brought to India for integration of propulsion, weapons and ancillary systems.
Mines Counter Measures Vessels (MCMVs)
The Defence Acquisition Council has recently given the go-ahead to Goa Shipyard Ltd (GSL) for the construction of all eight MCMV with the option of additional ships. Indian Navy requires at least 24 MCMVs to clear mines laid by enemy warships and aircraft to blockade harbours during war.
Amphibious Capability
To augment its amphibious lift capability, Indian Navy is now looking to build larger amphibious ships of the LPD variety. This project will be pursued through external design collaboration on the model for the IAC Project. The case for four Multi-Role Landing Platform Docks is being progressed with two private shipyards – L&T and Reliance Naval and Engineering Ltd. The contract is expected to be concluded shortly.
Submarine Arm
Scorpene Project 75. The first project under the perspective plan was Project 75, Scorpene for indigenous construction of six conventional stealth submarines under transfer of technology arrangements with DCNS (now Naval Group), France. After the delay of more than a decade the first of line of the project, INS Kalvari, an attack stealth submarine was commissioned on December 14, 2017. The delivery of all six boats is expected to be complete by 2021.
Project 75 (India). Project 75 (India) is a sequel to Scorpene Project 75. Project 75 (India) was resuscitated and the Government has recently promulgated RFI. Global RFI was issued to six leading shipbuilders; Naval Group, France (former DCNS), ThyssenKrupp Marine Systems, Germany, Rosoboronexport-Rubin Design Bureau, Russia, Navantia, Spain, Saab, Sweden and the Mitsubishi-Kawasaki Heavy Industries Combine, Japan to participate in building six advanced stealth submarines at an estimated 70,000 crore ($10.9 billion) in collaboration with an Indian shipyard. The Indian Navy has justified that the six dieselelectric submarines conceived under Project 75 (India) to be fitted out with Land-Attack Cruise Missiles, Air-Independent Propulsion for greater underwater endurance, and the capability to integrate indigenous weapons and sensors as and when these are developed. As per available information Mitsubishi-Kawasaki Heavy Industries Combine, Japan and Navantia, Spain have declined to respond to RFI. In the first stage capability assessment of the Indian shipyard which has capability of entering into Strategic Partnership with foreign collaborator will be undertaken. This process of selection could take as much as two years to complete. Thereafter the technical evaluation, commercial bids evaluation, cost negotiations, contract finalisation, etc. Hence, even with the efforts of fast-tracking the Project, the first submarine of Project 75 (India) cannot be expected before the year 2027.
Nuclear Powered Submarines. India needs at least six nuclear powered attack submarines (SSN) and at least four nuclear powered submarines with nuclear-tipped missiles (SSBN). In February 2015, Government of India approved the construction of six nuclear-powered SSNs. Reportedly the first indigenous SSBN, INS Arihant was commissioned in 2016. Under a classified programme three more SSBNs are under construction. In addition to INS Chakra there are reports to suggest that the lease for second SSN from Russia for 10 years under $1.5 billion deal is also in the pipeline.
Naval Aviation
Carrier Borne Multi-Role Fighters
MiG-29K and Tejas (Navy) were earmarked for induction as Air Wing for IAC-1, Vikrant.However, considering that there are many imponderables with Tejas (Navy), Indian Navy has begun a search for a Multi-Role Carrier Borne Fighters (MRCBF) for IAC-1 and its follow-on. The RFI had elicited response from all leading global MRCBF manufacturers. French, Swedish, Russian and American firms were served the RFI for the project to equip IAC-1, Vikrant and IAC-2.
Currently, six aircraft are compatible, namely; Dassault's Rafale, Boeing's F/A-18 Super Hornet, Russian MIG-29K, Lockheed Martin F-35B and F-35C, and Gripen from Saab, Sweden. While F/A-18, Super Hornet, Rafale and MiG-29K are twin engine jets, the remaining three have single engine. RFP is expected to be promulgated by mid-2018 and the induction timelines will be aligned with the operationalisation of IAC-1.
Maritime Patrol and Reconnaissance
A true game-changer and most technologically advanced and intensive platform Boeing, Poseidon P-8I, Long Range Maritime Reconnaissance & Anti-Submarine Warfare Aircraft (LRMR&ASW) was simultaneously inducted into the US and Indian Navy. The Indian Naval Aviation today is truly proud with its inventory of LRMR&ASW aircraft gradually swelling to 12 aircraft, with possibility of additional 12 aircraft joining in due course.
In order that no gaps are left within the entire spectrum of the surveillance and reconnaissance domain the next level of medium range this spectrum has been further bifurcated into Medium Range Maritime Reconnaissance (MRMR) and Short-Range Maritime Reconnaissance (SRMR). The acquisition process for nine yet to be identified MRMR aircraft is in the works with no definite timelines for its availability.
Amphibious Aircraft
For quite sometimes now Indian Navy has been looking for a multi-role, SAR, HADR mission capable, quick response anti-piracy, anti-smuggling and anti-drug trafficking capable platform. India's hunt ended with the identification of Japanese amphibious aircraft ShinMaywa US-2. Indian Navy plans to procure 12 multi-role aircraft under a government to government deal between 2017 and 2022 however there has not been any movement forward on this scheme.
Naval Utility Helicopters
Indian Navy is facing acute shortage of Naval Utility Helicopter (NUH) for replacing its aging fleet of Chetak helicopters for the frontline Frigates and Offshore Patrol Vessels and for the shore-based flights to extend support out at sea.
Recently Acceptance of Necessity for the procurement of 111 NUH worth 21,738 crore ($3.2 billion) was accorded by the Defence Acquisition Council under the Strategic Partnership model to give a major boost to indigenous defence manufacturing capabilities in the country, especially in the Naval Aviation segment.
RFP is expected to be issued shortly to Original Equipment Manufacturers (OEM) for the first 16 helicopters to be imported in flyaway condition, with the balance 95 to be manufactured in India by an Indian manufacturer in partnership with the selected global OEM.
Naval Multi-Role Helicopters
Indian Navy plans to acquire 123 Naval Multi-Role Helicopters (NMRH) to be used as ship borne flights of two helicopters each for its frontline destroyers and frigates to form integral air for critical operations out at sea. RFI for NMRH has been floated by MoD globally on August 22, 2017. Apart from NH90, contenders for NMRH bid could include the Lockheed Martin/Sikorsky MH-60R and Eurocopter's EC 725 Caracal.
Advanced Early Warning Helicopter
Acquisitions of Russian make Kamov. Ka 31, an Advance Early Warning (AEW) helicopter, nearly a decade and a half ago has enhanced the AEW capability of the Indian Naval Aviation considerably. Inventory of Ka 31 is being augmented gradually.
Future Projects
Following futuristic programmes are under active consideration of the Indian Navy:
Next Generation Destroyers
Next Generation Frigates
Next Generation Corvettes
Next Generation MCMVs
Conclusion
Despite the severe setbacks especially in submarine build-up plan causing severe capability gaps, Indian Navy's acquisition and modernination plans, spanning over three plan periods 2005-2022 are well on track, although some prestigious projects have missed the delivery milestones. Nevertheless, Indian Navy has impeccable record of proudly marching indigenous path of self-reliance for its force accretion and development. It is a matter of national pride that Indian Navy has showed the way how best the advanced and technology intensive platforms from diverse sources could be acquired, absorbed and optimally exploited to augment its operational capabilities to emerge as a Blue Water Navy in true sense.