The timing, structure and composition of participating forces in Exercise Malabar 2017 acquired strategic significance in the context of ongoing stand-off between China and India at the Doklam Plateau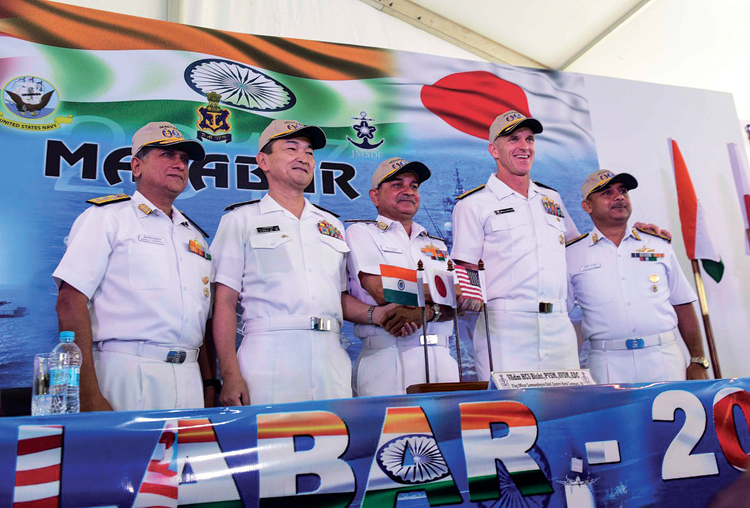 Senior officers and participating ships Commanding Officers aboard INS Jalashwa during the opening ceremony in Chennai
The Tri-lateral annual maritime Exercise Malabar 2017 between the navies of India, United States and Japan which commenced on July 10, 2017 in the oceanic expanse of the Bay of Bengal and beyond were terminated a week later, on July 17, 2017, but not before most tacitly leaving in its wake a message, who the domineering maritime powers of the Indian Ocean are!!
The 21st edition of Exercise Malabar 2017 had its primary aim to enhance interoperability amongst the three navies as well as develop common understanding and procedures for maritime security operations. Its scope included wide-ranging professional interactions during the Harbour Phase at Chennai from July 10 to 13, 2017 and a diverse range of operational activities at sea during the Sea Phase from July 14 to 17, 2017. The thrust of the exercises at sea this year was on aircraft carrier operations, air defence, anti-submarine warfare (ASW), surface warfare, visit board search and seizure (VBSS), search and rescue, joint manoeuvres and tactical procedures. In addition, officials from the three countries were flown onboard the ships at sea on July 15, 2017.
The task force of Indian Navy comprised the aircraft carrier INS Vikramaditya with its embarked air wing, guided missile destroyer INS Ranvir, indigenous stealth guided missile multi-role frigates Indian Navy Ships Shivalik and Sahyadri, indigenous ASW corvette INS Kamorta, missile corvettes Indian Navy Ships Kora and Kirpan, one Sindhughosh class diesel-electric conventional submarine, fleet tanker INS Jyoti and longrange maritime patrol, surveillance, reconnaissance and ASW Aircraft P8I.
The US Navy task force was represented by the ships from the Nimitz Carrier Strike Group and other units from the US 7th Fleet, comprising Ticonderoga class guided missile cruiser Princeton, Arleigh Burke class guided missile destroyers Kidd, Howard and Shoup along with integral helicopters, a Los Angeles class nuclear attack submarine and one long-range maritime patrol and ASW aircraft P8A. The exercise was structured to include a separate interaction between Indian Navy and US Navy Special Forces and Explosive Ordnance Disposal teams at the Indian Navy's Marine Commando training base, INS Karna at Visakhapatnam. The Japanese Maritime Self-Defence Forces (JMSDF) was represented by JS Izumo, a helicopter carrier with SH 60K helicopters and JS Sazanami, a guided missile destroyer with SH 60K integral helicopter.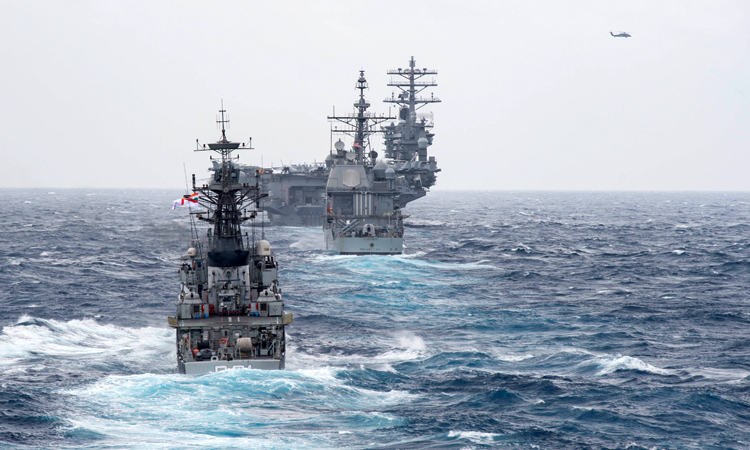 The Kora class corvette INS Kora (P 61) steams behind the guided-missile cruiser USS Princeton (CG 59) and the aircraft carrier USS Nimitz (CVN 68) during Malabar 2017
With the participation of 16 ships, two submarines and more than 95 aircraft, towards strengthening mutual confidence and inter-operability as well as sharing of best practices between the Indian, Japanese and US Navies, Malabar 2017 raised the Bar to much higher levels of cooperation. The exercise was a demonstration of the joint commitment of all three nations to address common maritime challenges across the spectrum of operations and will go a long way in enhancing maritime security in the Indo-Pacific region, for the benefit of the global maritime community.
Commodore C. Uday Bhaskar (Retired), Distinguished Fellow, Society for Policy Studies New Delhi recalls, "Since 1994, the Malabar exercise has been institutionalised in a progressively robust manner and both nations see a certain value addition in sustaining this engagement. In 2007, the scope of Malabar was enhanced and the highpoint was a five-nation multilateral naval exercise that brought on board three other nations — Japan, Australia and Singapore".
He adds, "The geopolitical subtext of the Malabar exercise is complex and multilayered. At one level, it denotes the growing level of interoperability between the navies of the US and India, and this is distinctive for India has steadfastly refrained from joining any formal military alliance. The deeper geopolitical salience of the exercise is about joint stewardship of the maritime domain – the traditional global commons. It is instructive to note that the concept of a 'global common' has now been extended to include the cyber and space domains and in many ways the Malabar exercise is a symbol of the depth of such collective endeavour".
He further adds, "The current stand-off in the Doklam plateau is one strand of the troubled India-China relationship. But for now, it is evident that Delhi is not seeking to play the Malabar card and stoke China's imagined anxieties about a democratic naval/maritime coalition that will bring alive the Malacca dilemma first outlined by then Chinese President Hu Jintao in 2003".
Commenting on the strategic significance, Abhijit Singh, Head, Maritime Policy Initiative at Observer Research Foundation explains, "While the Malabar exercise takes place every year – and is, in that sense, a regular naval engagement – the 2017 iteration is significant for three reasons. First, the exercise between India-Japan-US comes against the backdrop of a tense face-off with China in Doklam at the tri-junction of India, Bhutan and China. There is a sense that New Delhi's refusal to join the Belt and Road Initiative in May this year upset Beijing, resulting in a Chinese incursion on the eastern border. The Malabar is being seen as an opportunity for India to strike a hard-posture in a place where it perceives a strategic advantage vis-a-vis China — maritime-South Asia."
"Secondly, the trilateral naval drill is being held at a time when the PLA Navy has been increasing its presence in the Indian Ocean – Chinese warships have been regularly visiting Pakistan, Sri Lanka, Bangladesh, Myanmar, even as China's antipiracy deployments in the Gulf of Aden have grown in scope and strength. Media reports of the presence of a Chinese submarine and an intelligence ship in India's near-seas days before the start of Malabar are being seen as a sign of China's growing confidence in operating in India's sensitive littorals, "Thirdly, there is a strengthening China-Pakistan maritime axis in South Asia, with a perceptible rise in Chinese warship and submarine deployments off the Makran coast, with the ostensible purpose of securing the China Pakistan Economic Corridor," he adds.
To allay adverse implications of the rhetoric that was built about Malabar 2017, Rear Admiral William Byrne, Commander of the US Carrier Strike Group has clarified, "The exercise is designed to advance military to military coordination and capacity to plan and execute tactical operations in multinational environment. The message, to China, he insists is the same as to the rest of the world and that is to follow international norms." Identical message was also reiterated by Vice Admiral HCS Bisht, Flag Officer Commanding-in-Chief, Eastern Naval Command.
The timing, structure and composition of participating forces in Exercise Malabar 2017 acquired strategic significance in the context of ongoing stand-off between China and India at the Doklam Plateau. While Exercise Malabar 2017 had no specific message for China, its consequential ripples had a narrative for a stand-off, if it took place out at Sea in the future!!