Design and development of LCA-Navy has run into severe rough weathers, compelling Indian Navy to back track from the project, as indefinite delay in its fructification runs contrary to the progress of IAC programme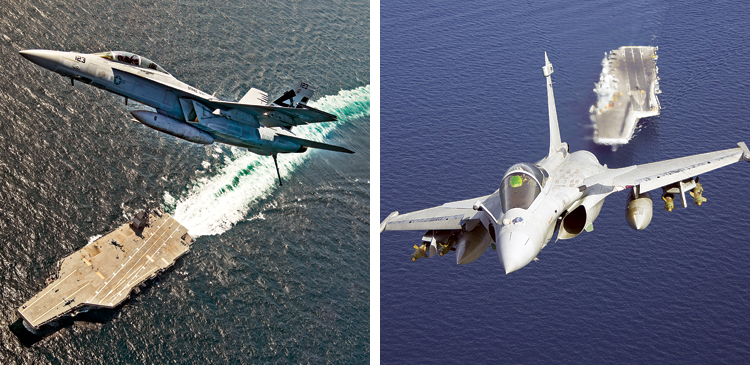 (Left) Boeing F/A-18E/F Super Hornet; (Right) Rafale M fighter.
Right from the concept design itself determining the suitability and viability of Air Wing for an aircraft carrier has posed major challenge to the Designers. When INS Vikrant, which heralded the full-fledged birth of naval aviation in Indian, there were no such challenge, except choosing maritime reconnaissance and anti-submarine warfare (ASW) aircraft to operate from Vikrant. After an elaborate search and evaluation process, Alizes from France were selected. This completed the Air Wing of Vikrant with Seahawks as the main fighter jet and Alizes as ASW aircraft. This combination continued to excel in their operational role. Vikrant's escapades on the eastern seaboard during 1971 operations earned kudos for Air Wing of Vikrant.
Due to ageing, especially the material state of Vikrant's aircraft launch system continued to deteriorate. Thus, the hunt began for a replacement of Seahawk fighter jet. This lead to complete reconfiguration of the flight deck of Vikrant, as jump jet Sea Harrier was the only versatile option available. Sea Harriers continued their operational role with élan for several decades and proved a worthy platform to be inducted on board INS Viraat, later. Sea Harriers served the Viraat till the very end of her operational life.
In between, Indian Navy decided to acquire third aircraft carrier off the shelf but this time from Russia. The dimensions of challenges were huge due to acquisition of a unique platform, as former Admiral Gorshkov was not designed to operate as aircraft carrier. Total refurbishment and modernisation of Gorshkov ensued with completely different deck design, hangars, lifts, launch arrester gear installations, island structure, etc. for MiG-29K to operate from INS Vikramaditya.
Construction of Indigenous Aircraft Carrier (IAC-1), Vikrant is progressing well, despite the time and cost-overruns. Government of India decided the Air Wing of Vikrant to comprise MiG-29K and light combat aircraft (LCA-Navy). While the acquisition process of MiG-29K for Vikrant is underway, design and development of LCA-Navy has run into severe rough weathers, compelling Indian Navy to back track from the project, as indefinite delay in its fructification runs contrary to the progress of IAC programme. Consequently, the Indian Navy has launched a global hunt for maritime fighter jets during January 2017 to operate from future IAC programme.
With the approval of the Government, the Indian Navy has floated Request for Information (RFI) for 57 multi-role carrier borne fighters (MRCBF) with a provision to enhance the future order for a larger quantity to meet future requirements of MRCBF. Indian Navy is currently left with a sole aircraft carrier INS Vikramaditya which is designed to operate only MiG-29K, hence the hunt for new generation MRCBF. The responses to the RFI were to be submitted by May 2017, however, the present status of the case is not available in public domain.
The RFI has elicited response from all leading global MRCBF manufacturers to answer queries on technical parameters, budgetary estimates, likely level of indigenisation, transfer of technology and schedule of deliveries after a contract is inked. French, Swedish, Russian and American firms have been served the RFI for the project to equip India's future carriers: Indigenous Aircraft Carrier (IAC)-I or Vikrant being built at Kochi and IAC-2, which is at a conceptual design stage for 60,000 tonnes displacement aircraft carrier with conventional propulsion. There are speculations to induct electro-magnetic aircraft launch system (EMALS) for IAC-2.
Rafale M
French aircraft maker Dassault Aviation will compete for the MRCBF programme with the Rafale M fighter. Currently these fighter jets are operating from French Navy's nuclearpowered aircraft carrier Charles de Gaulle. India signed a $8.7 billion deal with France last year for 36 Rafale fighter jets for the Indian Air Force (IAF). Dassault is hoping the IAF order could give it a head start. The firm believes it makes better sense to equip the IAF and the Indian Navy with the same platform as it would translate into better logistics, maintenance and industrial support.
Gripen Maritime
Swedish aircraft maker Saab has reportedly thrown its hat into to the ring with its Gripen Maritime fighter. Saab has claimed their maritime fighter has "95 per cent commonality" with the Gripen E. The Swedish firm is closely tracking an IAF programme to build singleengine fighters in India. Saab has further claimed that the maritime fighter features all the capabilities of the Gripen E and will come with a highly competitive operational cost per flight hour. Low maintenance requirements and high availability for operations make it an ideal solution for the Indian Navy.
F/A-18 E/F Super Hornet
US defence giant Boeing's F/A-18 E/F Super Hornet is also expected to be a strong contender for the Indian Navy project. The F/A E-18Es operate from American super aircraft carriers such as USS Nimitz and USS Ronald Reagan, with the US Navy accounting for a fleet of more than 600 Super Hornets. Reportedly the American firm is also in discussions with the IAF to set up a production line in the country to build twinengine fighter planes. The US has offered its EMALS technology and advanced arresting gear for new generation IAC-2. India and the US have formed a joint working group on aircraft carrier technology cooperation.
MiG-29K
Russia will be eyeing the project with the MiG-29K fighter jet, already in service with the Indian Navy. The deck-based fighter operates from INS Vikramaditya, a second-hand carrier bought from Russia. The Indian Navy commissioned its first squadron of MiG-29K fighters at Goa in May 2013, ahead of the induction of INS Vikramaditya. It also plans to deploy the fighters on the IAC-1 having placed separate orders for 45 MiG-29K fighters.