Full Speech of Nitin Gadkari, Minister for Road Transport & Highways and Shipping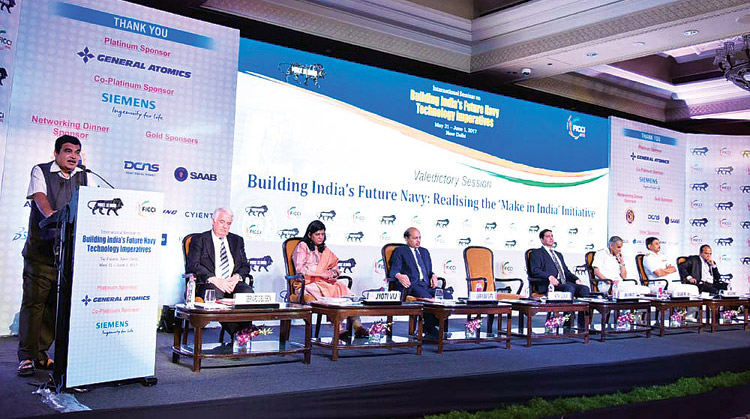 Nitin Gadkari, Minister for Road Transport & Highways and Shipping, GOI; Admiral R.K. Dhowan (Retd), Chairman, National Maritime Foundation and Former Chief of the Naval Staff, Indian Navy and Ashok Kumar Gupta, Secretary, Department of Defence Production, Ministry of Defence, GOI and other dignitaries during the Valedictory Session of the Seminar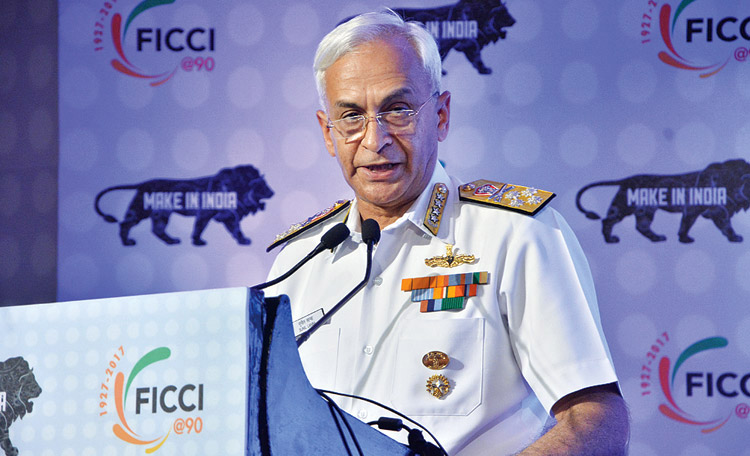 Chief of the Naval Staff Admiral Sunil Lanba addressing the Seminar
Inauguration Session
Speaking at the inauguration of the Seminar, Admiral Sunil Lanba, Chief of the Naval Staff and Chairman, Chiefs of Staff Committee stated that the Indian Navy has taken giant strides in the field of indigenous ship design and construction to transition from a 'Buyer's' Navy to a 'Builder's' Navy. Despite the achievements in indigenous shipbuilding, the Navy continues to be dependent on external assistance for niche technologies. An important aspect in attaining 100 per cent self-reliance in ship design and construction, therefore, is the indigenous development of high end technologies, their transition into shipborne equipment and systems, induction into service and standardisation. Admiral Lanba further highlighted the three primary requirements that need to be met while inducting a technology or a product — affordability, timely delivery and performance. To these primary imperatives, the CNS went on to add a fourth dimension — that of life cycle sustenance by providing seamless technical support and making the technology future proof. On the occasion, Admiral Lanba released two publications pertaining to compilation of papers authored by naval officers on future technologies and a knowledge paper authored by FICCI. The CNS also launched a web portal on defence and aerospace, developed by FICCI.
The Seminar was structured around dedicated sessions to deliberate on Indigenously Designed Developed and Manufactured (IDDM) – Projects for the Indian Industry; Modern Trends in Maritime Communications; Cyberspace Operations and Information Warfare; Shipborne Propulsion and Power Generation; Missiles, Underwater and Directed Energy Weapons; Opportunities for Coastal States; Surveillance and Detection Systems; Transformation in the Aviation Sector; Autonomous Vehicles; Disruptive Technologies; Warship Building in India and Building India's Future Navy: Realizing the 'Make in India' Initiative.
Also speaking on the occasion, Naina Lal Kidwai, Past President, FICCI and Chairperson, Max Financial Services Ltd, said that the Seminar would provide a platform to the industry captains to understand and deliberate on the technology imperatives for a future ready naval force. She asked the industry to articulate their vision on how they could partner the Indian Navy and the other Defence Forces in achieving the stated goal of self-reliance through indigenisation.
Highlights of the Deliberations
During the deliberations on 'Make in India' Rear Admiral Dinesh K. Tripathi, ACNS (Policy & Plans), highlighted the dimensions of Maritime Military Power and imperatives of naval capability generation to ensure strategic independence through self-reliance and development of a vibrant and responsive domestic defence industry. He briefly elaborated upon the planning guidelines for the future Indian Navy and its imperatives of combat worthiness with attendant technologies to be mission-ready always. While presenting a resume on the indigenisation which has clocked 90 per cent in Float, 60 per cent in Move and 40 per cent in Fight segments of shipbuilding, he pointed out the critical voids in the indigenisation processes in submarines and naval helicopters.
Dr V.K. Saraswat, Member, NITI Aayog and Former Secretary Defence R&D, spoke on creating world-class defence manufacturing Infrastructure through 'Make in India' for India to emerge as a global hub for manufacturing in defence sector. A doubledigit growth in manufacturing sector was required to achieve the vision of 'Make in India'. Defence and aerospace manufacturing potential was vital for the GDP growth. He highlighted the need for cooperation between defence R&D and the industry. He emphasised the need for defining need for defence systems, requirements for the next five years, elucidating the opportunities, both domestic and global over 10-year period, weapon and systems development roadmap over next 30 years, technology development roadmap over next 30 years.
Vice Admiral D.M. Deshpande, Controller of Warship Production & Acquisition, commenting on the Indigenous Aircraft Carrier 2 (IAC-2) and Next Generation Destroyer (NDG) clarified that both IAC-2 and NDG are at infancy stages, awaiting Approval-in-Principle from the Government of India. He shared the design vision for these two prestigious projects. Displacement of IAC-2 will be of 65,000-tonne, with conventional propulsion system to clock maximum speed of 30 knots, have an Air Wing of 50-60 fixed wing and rotary wing aircraft and CATOBAR for its operations. Likewise, NDG will be of 13,000-tonne displacement with conventional propulsion system.
Valedictory Session
Vice Admiral Karambir Singh, Vice Chief of Naval Staff, lauded 'Make in India' initiative which will catalyse the entire ecosystem in defence industry. He added that the Government is making laudable efforts in finetuning the defence procurement procedures and processes for the benefit of the industry. The Strategic Partnership model recently approved, will be operationalised with the joint efforts of the Government agencies, DRDO, Indian Navy and the industry to facilitate larger volumes of transfer of technology, via joint venture approach, co-development for ab initio development with OEM, co-development with DRDO and co-development with foreign OEMs.
Ashok Kumar Gupta, Secretary, Department of Defence Production, highlighted setting up of Defence Production Promotion Board, many incentives are being offered to the industry, especially the MSME and defence PSUs as well as ordnance factories are being encouraged to be system integrators.
In the end Nitin Gadkari, Minister for Road Transport and Highways and Shipping, said that a self-reliant defence force was crucial for development of the country. Fast-track decision making, transparent processes, level playing field, time-bound delivery, result-oriented approach and reasonable understanding by all stakeholders were needed to accelerate the pace of development of India's naval force. Science and technology, research and development, innovation and entrepreneurship were needed to be encouraged in defence to enable development of cutting-edge technologies. He added that there was a need to amend the policies with respect to these to convert knowledge into wealth. Gadkari said that the public sector defence capabilities did not have the capacity to meet the demands of the sector. Therefore, it was necessary to engage private sector and speed up the modernisation process of the Navy. He added that the government was initiating various steps to facilitate private sector's participation in the development of the defence. "It appears that a word namely 'time' has disappeared from the dictionary of Delhi work system. We need to bring back the work culture which is timebound and cannot allow any execution/decisions/work outputs any slippages against the prescribed time lines. We need fast-track decision making process," said Nitin Gadkari. He added, "I like those who work and not those who do not work in the name of honesty" and went on to say "As policy makers we are supposed to ensure that work culture emerge on top of everything."
The Seminar ended on June 1, 2017, with the customary Vote Of Thanks.