India is important to Japan due to its democratic values, large source of manpower, strong economic growth and its geopolitical important location in the centre of the SLOCs in the Indian Ocean-Pacific Region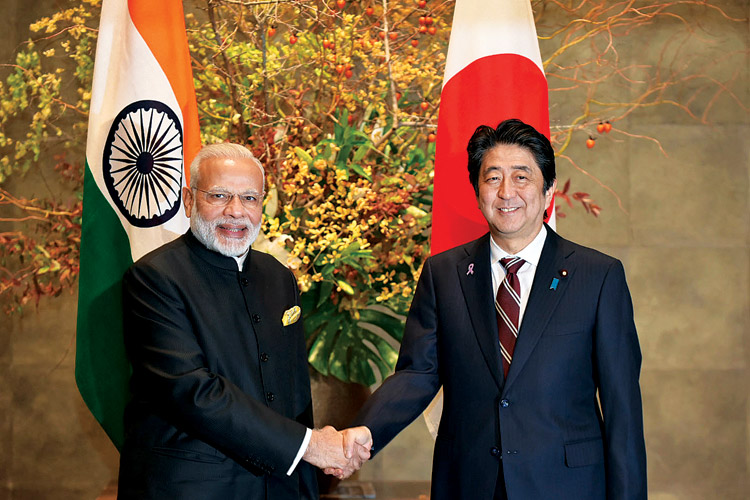 Prime Minister Narendra Modi with Prime Minister of Japan, Shinzo Abe in Tokyo, Japan on November 11, 2016
Japan had released its first white paper on defence under Prime Minister Shinzo Abe on July 9, 2013, which was high on nationalism and stressed the need to develop Japan's defence forces so that they are capable of guarding the interests of the nation. The updating or modifying the existing laws and organisation was also be carried out wherever necessary to meet national security objectives. Being an island nation, all aspects of maritime security are of paramount importance to Japan in order to guard its territorial interest, maritime trade and energy security concerns. Japan thus wants to take a leading role in maintaining and developing free and safer maritime environment, take necessary steps to counter threats to sea lines of communications (SLOCs) and enhance bilateral/multilateral cooperation on maritime security. Accordingly, Japan wants to strengthen its relations with the Republic of Korea, ASEAN (Association of South East Asian Nations) and India.
Japan's latest white paper on defence was released on August 5, 2014, which is focused on its maritime concerns specially of China's activities in the East China Sea (ECS). Briefly the white paper called on Beijing to withdraw its unilateral declaration of an air defence identification zone in the ECS. It also called for the retraction of "all measures that interfere in the freedom of flying over the high seas." Japan has thus embarked for the acquisition of an amphibious assault ship by the Maritime Self-Defense Forces (SDF) which will also include vessels which can transport amphibious landing vehicles and hovercrafts for operations in outlying islands.
Japan is developing its naval capability according to the threat it perceives and to safeguard its national interests. Classically, Japanese Navy's mission remains protection of sea lines of communication and defence of the homeland however due to the developments in the ECS, Japan is evolving a more "dynamic defence" strategy to support US Navy carrier strike groups in the seas around Japan. As per experts, Japan has been building up antisubmarine warfare capabilities for decades which indirectly will help in marginally countering China's anti-access/area-denial (A2/AD) threats.
Japan's Military Shipbuilding Capability
Japan has more than century old shipbuilding industry. Kawasaki Heavy Industries Limited dates back to April 1878 when Shozo Kawasaki established Kawasaki Tsukiji Shipyard in Tokyo. Presently it makes ships and mainly helicopters. The first aircraft carrier in the world, Hosho, was made by Japan in 1922. Post-World War II, Japan made only merchant ships and became one of the world leaders. The recession in the 1970s, Japan lost its edge and now China and South Korea have overtaken it. It is reported that India has also asked Japan to participate in the joint development and manufacture of six stealth diesel submarines.
ShinMaywa Industries makes worldclass amphibious aircraft — US-2i which India plans to acquire. It has figured in the talks of former Prime Minister Manmohan Singh and also during the current visit of Prime Minister Narendra Modi. There are other companies involved with military shipbuilding like Mitsubishi Heavy Industries, Ishikawajima-Harima Heavy Industries, and Mitsui Shipbuilding. Japan's advanced capabilities in space-based maritime surveillance and sensing have potential for collaboration both for military as well as merchant shipping. The Marine Electronic Highway is the initiative of Japan to be launched under the IMO, for providing safety measures and navigational aids along the sea routes specially where dense sea traffic exists like Malacca Strait.
Indo-Japan Maritime Cooperation
Joint declaration on Security Cooperation between India and Japan. India is important to Japan due to its democratic values, large source of manpower, strong economic growth and its geopolitical important location in the centre of the SLOCs in the Indian Ocean-Pacific Region. India's relations with Japan are very old due to the spreading of Buddhism from India to Japan. Economic cooperation was initiated during 1958 with an Official Development Assistance (ODA) loan which was a first for Japan and over a period of time India has become one of the largest recipients of ODA from Japan.
The most popular infrastructure project to have been funded by Japan is the Delhi Metro. 2007 was declared as 'India-Japan Friendship Year.' This was a prelude to cooperation in defence and security related issues. The process started with a 'Joint declaration on Security Cooperation between India and Japan' on October 22, 2008, between the former Prime Minister Manmohan Singh's and the then Prime Minister of Japan Taro Aso, during the former's visit to Japan. The Declaration covered a whole range of issues like common commitment to democracy, open society, human rights and the rule of law; fighting terrorism; creating a comprehensive framework for the enhancement of security cooperation and so on. Briefly the maritime issues included are as follows:
India and Japan share common interest in the safety of SLOCs.
Affirming their common commitment to fight against terrorism and recognising that counter-terrorism efforts by India and Japan.
Information exchange and policy coordination on regional affairs in the Asia-Pacific region and in the long-term on strategic and global issues.
Navy-to-Navy staff talks.
The two Coast Guards will continue to promote cooperation to ensure maritime safety.
In relation to the safety of transport, Shipping Policy Forum will be conducted between Maritime Authorities and private sectors.
Disaster management.
Service-to-service exchanges including biateral and multilateral exercises.
Exchange of students and researchers from respective defence institutions.
Cooperation to develop Tsunami Disaster Map in India.
For implementing the above, India and Japan will develop an action plan with specific measures to advance security cooperation in the above areas and report to the Prime Ministers at an early date. Former US Secretary of State Hillary Clinton had urged New Delhi "not just to look East but also to engage East and act East as well."
Prime Minister Shinzo Abe in an earlier tenure had propagated a doctrine of "confluence of two seas" and synergy among "maritime democracies" in Asia. India has been gradually building on it with basic measures like exchange of visit of naval officers, participating in each other's maritime think tanks, Indian and Japanese navies jointly participating in multilateral exercises (Malabar series) and bilateral exercise (JIMEX12). Another Japanese initiative has been the multilateral effort bringing international coast guards together through the Regional Cooperation Agreement on Combating Piracy and Armed Robbery against Ships in Asia (ReCAAP).
India Coast Guard has been participating in it and having regular exercises with Japan India is also planning to induct ShinMaywa's amphibian aircraft US-2i which has figured in the talks with both the Prime Ministers. There is also scope for acquiring technology in defence electronics, space and AIPcapable Soryu class submarines as India is planning to design and manufacture six submarines indigenously but with foreign technology where required. In 2014 the Japanese Government promulgated a new defence export policy, lifting bans that had been in place for nearly 30 years. As inaugurated by the Abe administration, Japan's new defence export policy offers huge opportunities for Indo-Japan defence industrial cooperation.
Recent Developments
During Prime Minister Narendra Modi's visit to Japan in November 11, 2016, he told the reporters that, "Japan occupies an extremely high position in our foreign policy. The reason is Japan has played a very important role in the development and growth of India." The development in maritime cooperation under Modi and Abe has progressed in a very visible manner. Both the Prime Ministers agreed to work harder to launch a "two-plus-two" security consultative framework involving their Foreign and Defence Ministers. Abe talked about a "Free and Open Indo-Pacific Strategy" and Modi welcomed Japan's deepening engagements under this strategy. They also agreed to continue joint maritime exercises in addition to trilateral drills conducted with the US on a regular basis. The two leaders agreed to speed up discussions on the conditions for Japan to supply maritime search and rescue aircraft to India, a deal which is being discussed for many years.
India and Japan have previously outlined an interest in boosting infrastructure in the strategically located Andaman and Nicobar Islands. This includes plans for "smart islands" in the Indo-Pacific region but there is no clarity on the contours of these smart islands. Abe said it all when earlier he had stated that "the aim should be that sooner rather than later, Japan's Navy and the Indian Navy are seamlessly interconnected." India and Japan's concerns and opportunities converge in the Indian Ocean and outward into the larger Indo-Pacific. India's reach in the Indian Ocean region and cooperation with Japan provides India an opportunity to cast its footprint on the Indo-Pacific region.