Indian Navy successfully undertook the maiden firing of BrahMos Land Attack Supersonic Cruise Missile from a ship on April 21, 2017 on a land based target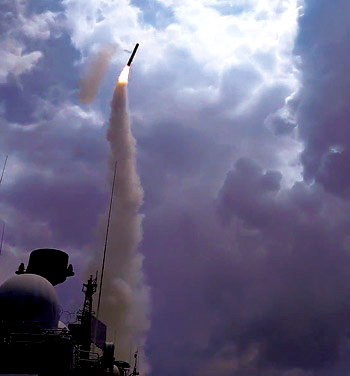 Long Range BrahMos Missile being fired from Indian Naval Ship Teg
BrahMos Aerospace is a joint venture established between NPO Mashinostroeyenia of Russian Federation and India's Defence Research and Development Organisation (DRDO) to jointly develop and manufacture in India a shortrange Ramjet Supersonic Cruise Missile that could be launched from submarines, ships, aircraft, or land. The seeds of the joint venture were sown way back in 1995 on an inter-governmental agreement that the corpus for the joint venture would be shared on 50-50 per cent basis. The chosen supersonic cruise missile system was based on the Russian P-800 Oniks cruise missile and other similar sea-skimming Russian cruise missile technologies. To honour the two eminent rivers, the Brahmaputra of India and the Moskva of Russia, BrahMos was the name chosen for the Joint Venture.
The basic missile system is internationally acclaimed as the world's fastest anti-ship cruise missile system in operation. The missile travels at the speeds of Mach 2.8 to 3.0. In less than two decades BrahMos model of joint venture has proven to be an outstanding success story. Whereas the land-based and ship-launched versions have already been very successfully inducted into the Indian Army and the Navy, the air and submarine-launched versions are currently under extensive trials, testing, validation phases.
At its inception, it was planned that the BrahMos to be based on a mid-range cruise missile like P-700 Granit, its propulsion is based on the Russian missile, and missile guidance has been developed by BrahMos Aerospace. However, growth and development of the joint venture has been phenomenal which has paved several advancements and technology upgrades in many vital segments of BrahMos Aerospace. As India became signatory and a full member of the Missile Technology Control Regime (MTCR) on June 27, 2016, the Joint Venture has enthused to jointly develop a new generation of BrahMos missile systems with ability to hit protected targets with pinpoint accuracy at far greater ranges.
Missile Technology Control Regime
India signed the Missile Technology Control Regime (MTCR) on June 27, 2016 which had prohibited the development of missiles with a range greater than 300 kilometres. Until then, in adherence to the MTCR regime the original design ranges of BrahMos system was kept well below its permissible upper scale of 300 kilometres. Additionally, India was not empowered to sell or export a longer-range variant to prospective BrahMos customers, including Vietnam, the United Arab Emirates, Chile, and South Africa under the MTCR.
Joining the MTCR as a full member opens up new vistas for India to develop potent missile system of strategic significance that had capped the ranges of the Joint Venture. BrahMos Aerospace in conformance with its growth vision has now successfully launched new extended range version of the missile system, aiming to reach 450 km range.
According to Dr S Christopher, Chief of DRDO, plans are afoot to develop new version of BrahMos that could achieve a range 850 km. The new missile system BrahMos version 2 could be ready within three years, achieving range between 800 and 850 km.
Land Attack Supersonic Cruise Missile
Indian Navy successfully undertook the maiden firing of BrahMos Land Attack Supersonic Cruise Missile from a ship on April 21, 2017, on a land based target. This variant of Long Range BrahMos Missile was fired from Indian Naval Ship Teg, a Guided Missile Frigate, on a target on land. Anti-Ship variant of BrahMos Missile has already been successfully inducted into Indian Navy. Majority of the frontline ships of Indian Navy, like the Kolkata, Ranvir and Teg classes of ships, are capable of firing anti-ship variant of BrahMos. Land Attack variant of BrahMos Missile provides Indian Naval Ships the capability to precisely neutralise selected targets deep inland, far away from coast, from standoff ranges at sea.
This successful maiden firing of BrahMos Land Attack Supersonic Cruise Missile has significantly enhanced the prowess of Indian Navy and has placed India into the club of select few nations
This successful maiden firing of BrahMos Land Attack Supersonic Cruise Missile has significantly enhanced the prowess of Indian Navy and has placed India into the club of select few nations. The first-ever successful test-firing of a Land Attack Supersonic Cruise Missile (LACM) by Indian Navy's stealth frigate, INS Teg off the eastern coast is a landmark achievement. Successful launch of LACM will prove a true Game Changer and holds the promise of immense strategic flexibility for the surface combatants of the frontline ships. Effectively, the BrahMos is shaping up as a stand-off range LACM which provide capability to Indian Navy to target inland strategic targets from any of its frontline surface ships. LACM is already available to selected few submarine combatants.
The LACM variant of BrahMos successfully test-fired on April 21, 2017 has a range extended from 290 kilometres to far beyond 400 km, but there is every possibility for even longer-range variants being developed in the future. The Joint Venture is now on such stronger foundation and has acquired and developed credible potential for evolving strategically top-end missile systems with lethal fire-power.
BrahMos Air-to-surface Variant
An air-launched variant of BrahMos was successfully developed in 2012. A hypersonic version of the missile, BrahMos-II, is also presently under development with speed of Mach 7-8 to boost aerial fast strike capability. There are extensive series of testing and trials processes being undertaken, likewise very intricate doctrinal aspects, val idation processes are at very advanced stages of evaluation. It is hoped that the wait for induction of air-launched version of BrahMos into the Indian Air Force may not be too long.
The induction of Air-to-surface version of BrahMos has now gathered considerable momentum. As per available reports the air launched version of the system is scheduled to be test-fired against a live sea-based target shortly. On successful culmination of the test-firing the final testfiring is expected to be against land based target at the Pokhran firing ranges at Jaisalmer. This will mark the culmination of proof firing for induction of the system into the Indian Air Force. The test-firing are being conducted for 300 km range at a speed of 2.8 Mach. The test-fire of 2.5-ton BrahMos Air-to-surface variant is being conducted from Sukhoi-30 MKI and the missile weighs 500 kg lighter than the Army and naval versions.