It was entirely due to single-minded approach and perseverance on the part of Late Admiral Tahiliani that within a record time of little over two years of negotiations, acquisition and modernisation, the 1959 vintage aircraft carrier was commissioned as Indian Naval Ship Viraat on May 12, 1987
Admiral Sunil Lanba, Chief of the Naval Staff, with Vice Admiral Girish Luthra, Flag Officer Commanding-in-Chief Western Naval Command and Rear Admiral R.B. Pandit, Flag Officer Commanding Western Fleet, taking post for the final sunset ceremony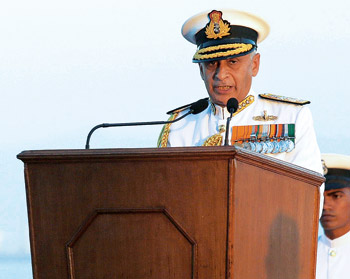 Chief of the Naval Staff Admiral Sunil Lanba addressing the attendees during the ceremony
Scene from the decommissioning ceremony of INS Viraat at the Naval Dockyard in Mumbai on March 6, 2017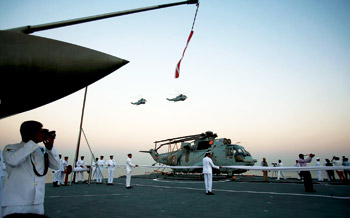 Scene from the decommissioning ceremony of INS Viraat at the Naval Dockyard in Mumbai on March 6, 2017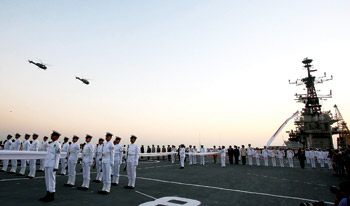 Scene from the decommissioning ceremony of INS Viraat at the Naval Dockyard in Mumbai on March 6, 2017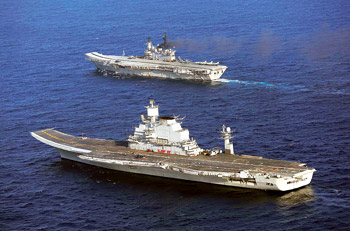 A file photograph of INS Viraat (top) escorting the Indian Navy's newly acquired aircraft carrier Vikramaditya during her delivery voyage
Post World War I, when the limitations of deploying seaplanes in the combat role was realised that the need for deploying at least one or two fixed wing fighter aircraft on board battle-cruisers was felt. This led to a pathbreaking discovery of the concept of developing aircraft carriers which could carry fighter aircraft to sea to extend its strike ranges. In one of the naval journals Admiral Arun Prakash recalls that the ninth HMS Hermes was one of the first two ships to be designed and developed as aircraft carriers. He further adds that the sixth ship in the series of Centaur class Light Fleet Carriers laid down at Barrow-in-Furness during 1944 was to be named as HMS Elephant, but construction was suspended as peace hove in sight. Taken up once again, in 1952, the ship was commissioned in November 1959 as HMS Hermes. Since her commissioning, HMS Hermes encountered fluctuating destiny to contend with. Based on the 1966 Defence White Paper, Hermes was stripped of catapult and wires and placed in Reserve. However, in !973 she received a reprieve and was pulled out of the Reserve to be designated as ASW carrier in order to meet NATO commitments.
He continues to recount, it was at this critical juncture that the Sea Harrier and the ski-jump made their dramatic appearance, and enabled Royal Navy (RN) to precariously claw its way back into the aircraft carrier business. The Hermes, relegated to a helicopter operating platform, was resurrected and also given a ski-jump to make it a 'Harrier-Carrier'. Yet again, 1981 White Paper proposed halting the aircraft carrier building programme and scrapping of the Hermes. This time around it was the Falklands crisis which saved Hermes and she sailed as the Flagship of the South Atlantic Task Force in April 1982 from where she returned triumphant. Hermes in its esoteric and rarefied profile continued in her operational role as a strike carrier, embarking full complement of her Air Wing for all major exercises. At Yeovilton during this period, Indian Navy was preparing to receive the first set of Sea Harriers as replacement for Seahawk fighters to operate from old INS Vikrant which was being modernised in its new role as the Harrier-Carrier.
Arrival of Viraat
Late Admiral RH Tahiliani in his memoirs recalls that on March 1, 1985, his counterpart in UK-the First Sea Lord, through a letter informed that Hermes was going to be placed in Reserve Fleet and whether the Indian Navy would be interested in buying her. He grabbed the opportunity and after convincing the Government for the need for a second aircraft carrier available off the shelf, deputed a team of experts led by the then Deputy Chief of Naval Staff, Vice Admiral S. Jain to assess the material state of Hermes. On its return the Team reported that although Hermes had been commissioned a year earlier than Vikrant, i.e. in 1959, her material state was 10 years younger than that of Vikrant. It was entirely due to single-minded approach and perseverance on the part of Late Admiral Tahiliani that within a record time of little over two years of negotiations, acquisition and modernisation, the 1959 vintage aircraft carrier was commissioned as Indian Naval Ship Viraat on May 12, 1987, which incidentally coincided with his Birthday! Virata, a Sanskrit word which means Giant, very appropriate for a largest flat-top whose timely arrival ensured that the Indian Navy prided itself by putting to sea two Carriers simultaneously. Close on the heel the Indian Navy very successfully executed Operation CACTUS off Maldives. Global accolades came rushing in with New York Times splashing on the Cover Page, India, emerging Super Power.
Operational Role
There were no dull moments for Viraat. Admiral Madhvendra Singh who was the second Commanding Officer recalls how impatiently he waited for the Flagship to be deployed for the ongoing Op Pawan. Finally on July 17, 1989, Viraat was called to proceed with despatch to evacuate Indian Nationals from Sri Lanka and the mission was code-named Operation Jupiter. Viraat was designated the Flagship of Commander Task Group 52.2, comprising Viraat, Shakti and Taragiri. He adds that 7th Battalion of the Garhwal Rifles located at Pithoragarh was ordered to move to embark Viraat. After undergoing extensive training, 7th Garhwal Rifle was fully transformed into a formidable Airborne Assault formation, for the first time ever.
Old Viraat graciously continued her march fulfilling every possible operational mission. For many decades, she remained a star performer during various exercises with the navies of France, UK, Russia, Japan, the US, etc. She participated in several Carrier-to-Carrier Exercises to ensure inter-operability with foreign navies. The first such exercise was with USS Nimitz, a nuclear-powered aircraft carrier on September 27, 2005, when Viraat was under the command of the then Captain (later Vice Admiral) S.P.S. Cheema, as part of Malabar 2005. The next Carrier-to-Carrier exercise was with French Carrier Charles de Gaulle. Once again under the command of Captain Cheema that Viraat, while returning to Mumbai after participating in President's Fleet Review 2006, had an opportunity to carry out Passage Exercises with another nuclear-powered US Navy aircraft Carrier, USS Ronald Reagan. A unique aspect of Carrier-to-Carrier Exercises was that Viraat based Sea Harriers were able to land on US Navy Carriers and Charles de Gaulle. Until Vikramaditya arrived on the scene, Viraat hardly missed an opportunity to be a part of the Malabar and such like prestigious multi-navies joint exercises.
Viraat, attained the unparalleled distinction and hold Guinness Book of World Record of being the longest serving aircraft carrier in the world; 27 years with the Royal Navy and 30 years with the Indian Navy. She clocked eleven lakh kilometres of sailing mileage before her commissioning pendant was hauled down for one final time; what an incredible record.
Role of Honour
Viraat returned honours to several commanding officers and other officers who served her with distinction all through her commissioned life with Indian Navy. What an enviable Role of Honour; five of the former commanding officers and second-incommand rose to be the Chief of the Naval Staff; twenty other officers got elevated to the rank of Vice Admirals and eighteen promoted to the rank of Rear Admiral; besides several commodores and captains.
Her legacy as HMS Hermes under the Royal flag was no less, as she was commanded by 13 Captains of the RN. Her role in Operation Mercy in 1974 and the Falklands War in 1982 are now textbook references for future navies.To commemorate the unique event, Admiral Sir Philip Jones, KCB, ADC, First Sea Lord and the Chief of the Naval Staff, Royal Navy was invited to be the Guest of Honour at the decommissioning ceremony.