Defence Minister Manohar Parrikar mentioned that the current government has cleared more than 2,00,000 crore worth of defence acquisition since it came to power and is resolved to order 3,00,000 crore (cumulative basis) by the end of this financial year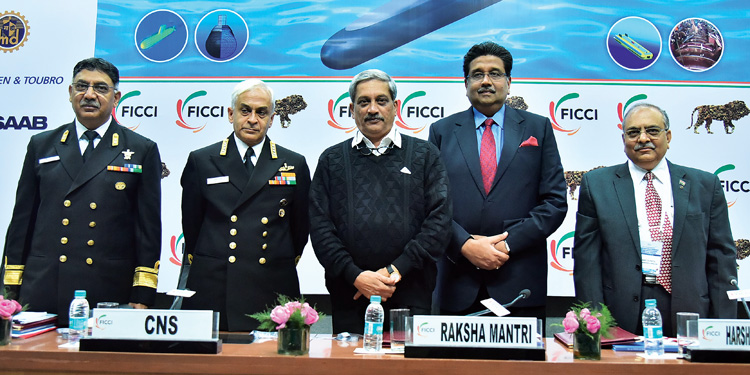 (L-R): Rear Admiral C.S. Rao; Chief of the Naval Staff Admiral Sunil Lanba; Defence Minister Manohar Parrikar; Harshavardhan Neotia; and Jayant D. Patil
Indian Navy embarked upon the indigenous route for design, development and construction of its force levels in the early 1970s. Whilst the Surface Ships Design Group of the Directorate of Naval Design continued its successful march the Submarine Design Group came into existence only during 1986. To commemorate the completion of three decades of the Submarine Design Group, Indian Navy along with FICCI organised an International Seminar on Current and Future Challenges of Underwater Vehicle.
Welcoming the august gathering, Harshavardhan Neotia, President of Federation of Indian Chambers of Commerce & Industry (FICCI), expressed happiness over the highly collaborative work between Indian Navy's Submarine Design Directorate, Ministry of Defence (MoD) and industry and stated that it is visible in industry's highly productive and frank interactions with MoD staff to achieve vital national objective of indigenous design and construction of underwater platforms. He further added that Indian industry believes that P-75(I) programme is on track and is looking forward to participate productively in this programme as well as the subsequent ones. He stated that industry sees 'Make in India' (Defence) as an opportunity towards not only achieving self-reliance but also creating the ecosystem that would promote high technology manufacture and high skill jobs in the country.
Delivering the inaugural address, Defence Minister Manohar Parrikar emphasised the commitment of government towards modernisation of armed forces. He mentioned that the current government has cleared more than 2,00,000 crore worth of defence acquisition since it came to power and is resolved to order 3,00,000 crore (cumulative basis) by the end of this financial year. He commended Indian Navy for commendable track record in indigenously designing and constructing the advanced frontline warships such as destroyers, frigates, anti-submarine warfare corvettes, landing crafts and is in the midst of constructing an aircraft carrier. He said that in consonance with 'Make in India' campaign the indigenous content of the latest naval platforms today is staggering 85-90 per cent. He mentioned that the 24 submarines which are to be acquired as part of the 30-year submarine building plan of India, out of which six submarines have been ordered on the Mazagon Dock Ltd (MDL) and the same are being built with the help of transfer of technology (ToT) from DCNS. Comparing submarine construction programmes with other countries, the Defence Minister opined that India should rethink its submarine building programme and expand its fleet beyond the planned 24. He brought out while the underwater platforms built under the aegis of ATVP achieved indigenous contents of over 70 per cent, P-75 programme has not achieved quantitative indigenisation which is limited to mere 30 per cent.
While emphasising the importance of strategic programmes, he mentioned that RFP (request for proposal) for the much awaited P-75(I) project under which six more submarines are to be built with the participation of private sector will be under the strategic partnership (SP) model. He informed that a dedicated chapter on SP was being drafted and would be finalised soon. Thereafter it will be submitted for clearance by the Defence Acquisition Council (DAC) and finally referred to the Cabinet for approval. After the approval of SP model, the project P-75(I) will be fasttracked for implementation.
Giving the keynote address, Admiral Sunil Lanba, Chief of the Naval Staff, mentioned that the aim of the Indian Navy is to indigenously design and construct the submarines with the help of industry, academia and R&D. He brought out that naval platforms operate for nearly 25 to 30 years and thus depend on the partnership with the industry in a meaningful and sustainable manner. He further added that the Naval Capability Building Plan cannot be accomplished by the Indian Navy alone and it has to be a collective effort of the government agencies, R&D and industry. He emphasised that the above objective needed firm support of robust budgets and sound infrastructure. He shared Navy's belief that self-respect comes from self-reliance. He shared disappointment that while Indian Navy achieved large-scale indigenisation in warship building the same cannot be said for submarine design and construction. He was appreciative of the courage of the private industry having invested huge sums in this niche sector and has been resilient in withstanding the long gestation periods. He acknowledged that such efforts are to be supported by long-term partnerships and committed that Navy and industry would continue to grow on indigenisation. He talked of the SP model and said that it was a step in the right direction for building the much needed submarines at the required pace. He said Navy would continue to promote higher R&D in industry and partner with those who possess domain capacity and capability. He reiterated that life-cycle support of the submarines is also to be given equal importance and emphasised that timelines for delivery of submarines is an important factor since delays would lead to obsolescence of technology on board. He highlighted the need for creativity, adaptability, and flexibility to compress programme cycle times.
Rear Admiral C.S. Rao, Director General (Submarine Design Group), in his introductory address explained the reasons for low visibility of Directorate of Naval Design (SDG) matching that of the underwater platforms. He traced the history of the Submarine Design Organisation of the Indian Navy and reiterated the need to nurture the skills required for design and construction of these man-made stealthy seamonsters. He highlighted the role of submarines in the context of maritime security imperatives and emphasised the importance of synergy with the participation of academia, research, development agencies and the industry to build indigenous capabilities in its design and construction.
These aspects were addressed and discussed extensively in two sessions of the seminar. Session-I on theme of Self-Reliance in Design and Construction of Submarines: Synergy between User, Academia and Research & Development Agencies was chaired by Vice Admiral A.K. Bahl, Programme Director, ATVP. Participants were Rear Admiral S.P. Shrivastav, Additional Director General (SDG); Dr Subhash C. Sati, Distinguished Scientist, Director General (Naval Systems & Materials), DRDO; Professor S.N. Singh, Department of Applied Mechanics, IIT, Delhi; Captain Rajiv Lath (Retd), Director (Submarine & Heavy Engineering), Mazagon Dock Ltd; Stephane Neuveglise, Senior Business & Industry Consultant – Marine, AVEVA; Andrei Baranov, Deputy Director General, Central Design Bureau for Marine Engineering, Rubin; Commodore Mukesh Bhargava (Retd), Vice President, L&T Heavy Engineering and Rear Admiral Raja Menon (Retd), Distinguished Fellow, Institute of Peace and Conflict Studies.
Session-II was chaired by Rear Admiral S. Mahindru, Flag Officer Commanding Maharashtra Area, with presentations from Rear Admiral Mohit Gupta, Assistant Chief of Naval Staff (Submarines); Per Malmborg, Head of Systems Development, Saab Kockums; Stephan Meunie, Head of Submarines Business Development for DCNS; A. Srinivas Nagraj, Vice President, NED Energy Limited; Manoj Singh, Industry Solution Manager, Siemens; Segei V. Shedko, Head of Sector, Krylov State Research Centre, Russia and Aleksandr A. Ismagilov, Lead Engineer, Krylov State Research Centre, Russia.
Speaking during the valedictory session were eminent speakers like Jayant D. Patil, Chairman, Defence and Aerospace Committee FICCI and Senior Vice President and Member of the Board L&T Heavy Engineering and L&T Shipbuilding; Bernard Buisson, Managing Director, DCNS India and Vice Admiral D.M. Deshpande, Controller of Warship Production & Acquisition. The valedictory address was made by Dr S. Christopher, Secretary R&D, Ministry of Defence, which was followed by a vote of thanks by Rear Admiral C.S. Rao for an enthusiastic participation in the seminar and for those who added much value through excellent presentations, articulations and intensive interaction to make the seminar truly a great success.