An MH-53E Sea Dragon assigned to Helicopter Mine Counter Measure Squadron conducts a mine sweeping exercise
Mine Counter Measures (MCM) are required to be taken against naval mines which were first introduced by the Chinese in the 16th century as an anti-piracy measure and in the west almost during the same period. They have been used extensively since the 20th century on rivers and for sea operations including both World Wars. Naval mines are an invisible enemy which allows any maritime nation to defend itself, regardless of its naval capability. They deter and push underwater and surface navy to move away from the shoreline towards the open sea. A modern mine system is primarily a multifunctional device which carries explosives and can be exploded by multiple means like pulse magnetic influence, acoustic-magnetic, pressure through hydrodynamics, acoustic, electric, etc. The mines explode due to a highly-sensitive fuse or initiator with an operating radius of 50 to 60 m which can be triggered by sound, pressure or magnetic field produced by ships when they pass within the operating radius of the mines. Mines can be classified by method of operations like contact and influence; by planting method like moored, bottom and floating; and by mobility into self-propelled and fixed. Minefields can be controlled and uncontrolled. Recently a new class of attacking mine has been developed which is a combination of a mine-carrying platform and a torpedo or a missile system. Mines can be planted by aircraft, submarines, surface ships, underwater robots, and frogmen, as well as merchant ships, fishing ships, ferries and motor boats. Some of the current and future developments are greater operating range, sensitive to fast-moving targets including submarines; modernisation of current exploders and development of multi-purpose exploders; development of multi-purpose transportable mines; reduction of target attack time and simultaneous enhancement of reliability and noise immunity of mines and so on.
Mine Countermeasures Vessels (MCMV)
Operation Overlord was the largest opposed amphibious assault of World War II (June 6, 1944). It involved crossing the English Channel by more than 5,000 vessels and about 1,60,000 troops, and was the most difficult and costly MCM operation. The extensive minefield and obstacle clearance was carried out by more than 300 MCM ships, swimmers and large number of supporting forces. Such a large minesweeping operation will probably never occur again and the technology has also come a long way since then. MCMVs are dedicated systems which provide the operational commanders with capabilities required to deal with the mine threat in the littorals and at sea. In the US they have dedicated systems to provide integrated MCM capability which will enable the capability to maintain sea battlespace dominance across the spectrum of potential conflicts. Capability of MCMV systems can be optimised with the support of intelligence and strike elements. In a way a MCMV system is akin to anti-submarine and air defence warfare. Such systems are invaluable to Aircraft Carrier Battle and Amphibious Ready Groups. An example of US Navy's MCM-1 is given briefly.
MCM and MCM-1 (Avenger) class of ships. The current MCM ships are capable of supporting all mine-hunting aspects to include detection, classification, identification and destruction. However, the MCM-1 class can carry out minesweeping which includes mechanical sweeping against moored mines and magnetic/acoustic combination influence sweeps against moored and bottom influence mines. The MCM-1 has the AN/SQQ-32 minehunting sonar (in a variable-depth body) for mine detection and classification. It was developed by Raytheon and Thales Underwater Systems (formerly Thomson Marconi Sonar)and currently features on all MCMVs of the US Navy. It relies on the AN/SLQ-48 tethered mine neutralisation system (MNS) to identify and render inoperative sea mines. MNS is a type of unmanned underwater vehicle which was developed in the mid-1970s by the Naval Ocean Systems Center and built initially by Honeywell and then by Alliant Techsystems. The AN/SLQ-48 is a recoverable, submersible which carries high-definition sonar for reacquisition and a low-lightlevel TV and floodlights for identification of the target. The MNS places an explosive charge near the bottom or moored mine target in order to destroy the mine in place. It receives its commands and power from the mother ship. MCM-1 platform can also deploy twin minesweeping systems for better results. A closed-loop degaussing system is being developed for the MCM-1 to lower the ship's magnetic signature and reduce the frequency of calibration at degaussing ranges. Degaussing is a method to decrease or eliminate a remnant magnetic field.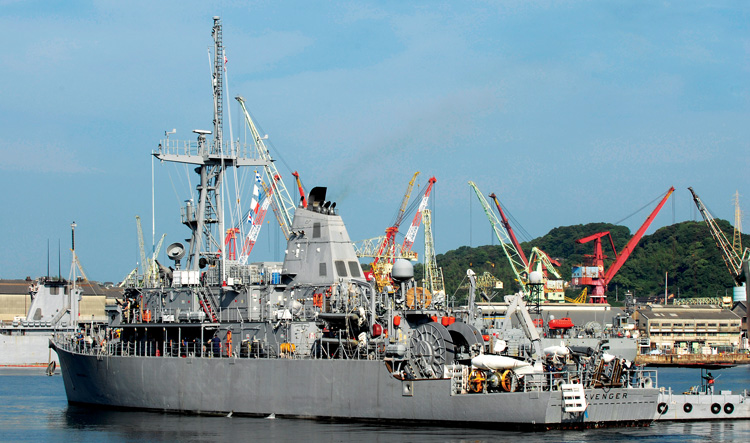 US Navy mine countermeasures ship USS Avenger
Unmanned Underwater Vehicle (UUVs)
Many type of such vehicles are being developed for MCM operations apart from other roles like search and rescue, and hydrographic survey. Example of one has been given above. These vehicles can be launched from a submerged platform and move to inshore areas autonomously. For amphibious operations, the force has to move through the inshore area (from the very shallow water zone, with a depth from 10 ft to 40 ft) through the surf zone and the craft landing zone, and onto the beach through the beach exit zone. UAVs can be of immense value for MCM in such operations.
Offshore Mine Warfare Operations
The Explosive Ordnance Disposal (EOD) diver system and marine mammal system play a key role in offshore mine warfare operations. EOD MCM detachments are employed to identify, neutralise, and exploit mines as well as participate in post-interdiction intelligence collection. US Navy has discovered that dolphin's biological sonar called echo location is good at detecting mines. The Californian Sea Lion displays similar traits thus the US Navy has launched a unique Naval Marine Mammal Program to train dolphins and sea lions to detect mines and other objects. The EOD diver system and mammals are combined to work as a team.
Airborne MCM. MCM can be also carried by helicopters and one such example is given below.
Capability of MCMV systems can be optimised with the support of intelligence and strike elements. In a way a MCMV system is akin to antisubmarine and air defence warfare.
Sikorsky's MH-53E (Sea Dragon). The MH-53E is a multi-purpose helicopter employed for vertical replenishment and airborne MCM. The original Sikorsky S-65 production model has only two engines but the S-80/H-53E has three engines and is the most powerful helicopter ever built outside Russia. All CH-53As were delivered with provisions for towed minesweeping equipment but the US Navy decided that a dedicated MCM version would need more power and additional modifications. Accordingly, 15 CH-53As were transferred to the US Navy as RH-53A minesweeping helicopters and equipment for towing the EOD Mk 105 hydrofoil anti-mine sled. It can carry AN/AQS-14 side-looking minehunting sonar, a variety of minesweeping systems including Mk 103 mechanical sweep, Mk 104 acoustic influence sweep, Mk 106 combination acoustic and magnetic influence hydrofoil sled, AN/SPU-1/W Magnetic Orange Pipe magnetic influence sweep (for shallow water), AN/ALQ-141 dual acoustic sweep, A/N 37U deep mechanical sweep, and Mk 2(G) acoustic influence sweep. An airborne MCM system is less risky than a surface MCMV and can carry out reconnaissance ahead of the surface operations.
The MCMV project involves the construction of 12 MCMV at an approximate cost of Rs. 32,000 crore (about $4.9 billion), as part of Prime Minister Narendra Modi's vision of 'Make in India'.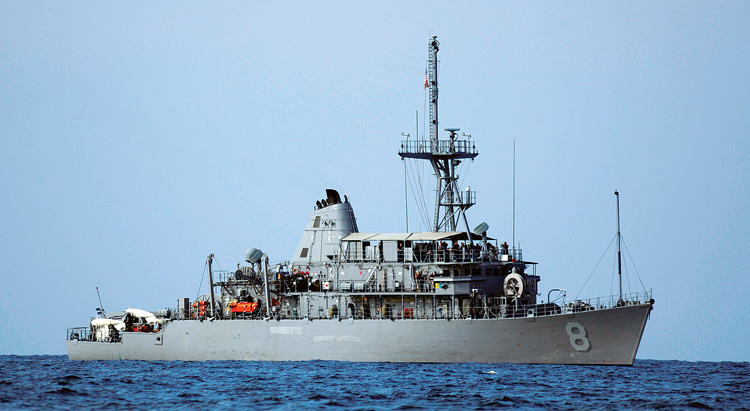 US Navy USS Scout
Indian Perspective
India inherited minesweeper vessels from UK which were wooden hulled vessels and were subsequently replaced by Soviet origin minesweepers (Pondicherry class) in the 1970s. However, the break-up of former Soviet Union created serious problems of maintenance and spares support which was also applicable to all military hardware of Soviet origin. During mid-2004, the Ministry of Defence (MoD) approved the induction of a new generation of MCMVs. The MCMVs were to have high-resolution sonar for detecting mines and then neutralise them with remote-controlled mine disposal systems. The ships were to have lower acoustic and magnetic signatures and improved resistance to underwater explosions. The plan was to have eight MCMVs to be constructed by the Goa Shipyard Limited (GSL). The acquisition went through many twists and turns when the request for tender for construction and technology assistance was sent to many companies like Intermarine of Italy, Kangnam Corporation of South Korea and IZAR of Spain, all current builders of MCMVs. A RFP was also sent later on to many vendors. The latest is that the MCMV project involves the construction of 12 MCMV at an approximate cost of 32,000 crore, as part of Prime Minister Narendra Modi's vision of 'Make in India'. The MoD/Defence Acquisition Council had cleared nomination of GSL for construction of 12 MCMV vessels in February 2015.
Invitation for Techno-commercial Offers. GSL has invited Techno-commercial for 12 MCMVs to be made at GSL for Indian Navy. Salient aspects are:
They will be built by GSL, a first for India.
The construction of the first vessel is envisaged to start in April 2018. First vessel will be delivered after three years, i.e in April 2021.Thereafter one vessel will be delivered every six months. All 12 vessels will be delivered from April 2021 to September 2026.
The vessel are to be state-of-the-art with a displacement of 800-1,000 tonnes and length of 55-80 m.
They are to be nonmagnetic in nature, hence all the machinery, auxiliaries, equipments are to be made of nonmagnetic material. Use of ferrous materials is to be minimised. Wherever inevitable suitable 'Degaussing' coils are to be provided for reducing the magnetic signature. It is essential that all practicable measures should be taken to achieve a minimum magnetic signature for the MCMVs.
Further there is an opportunity to provide after sales support service to the ships with Indian Navy during the envisaged period of 25 years of service life.
The focus of the project is to increase the indigenous content. Proposals involving higher indigenous content will be given higher preference.
Modernisation of GSL
The importance of 'Make in India' and the proposal to build 12 MCMVs at GSL is underscored by the fact that Prime Minister Narendra Modi dedicated Phase 3A of GSL's ambitious infrastructural modernisation project to the nation and inaugurated the production of Coast Guard OPV project, at an impressive ceremony on November 13, 2016, in the presence of the Defence Minister Manohar Parrikar and other distinguished guests and members. The Prime Minister, while dedicating the facility to the nation, stated that "MCMV project, for which this world-class infrastructure has been created, will not only strengthen the nation's maritime security but also create employment opportunities and speed up development of the region. This project is an important step towards self-reliance in defence sector, where till now we have been predominantly dependent on the foreign countries. Today at Goa, an important step in the direction of 'Make in India' is being taken to boost the maritime security."
GSL has upgraded infrastructure at a cost of Rs. 700 crore, in order to build MCMVs. The infrastructure will enable construction of GRP (glass-reinforced plastic) hulls for MCMVs first time in India. This will be an unique facility available only in Goa and will put India in the elite company of only five-six countries, which boast of this facility in the world.