The Indian Navy has over 40 ships, 4 submarines, and 12 aircraft deployed in waters near and far around the Indian peninsular and island territories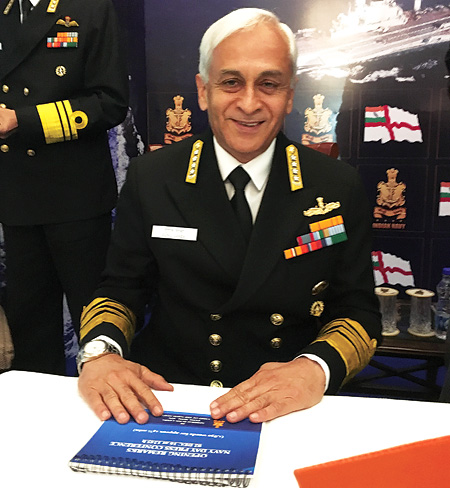 The Chief of the Naval Staff (CNS) Admiral Sunil Lanba on the eve of Navy Day launched the redeveloped Indian Navy's recruitment website, along with an official app, to simplify the application process to join the Indian Navy. Applicants will need to register on the website and will receive automated opportunity and application-processing alerts. Applications will be made completely paperless within two months of the launch. Notably, applicants in remote places would be able to apply for the Indian Navy utilising the existing network of 1.45 lakh Customer Service Centres, with whom the Indian Navy has signed an MoU.
Addressing his first press conference as CNS, Admiral Lanba mentioned the security scenario in the immediate neighbourhood. In this scenario, the Indian Navy has holistically reviewed its deployment philosophy to proactively deter any menace that may threaten India's sovereignty. The Navy has over 40 ships, four submarines, and 12 aircraft deployed in the Indian peninsular and island territories. The operational philosophy, war-fighting capabilities and combat tactics of both the fleets are constantly been tested through a series of sea exercises.
It is Indian Navy's prime responsibility to safeguard national maritime interests and to shape a favourable and positive maritime environment in the Indian Ocean region. The CNS stated: "Towards this end, our ships have established a wide operational footprint carrying the nation's tricolour across the Indian Ocean region, and even beyond over the last year."
The Indian Navy has accorded the highest priority to India's neighbourhood in keeping with the government's 'Neighbourhood First' policy. "Our ships have visited various ports and engaged with navies of countries in the Bay of Bengal, Southeast Asia, Sri Lanka and Maldives in 2016," he said. He mentioned the successful completion of the International Fleet Review (IFR) at Visakhapatnam in February this year. He said that the Indian Navy's endeavour to promote maritime partnerships for common benefit of the global community was achieved with tremendous success during the IFR 2016. This event, he said, is of national significance which has enabled the Navy to bring diverse nations on a common platform to engage meaningfully for securing the maritime domain.
CNS Admiral Sunil Lanba said: "The Indian Navy had trained almost 1,000 personnel from over 40 navies in our training establishments, continued to deploy our ships and aircraft for EEZ patrols off Maldives, Seychelles and Mauritius, and provisioned ships, aircraft, helicopters and simulators, to friendly regional navies. Herein, I must highlight that our advanced light helicopter deployed to Maldives with our crew has undertaken multiple missions, including medical evacuations and search and rescue in Maldives.
"Our growing national security needs dictate that we embrace jointness and respond more effectively in a composite manner to address present and future challenges. With this foundational principle, the Indian Navy, along with the Indian Army and the Indian Air Force (IAF), has conducted a series of joint exercises this year, involving several aircraft from the IAF as well as Indian Army units."
The CNS elaborated: "As far as coastal security is concerned, with support from the National Committee for Strengthening Maritime and Coastal Security (NCSMCS), we have brought multiple agencies of the government together. This has enabled consolidation of our combined capabilities. Consequently, our operational readiness to secure our coastal and offshore regions has significantly improved."
The year 2016 has witnessed significant capability accretion through induction of a number of state-of-the-art combat platforms into our force. These include the anti-submarine warfare corvette, Kadmatt, which has more than 90 per cent indigenous content, the water jet fast attack craft, Tihayu and several fast interceptor craft.
"Our growing national security needs dictate that we embrace jointness and respond more effectively in a composite manner to address present and future challenges."

— Admiral Sunil Lanba, CNS
"The commissioning of INS Chennai, the third ship of Kolkata class, was an important milestone in our indigenous shipbuilding programme. We also launched the second ship of the P-15B destroyers Mormugao this year. The impending inductions of ASW corvette Kiltan, water jet FACs and landing craft utility ships will further boost our combat potential. The construction of our first indigenous aircraft carrier Vikrant is progressing well at Kochi. We are also finalising our plans and design for our next indigenous aircraft carrier and moving to seeks government's approval for the project," the CNS said.
The Indian Navy's Submarine Arm is completing 50 years on December 8, 2017, and 2017 will be celebrated as the 'Year of the Submarine Arm'.
"We have concluded the contract for purchase of four additional P-8I aircraft. Simultaneously, the contract for upgradation of Ka-28 helicopters has been concluded which will give a boost to our integral aviation capability," the CNS said. The successful and timely completion of Vikramaditya's refit, including her maiden docking at Cochin Shipyard, was a momentous achievement. This maiden feat has enhanced our collective confidence in indigenous capability to maintain and build complex platforms.
Officers and sailors training establishments at Ezhimala and Chilka are being augmented. Skill-mapping of retiring sailors and certification during in-service training are important initiatives by the Indian Navy in pursuance of the government's 'Skill India' mission.
The CNS said he hoped that "this year, six of our personnel were honoured with Naosena Medal for exhibiting exceptional gallantry and courage, in the face of daunting challenges. On the occasion of Navy Day, I salute them and their families, for their contributions and sacrifices, in service of our nation."