Countries who do not need a full-fledged navy find FACs a suitable inexpensive option in lieu of navy. They are very effective in countering terrorist threats, preventing smuggling, anti-piracy and poaching of sea/coastal resources.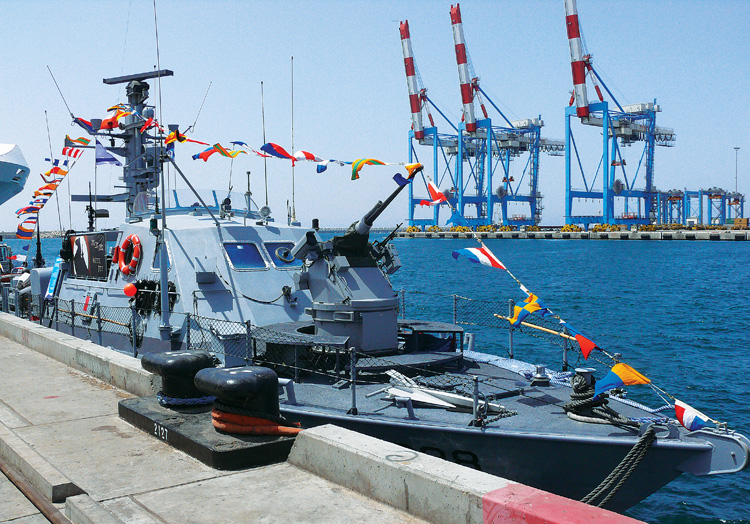 Super Dvora Mk-III
Fast attack crafts (FACs) are small, fast and highly manoeuvrable boats which are armed and used for patrolling in proximity of the coast. They can be very useful in regions where the sea between countries is narrow and within the range of a FAC like between North and South Korea, and in the Persian Gulf off the coast of Iran. It is essential for them to have effective navigation and surveillance means to be able to move and chase rogue elements in a fast changing threat and sea environment. It is essential for them to be armed so that they can take instant punitive action. Normally they are armed so that they can take instant punitive action if required instead of asking for armed assistance which may be late. Their size can vary from 50-800 tonnes and speed of 25-50 knots. Countries who do not need a full-fledged navy find FACs a suitable inexpensive option in lieu of navy. They are very effective in countering terrorist threats, preventing smuggling, anti-piracy and poaching of sea/coastal resources. They are also ideal for policing duties by the river police and coast guard. North Korea and Iran has the largest number such craft.
Earlier versions were the torpedo and missile boats which were employed to carry out surprise attack on sailing ships, ships in harbour and other targets like fuel/ammunition dumps near the harbour. There are many versions and nomenclature like fast interception craft, fast patrol craft and so on, depending upon the role. Erstwhile Soviet Union was the first to design and build missile boats which were almost 200 tonnes in displacement and had a speed more than 30 knots. It had radars and missiles, and could virtually shoot and scoot. One example is of the Indian Navy's devastating attack on Karachi harbour during December 1971, in which its Vidyut class missile boats (Indian version of OSA class boats of Soviet origin) destroyed half of Pakistan's Navy and their fuel reserves with SS-N-2A Styx anti-ship missile.
Israel's Super Dvora FAC
The Super Dvora series of patrol and attack boats FACs are manufactured by the Ramta division of Israel Aerospace Industries (IAI). The first Mk-III were contracted by the Israel Navy in 2013. Mk-II are successor to Dabur, Dvora, Shapirit, and Super Dvora Mark-I and Mark-II boats. They are the latest boats waterjet-powered fast patrol craft. The Super Dvora Mk-II patrol boats are deployed in missions such as offshore patrol, law enforcement, naval intelligence, command and control, interdiction and boarding of suspect targets, and protection of exclusive economic zone (EEZ). Its nonmilitary applications include search and rescue (SAR), humanitarian assistance and disaster relief. The MKII incorporates an aluminium hull, whose geometry enables stability in the sea at all speeds. The operational capability of the boat is enhanced by incorporating a range of capabilities in a single platform.
The modular design accepts a wide range of payloads for conducting patrol or combat missions and ensures the integrated modular design accepts a wide range of payloads for conducting patrol or combat missions and ensures the integration of modular systems for future requirements. The high-sustained speeds and improved sea-keeping abilities allow stability in brown and blue water operations. The boat is capable of intercepting targets at speeds nearing 50 kt. It has a displacement of up to 72 tonnes and accommodate a crew of 12. The boat can carry advanced stabilised precision naval weapon systems and sensors for enemy engagement during day and night, in all weather conditions. It is mounted with a Rafael Typhoon stabilised 25mm cannon aimed by POP-300 day/night mast-mounted optronic payload.
The vessel can be additionally armed with optional weapon systems, including long-range missile launching system and short-range missiles, such as Hellfire surface-to-surface missiles. It can be integrated with modern sensors, command and control systems including intelligence gathering and self-defence suites. The Super Dvora Mk-II is available with a choice of propulsion systems, such as the latest articulating surface drives (ASD) or waterjet propulsion.
The ASD system enables operations in extremely shallow water at minimal drafts of 1.2 m and also enables the operators to proactively steer the propellers, providing the craft with thrust vectoring control which is akin to many advanced fighter jet aircraft being used currently. It has two MTU-type 12v396 TE94 diesels driving two articulated surface drives provide a maximum range of 1,500 nautical miles at economic speed. The Indian Navy also has Super Dvora class of FACs.
Swedish FAC Combat Boat 90
Swedish FAC Combat Boat (CB) 90 is developed by Dockstavarvet and can perform the role of force protection, countering enemy fast boats and also dealing with threats on land. Future design will enable them to carry limited troops for amphibious operations. It can also be used for peacekeeping operations and as a floating ambulance.
The CB90 is a fast and agile boat. It's lightweight, shallow draught, and twin waterjets allow it to operate at speeds of up to 40 knots in shallow coastal waters. The water jets are partially ducted, which, along with underwater control surfaces, similar to a submarine's diving planes, allows the CB90 to execute extremely sharp turns at high speed, decelerate from top speed to a full stop in 2.5 boat lengths, and adjust its pitch and roll angle while under way. CB90 HS has a displacement of 20,500 kg when full and has a length of 15.9 m. It carries an armament of 2 × Browning M2HB machine guns, 1 × Mk 19 grenade launcher/ .50 M2HB / M134D mini-gun or RWS turret on the mast and 4 naval mines or 6 depth charges. Additionally, the CB90 H can also carry 2.8 tonnes of mines or the modified Hellfire-type RBS 17 SSM system. US has shown interest in these boats for their brown water operations and are in service with many countries. The CB90s, can be operated from the davits of assault ships. The Strb 90 HS is armoured and can be made NBC protected. Future plans are to make them a more powerful patrol asset, have a role in providing firepower support to special forces raids on enemy coastline.
INS Tarmugli joins the Indian Navy
Raptor (Project 03160) High-Speed Patrol Boat, Russia
The Raptor (Project 03160) high-speed patrol boats are designed and being built by Open JSC Pella Shipyard based in Leningrad, Russia. The boat can be deployed in a wide range of missions, including patrolling, search-and-rescue, anti-sabotage and anti-terrorism. It has a maximum length of 17m and can transport up to 20 crew members of distressed ships or aircraft and has the ability to intercept and arrest light ships. The Russian Navy has procured eight boats for the Black Sea Fleet. Armour panels fitted on the hull provide level 5 and 5A protection against bullets. The 39mm-thick bulletproof glass windows offer ballistic protection for the occupants. It is powered by a 2,000 hp engine, the Raptor patrol boat can reach a top speed of approximately 50 knots. It can execute missions in a radius of 160 km (100 miles) from its operating base. The boat is capable of operating in coastal waters, estuaries and straits both during day and at night.
Indian Perspective
Fall out the 26/11 terrorist attack on Mumbai was to boost up the coastal security and one aspects was to raise a special force for the Indian Navy equipped with FAC. This force was named Sagar Prahari Bal (SPB), comprising of 1,000 personnel and equipped with 80 fast interception crafts (FIC). The process of raising a fully equipped SPB is on the since 2009. FIC and FAC are similar in role and design. These boats were to be made in India except for some which are being acquired from a SriLankan Shipyard otherwise they are mainly being built at the Garden Reach Shipbuilders and Engineers Ltd (GRSE) in Kolkata, Goa Shipyard Ltd. (GSL) and L&T Shipyard near Chennai.
GRSE. Three follow-on waterjet fast attack craft namely INS Tarmugli, INS Tilanchang and INS Tihayu were launched during June 2015. The first two FACs INS Tarmugli and Tihayu have already been commissioned this year. INS Tarmugli is the first follow-on water jet fast attack craft (WJFAC), built by GRSE and is an improved version of WJFAC, constructed earlier by GRSE. The waterjet FAC are powered by the latest 4,000-series of MTU engines, along with advanced machinery control system and waterjets and can attain a maximum speed of 35 knots. These follow on FACs have higher power generating capacity of 280 kW, enhanced capacity of RO plant from 2 tonnes per day (TPD) to 4 TPD among many other features as compared to the WJFAL already in service. It is named after an island in the Andaman group, the 320-tonne ship with a length of 48 m. The FAC is manned by four officers and 41 sailors. The indigenously conceived, designed and built ship is capable of operating in shallow waters at high speeds and is equipped with enhanced firepower. For carrying out extended coastal and offshore surveillance and patrolling, it is fitted with advanced MTU engines, waterjet propulsion and latest communication equipment. The ships armament consists of a 30mm CRN 91 gun manufactured by the Ordnance Factory in Medak. Other FACs are under construction and will be commissioned shortly. An electronic day-night fire control system namely Stabilised Optronic Pedestal fire control system manufactured by Bharat Electronics Limited controls the gun. The ship is also equipped with two 12.7mm heavy machine guns and multiple medium machine guns, besides shoulderlaunched Igla surface-to-air missiles.
Goa Shipyard Limited. FAC Missile craft being built at GSL is meant for destruction of enemy warships and landing crafts on the open sea. The hull is made of special, lightweight, MS and aluminium alloy sheets. It is propelled by gas turbines to make it a fast and swift craft. It has an array of weapons to deliver lethal punches to enemy. Advanced weapons and additional sophisticated electronics make this vessel unique than the other vessels. A distinguishing feature of the vessel is that it is fitted with an indigenously developed gun and a very precise fire control system. More of indigenous equipment and fittings have been installed. They have a maximum length of 56.9 m, overall breath at deck is 11.5 metres, displacement is 477 tonnes, maximum speed is 35-40 knots and has an endurance of about 2,649 km.
It is essential for fast attack crafts to have effective navigation and surveillance means to be able to move and chase rogue elements in a fast changing threat and sea environment
L&T. The global shipping industry was booming in 2007 and the regular shipbuilding countries like Japan, South Korea and China found difficult to cope up. That is the time when many Indian shipyards joint the race including L&T, India's biggest engineering and construction firm. With a shipyard at Kattupalli near Chennai. L&T has won some contracts for building offshore vessels for the Indian Coast Guard, floating dock for the Indian Navy and FACs. The Kattupalli yard started building ships in 2012 but by then the global shipping industry slumped due to the meltdown in global economy. After 26/11 terrorist attack the surge for FACs requirement have gone up. L&T is among the four private local shipbuilders that have a permit from the government to build warships. The other yards are ABG Shipyard Ltd, Bharti Shipyard Ltd, Pipavav Defence and Offshore Engineering Co. Ltd. (now Reliance Defence and Engineering Limited). L&T's FAC has a speed of about 45 knots and length of 25-29 m. It is understood that 29 are on order for the Indian Coast Guard (finally about 36) and more orders will follow. As per Wikipedia the craft has a displacement of 90 tonnes, has full aluminium-alloy hull is powered by twin waterjet propulsion systems to enable quick response. The vessels are fitted with state-of-the-art navigation and communication equipment and medium-range armament. Each vessel is powered by two Caterpillar Marine Power Systems 3516C marine propulsion engines (2,525 bkW @ 1,800 rpm, 'D' Rating) and two C-4.4 auxiliary generator sets (86 eKW @ 1,500 rpm). The vessel's crew consists of one officer and 11 person and the commissioning started in 2012.
Sri Lanka's Solas Marine Lanka Private Limited. The FACs built by them can do speeds up to 45 knots and have an endurance of 200 nautical miles at 15 knots. They can carry a variety of armament from heavy machine guns to grenade launchers. The upper deck canopies are bullet proof. The versatile vessels are fitted with modern navigational aids and communication equipment including automatic identification system and long-range acoustic device—an anti piracy device.