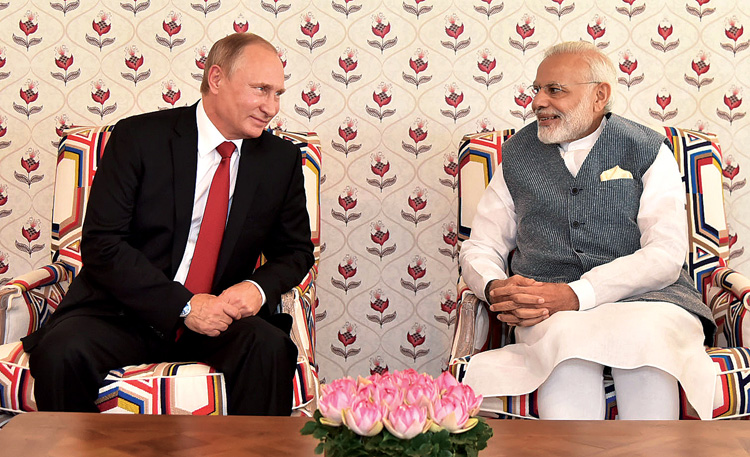 India's defence relations go back to almost half a century. The Indian armed forces have been equipped with weapon systems of erstwhile Soviet origin and continue to do so. Russia has been an all-weather friend and has always supported India in the United Nations. Thus defence cooperation has become an important part of the India-Russia strategic partnership which is formalised by the Programme for Military Technical Cooperation signed between the two countries and valid up to 2020. It enshrines the interest of the two governments to further develop and strengthen the military and technical cooperation in the sphere of research and development, production and after sales support of armament systems and various military equipment. The two sides also have periodic exchanges of armed forces personnel and military exercises.
India and Russia have an institutionalized structure to oversee the complete range of issues of military technical cooperation. The India-Russia Inter-Governmental Commission on Military Technical Cooperation (IRIGC-MTC), set up in 2000, is at the apex of this structure. The two Defence Ministers meet annually, alternately in Russia and India, to discuss and review the status of ongoing projects and other issues of military technical cooperation. There are two Working Groups and seven Sub-Groups under the IRIGC-MTC, which review and discuss an array of military technical issues. In 2008, a high level committee called the High Level Monitoring Committee was set up with Defence Secretary from the Ministry of Defence of the Republic of India and Director of Federal Service for Military Technical Cooperation from the Russian Federation as its co-chairs. Over the years, cooperation in the military technical sphere has evolved from a purely buyer-seller relationship to joint research, design development and production of state-of-the-art military platforms. Production of BrahMos for all the three services is an example of the changed approach.
Indo-Russian Naval Coperation
Conventional Submarines. An agreement was signed in September 1965 for construction of four I641K-Project submarines for India and building of submarine base in Visakhapatnam with the technical assistance of the Soviet Union. This was followed by acquiring 10 877EKM-Project diesel-electric submarines from 1986 to 2000. The submarines were designed by Rubin and constructed in the former USSR and Russia. The boats were equipped with Club-S missile system during their refit in Russia and now they are the basis of conventional submarine fleet of the Indian Navy. Russian media has reported that India is considering purchase of Varshayanka class diesel-electric submarines to augment the depleted Indian Navy submarine fleet. It has been planned to refit four Kilo class submarines and a contract has been finalised with the Russian shipbuilder Zvezdochka.
Nuclear-powered Submarines
The first nuclear-powered submarine leased was under Project 670 Shchuka-B Skat K-43 submarine from 1988-91 and it was also named Chakra by the Indian Navy. The aim was to gain experience in the design, manufacture and operation of nuclear power submarines. The second time the Indian Navy leased a nuclear powered submarine was in 2012 under Project 971 Shchuka-B K-152 and was also named Chakra. It is also reported that India may lease another nuclear powered submarine from Russia by 2018. India's own nuclear submarine project is on track with the first submarine called Arihant will soon be commissioned. It is understood that finally India will have six nuclear submarines.
Frigates
During 1997, India and Russia signed a contract for the supply of three frigates (patrol ships according to the Russian classification). These vessels are equipped with 100mm artillery guns, Klub-N attack antiship missile systems, Shtil medium-range SAM systems, torpedo launching tubes and rocket launchers. Talwar, Trishul and Tabar frigates joined the Indian Navy in 2003-04. In 2006, Russia and India signed an agreement for the supply of three additional ships. Thus Teg, Tarkash and Trikand frigates entered the Navy in 2012-13. The major difference between the second set and the first is the inclusion of launchers for BrahMos missiles.
Project 11356. Admiral Grigorovich class (Project 11356) guided-missile stealth frigates are designed by the Severnoye Design Bureau and were meant for the Russian fleet but the propulsions systems are from Ukraine. Considering the present relations between Russia and Ukraine, Russia has offered four frigates of this project to India. Under this deal, two vessels will come from Russian and while the other two will be built in India with Russian collaboration. No decision has been made on the selection of the Indian shipyard. This is in furtherance to the six Talwar class frigates that Russia built for the Indian Navy between 2003 and 2013. The same was also reported during the third issue of SP's Naval Forces June-July issue.
Aircraft Carrier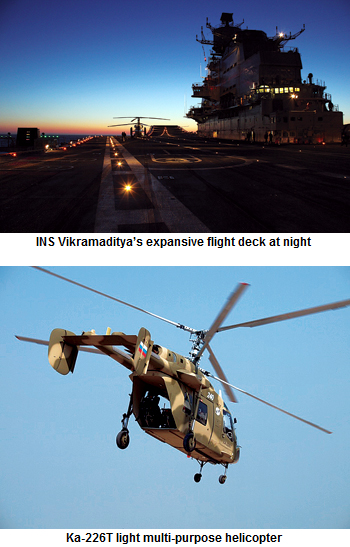 India and Russia signed a contract in 2004 on the transfer of the aircraft carrier Admiral Gorshkov. After extensive modernisation it was named INS Vikramaditya and joined the Indian Navy in 2014. Russia's Nevskoe Design Bureau has assisted in India in designing its own aircraft carrier INS Vikrant.
Marine Aviation
Russia has supplied the ship-based multipurpose fighters MiG-29K and MiG-29KUB. The first contract for the supply of 16 jets was signed in 2004 and the second in 2010. Russian anti-submarine warfare and antisurface warfare helicopter Ka-27 or Ka-28 (export designation) is in service with the Indian Navy.
Ka-226T Helicopters. On the side of the BRICS summit in Goa during October 15-16, a $1-billion deal for joint production and export of 200 Ka-226T choppers with Russia has been signed which will replace India's ageing Cheetah and Chetak. Ka-226 a light multi-purpose helicopter, which is designed to work in tough conditions of high mountains, hot-arid climate, and marine-oceanic areas. It is manufactured by the Russian Helicopters. They will join the Indian Navy for their requirement of utility helicopters.
BrahMos. It has been reported that the next generation of BrahMos missiles will have an enhanced range of 600 km which will give India the capability to strike deep across the border and actually engage targets anywhere in Pakistan. This was possible as India became a member of Missile Technology Control Regime (MTCR) in June this year. MTCR prohibits non-member countries, sale or joint production of missiles beyond 300 km range. The current BrahMos is a 300 km supersonic cruise missile that can be launched from submarines, ships, aircraft or land. It is a joint venture of India and Russia. It was also reported that the Indo-Russian agreement, signed during the bilateral summit at Goa, also includes development of missiles with smaller range that can be fired from submarines and aircraft.
Joint Exercises
Indian Navy and the Russian Navy carry out bi-annual naval exercises called Indra since 2003. It is believed that word Indra is a portmanteau of India and Russia.