The role of a modern frigate is to protect other ships of the fleet, merchant marine ships, amphibious expeditionary forces and so on from threats emanating from the sea, specially from submarines. It is thus accordingly fitted with a variety of sensors and weapons. Modern frigates also have stealth features.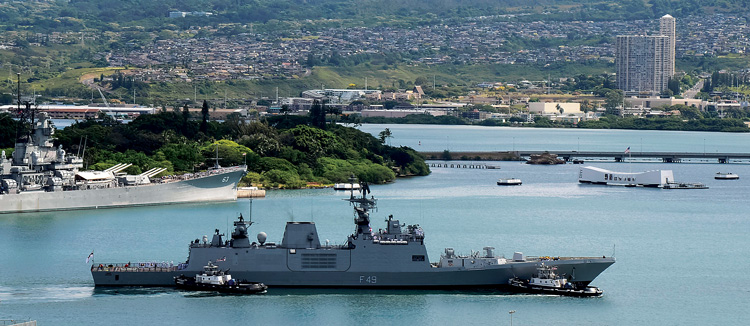 INS Sahyadri
As per open sources, the Indian Navy has 14 frigates which include three of Shivalik class, six of Talwar class, three of Brahmaputra class and two of Godavari class. INS Shivalik is part of Project 17. It is multi-role frigate which has Russian naval radars, multi-purpose air and surfacesearch naval radar systems of Elta, hullmounted sonar array of BEL, towed array systems of ATAS/Thales Sintra and BEL's Ajanta electronic warfare suite. It has a mix of air defence missiles Barak, Shtil-1 medium-range missiles, anti-ship/land-attack missiles like Klub, anti-ship cruise missiles/BrahMos, apart from guns, anti-submarine warfare torpedoes and rocket launcher. It also has two helicopters on board. The successor of Project 17 is Project 17A in which seven ships are to be built at the Mazagon Dock and the Garden Reach Shipbuilders & Engineers Ltd from 2017 onwards.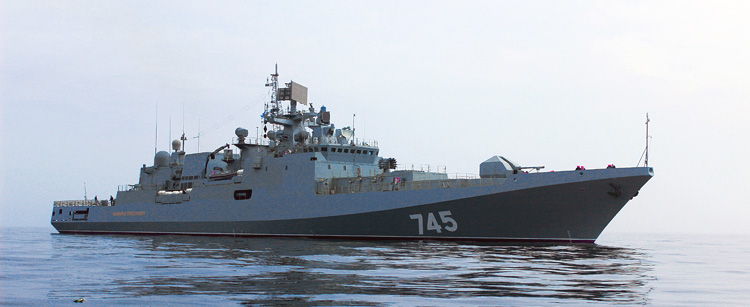 Admiral Grigorovich class frigate
Russian Project 11356 Class
USNI news and Russian media has reported that India and Russia have agreed to a contract for the acquisition of three frigates of Russian Project 11356 class (western classification is Admiral Grigorovich class frigate) which was originally meant for the Russian Black Sea Fleet. Project 11356 class has been by designed by the Severnoye Design Bureau and reported to be the improved models of the Talwar class export frigates. The first ship of the class, Admiral Grigorovich, had joined the Russian Navy's Black Sea Sevastopol base in early March and was the first new ship to enter the fleet since the end of Cold War. This appears to confirm that the Russian Navy has decided to abandon plans to add six to nine Project 11356 class frigates out of which three are already inducted/being inducted into the Black Sea Fleet. The main reason appears for Russia to export these frigates to India is that these ships were designed to have propulsion system M90FR gas turbines which were designed and built by Zorya-Mashproekt in Ukraine, who have been the main suppliers of marine engines to Russia since the Soviet days. All cooperation and contracts have been cancelled between Russia and Ukraine due to break down of relations between them. Russia had already acquired the first three engines of Ukraine origin. Russia has awarded a contract to its aero engine manufacturer NPO Saturn but it is unlikely that the engines will be ready before 2019. India has a choice of directly acquiring the engines from Ukraine and fit them in India. At present two ships are ready less the propulsion system and the third one is under construction.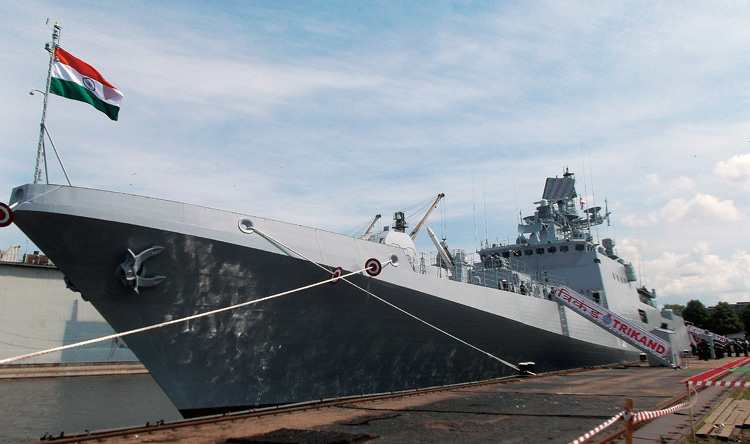 INS Trikand stealth frigate
India is also considering transporting the hulls of the frigates from the Yantar Shipyards in Kaliningrad Oblast to India for their completion and the installation of engines. The contract also includes 12 sets of spares, tools and accessories. Russians have named the ships Admiral Butakov, Admiral Istomin and Admiral Kornilov, but the Indian Navy will give them Indian names. The ships are 4,000-tonne multi-mission frigates. India has a choice of using Russian sensors and weapons or select them as per the operational requirement and cost factors. The frigates are armed with the Russian Kalibir NK long-range land attack cruise missile apart from other weapons. This missile was first used in 2015 from Russian Navy ships in the Caspian Sea to strike targets in Syria. It will also be armed with Indian BrahMos cruise missiles.
This contract is a win-win situation for India and Russia. Russia can reallocate the funds saved and generated from sale for construction of other ships to fulfill their plans to expand Russian Navy to its old glory by 2030. India can fast forward the acquisition of frigates planned under Project 17A. It will also provide a learning curve for India's shipyards and indirectly contribute to 'Make in India' vision of Prime Minister Narendra Modi.