Defexpo had attracted 1,055 companies compared to 624 in the previous edition and the net exhibition area was up from 27,515 square metres to 40,725 square metres, an increase of 48 per cent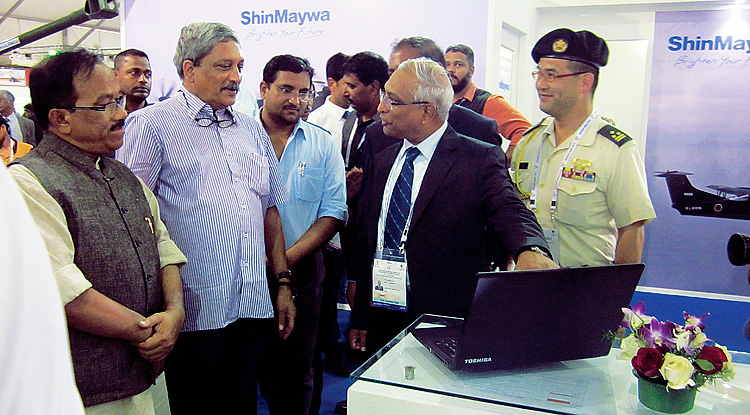 Defence Minister Manohar Parrikar with Cmdre Sujeet Samaddar (Retd), Director and CEO, ShinMaywa Industries India, at the ShinMaywa stall
Quitol in Goa may be back of beyond. But from March 27 to 31, 2016, it beckoned those in defence and aerospace to the ninth edition of Defexpo 2016, the most definite land, naval and homeland security exhibition. The place was transformed from scratch into an exhibition area, though with hiccups, and it signalled to the world that there is so much space for development in India and it can happen anywhere, not just in big cities.
Defexpo 2016 attracted a record number of participants reflecting industry sentiments to India's march towards indigenisation, development and an economic powerhouse. This edition attracted 1,055 exhibitors, up from 624 in the last edition held at Pragati Maidan in New Delhi.
Inaugurating Defexpo 2016, the Minister of Defence Manohar Parrikar said: "The huge number of exhibitors is encouraging. Maybe Goa has something to do with it or may be 'Make in India' initiative has something to do with it." He gave a hint that the successive editions may be held in Goa and asked the Chief Minister of Goa to look into aspects such as road widening.
Domestic and export markets
Parrikar announced that the Defence Procurement Procedure (DPP) had been tweaked and the latest updates had been put up on the Ministry of Defence's website. "This will boost the agenda of 'Make in India'." It will create a defence industry network not just for domestic consumption but also exports. Similarly, there were issues related to offsets which would be tackled in a few months, all to create a conducive defence industrial base.
Growing from strength to strength
The Secretary of Defence Production, Ashok Kumar Gupta, mentioned that this edition had attracted 1,055 companies compared to 624 in the previous edition and the net exhibition area was up from 27,515 square metres to 40,725 square metres, an increase of 48 per cent. The gross area of exhibition has increased over threefold to 1,50,000 square metres against 45,000 square metres in 2014.
Goa Shipyard partners
The Goa Shipyard Limited (GSL), a public sector undertaking, has played a significant role in furthering the self-reliance policy of the nation. With an unmatchable track record of timely execution and fixed cost delivery of over 215 ships and 125 fast interceptor boats, today GSL stands as the success story of the changing face of Indian defence shipyards. GSL was a major partner at Defexpo.
The company has achieved nearly 40 per cent growth in top-line in last two years with bottom line turning positive from a loss of Rs. 61 crore in FY 2013-14 to net profit of Rs. 77 crore in FY 2014-15, thereby registering a sharp turnaround. The excellent financial results achieved are clearly a result of new policies, strategic realignment of priorities coupled with cost control initiatives and close project monitoring introduced at various levels.
The Chairman and Managing Director of GSL, Rear Admiral Shekhar Mital (Retd) said GSL's passionate pursuit for excellence combined with its flexible, decentralised management philosophy to meet the demands and rapidly changing requirements of a varied clientele, has placed it on top of the league amongst Indian shipyards. GSL's core competency is based on its in-house design capability, which furthers the 'Make in India' policy of Government of India. It is the only shipyard in the country engaged in the entire design spiral of ships, leading from Concept design to Basic design to Detailed design and has consequently grown into a fully recognised R&D Centre by the Department of Scientific and Industrial Research, Ministry of Science and Technology. Today the yard designs and builds amongst the best patrol vessels in the world in terms of quality, aesthetics, cost and delivery time, he stated.
DCNS showcases range
DCNS has a wide range of products and services including maintenance, naval infrastructure and cooperations to develop local content. The group is keen to involve the local industry through technology transfer and to set up local partnerships in line with national goals. In India, DCNS is committed to a close collaboration with the Indian Navy and local shipbuilding industry. Indigenisation of P-75 is a good example of a 'Make in India' project, P-75 submarines being manufactured in India right from the first of class. The group set up DCNS India Private Limited, a subsidiary specialising in naval services, in March 2009, to contribute to this ambitious policy.
DCNS showcased Scorpene (P-75 conventional submarine), Mistral Landing Platform Deck ship; DCNS Evolved Aircraft Carrier Ship; Barracuda etc.
Thales range
Thales's sensors, systems and communication solutions are built around the latest, fully proven technologies. The group has a strong global reputation and expertise in systems integration, commitment to partnership with local industries, and a proven track record of working with shipyards all over the world. The Thales booth showcased its capabilities in undersea sonars and radars.
Russian companies in strength
A total of 14 leading Russian naval design bureaus and companies took part in Defexpo and the Russian delegation was headed by Alexei Rakhmanov, President of United Shipbuilding Corporation (USC).
At the Defexpo, USC showcased a variety of surface ships and non-nuclear submarines of various classes. These include the Amur 1650 (a non-nuclear submarine with air-independent propulsion), Project 636 (a large diesel-electric submarine), Piranha and Piranha-T (small submarines), and various surface ships of different types and functions; landing, escort, patrol, minesweeping and coast guard. Of particular interest will be the Project 22356 (a multi-role frigate) and Project 10750E (a harbour minesweeper), both of which were on display.