Finance Minister Arun Jaitley has announced a defence allocation of 2,58,589.3 crore (about $38 billion) in the budget 2016-17 which is 1.47 per cent of the GDP
Anti-submarine warfare corvette of Project-28 Kavaratti
The Finance Minister's budget speech has always highlighted the allocation for the defence forces with the customary closing remark that if additional funds are required, they will be met. However this year the budget speech does not include any reference to the allocation for defence and the word defence is used only five times. In fact the burden of Seventh Pay Commission and One Rank One Pension (OROP) has been highlighted. It is altogether a different matter that the Ministry of Defence can rarely spend all the allocated funds and a portion has to be surrendered. From the capital budget about 11,595 crore has been not been spent which is equal to 13.4 per cent. This could be utilised to boost popular schemes which could give advantage to the government as five states are going for election this year. The government also considers the defence manufacture as a key player to boost 'Make in India' and accordingly changes in customs and excise duty rates have been planned on certain inputs to reduce costs and improve competitiveness of domestic industry in sectors like defence production and some other sectors.
Defence Budget Allocations
Finance Minister Arun Jaitley has announced a defence allocation of 2,58,589.3 crore (about $38 billion) in the budget 2016 which is 1.47 per cent of the GDP. This figure includes revenue and capital expenditure, net of recoveries and revenue receipts but excludes the defence pensions.
Revenue Budget
Army. A total allocation of 1,02,788.84 crore is shown which includes other revenue expenditure like pay and allowances of civilians, transportation, stores, works, etc. Out of this pay and allowances for the Army personnel are 67,721.78 crore.
Navy. A total of 17,424.79 crore is shown which includes other revenue expenditure. Out of this pay and allowances for naval personnel is 5,272.70 crore.
Air Force. A total of 23,655.83 crores has been allocated which includes other revenue expenditure. Out of this pay and allowances for Air Force personnel is 12,072.53 crore.
Ministry of Defence (Miscellaneous). This includes planned and non-planned allocation of 36,133.18 crore for Secretariat-General Services, Border Road Secretariat, Indian Coast Guard, Defence Estates Organisation, Jammu and Kashmir Light Infantry, DRDO, Ordnance Factories, NCC, etc. It includes a capital allocation of 450 crore for roads and bridges and North-eastern areas.
Indian Coast Guard. 1,624.41 crore for revenue and 1,500 crores for capital budget has been allocated.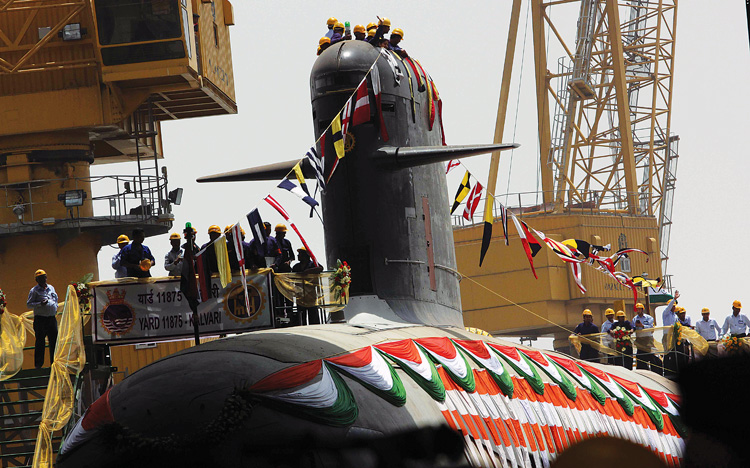 First of Scorpene submarines, INS Kalvari, undocked
Capital Budget
Allocation under this head is meant for all modernisation schemes and 86,340 crore (about $12.6 billion) has been allocated. This head covers committed liabilities and what is left, is for the new schemes. Out of this, 78,586.68 crore is specifically for the three services. This allocation includes weapons and warlike platforms and also land and construction, Naval Fleet, Naval Dock Yards, Joint Staff, Special Projects and procurement of Rolling Stock.
Army. 1,565.94 crore has been allocated for aircraft and engines. This amount will just be able to sustain the existing fleet and major new acquisitions are ruled out. For heavy and medium vehicles 3,411.72 crore and for other equipment 16,173.35 crore thus it is anybody's guess as to what new equipment can be inducted.
Air Force. 17,833.45 crore under aircrafts and aero engines, 127.35 crore under heavy and medium vehicles and 9,595.22 crore under other equipment has been allotted.
Navy. 3,805.00 crore for aircraft and aero engines, 35 crore for heavy and medium vehicles, 2,600 crore under other equipment, 12,467 crore under Naval Fleet, 1,456.77 crore under Naval Dockyards has been allocated.
Analysis of Navy's Capital Budget
The total capital budget for modernisation (aircraft and aero-engines; heavy and medium vehicles; other equipment and naval fleet) comes to 18,907 crore (about $2.8 billion). Naval Dockyards which repair the naval ships have a separate budget of 1,456.77 crore.
Naval Fleet. This head covers the modernization of the key element of the Navy, i.e. the Naval Fleet. About 47 platforms- ranging from submarines to aircraft carrier, are being built in Indian shipyards. The major warship construction programmes in progress include the Aircraft Carrier, P15A and P15B Destroyers, Scorpene submarines, P28 ASW Corvettes, P17A Stealth Frigates and fast attack boats. The seven stealth frigates will be built under Project-17A out of which four are to be build at Mazagon Dock, Mumbai, and three at Garden Reach Shipbuilders and Engineers Kolkata. Apart from these projects, six conventional and six nuclear powered submarines, two midget submarines for special operations and 12 mine counter measure vessels (MCMV) have been cleared by the DAC. MCMV are to be built at Goa Shipyard Limited (GSL) as 'Make in India' initiative with foreign collaboration, at an approximate cost of 32,000 crore (about $4.7 billion). It is reported that letter of intent has been issued to GSL. MCMV project will replace the 12 existing Pondicherryclass ocean minesweepers procured in the 1970s and 1980s. South Korea's Pusanbased Kangnam Corporation is expected to be one of the foreign contenders.
Aircraft and Aero engines. Likely platforms on the horizon are Naval Multirole Helicopter Sikorsky Seahawk S-70B, 16 of which were cleared by the government last year and amphibian aircraft for which US-2 ShinMaywa is a strong contender. The proposal for US-2 ShinMaywa has been discussed at the highest level between India and Japan but there seems to be no progress. A contract was signed between Indian Navy and HAL in July 2010 for supply of 17 Nos of Hawk AJT and associated equipment which has to be delivered 2016-17. The aircrafts are being built by the Hindustan Aeronautics Limited with transfer of technology from BAE Systems, UK. There was an urgent need for maritime surveillance domination considering the size of the Indian Ocean region. Accordingly eight P8I of Boeing were contracted for and have been delivered. Navy has projected four more P-8I which have been accepted by the Government during July 2015 at an approximate cost of 4,380 crores (about $0.65 billion). There is also a requirement for eight medium-range maritime reconnaissance aircraft for which an RFP was floated in 2013. The other requirements are of additional multi-role helicopters and naval light utility helicopters (NLUH). Earlier it was reported that 11 Indian private sector companies, which include Tata Advanced Systems, Bharat Forge, Reliance Defence and Aerospace, Mahindra Aerospace, L&T, etc., had responded to the RFI to form joint ventures with AS 565 mbe of Airbus, Bell Helicopters and Super Lynx 300 of AgustaWestland for 56 (NLUH). However, the picture is not clear as during Prime Minister Narendra Modi's visit to Russia in December 2015, India had signed an agreement with Russia to build Kamov Ka-226 light utility helicopters under the government's 'Make in India' mission. Earlier it was reported that Anil Ambani's Reliance Group will be the Indian partner but now it is HAL who already have started the construction of a separate helicopter manufacturing plant near Tumakuru, around 75 km from Bengaluru. Prime Minister Narendra Modi has already unveiled a plaque for the foundation stone on January 3, 2016. This facility will be utilised for the manufacture of all defence utility helicopters.
Indian Coast Guard. The Coast Guard had been allocated 1,200 crore last year which had been raised to 1,500 crore in the revised estimates. The same amount is allocated now for the acquisition of ships like advanced offshore patrol vessels, inshore patrol vessels, fast patrol vessels, helicopters, aircrafts, etc., to bolster their coastal security capability.
Naval Dockyards. The allocation of Rs 1,456.77 crore has been made to cater for their upkeep and modernisation and is marginally more than last year.
Modernisation of Ship Yards. Modernisation needs of the defence shipyards have been made based on the requirement of the ongoing and future projects. Accordingly the DPSU Shipyards i.e. Mazagon Dock Shipbuilders Ltd, Garden Reach Shipbuilders & Engineers Ltd, Goa Shipyard Ltd and Hindustan Shipyard Ltd have embarked on a comprehensive modernisation programme. Adequate funds also have been allotted for the purpose by the government from a separate head as applicable to DPSUs. The Indian Government has also announced that all warship requirements for the Indian Navy are being met by domestic shipyards thus modernisation of shipyards is underway accordingly. It is projected that by 2027, Navy's force level is likely to be 198 warships as compared to its current fleet of 137.
Conclusion
There is not much change in the defence budget as compared to last year with the added problems of Seventh Pay Commission and OROP. However the modernization of the Navy is on an even keel and way ahead of the Army and the Air Force. The successful conclusion of the 47 ships of all types including submarines, aircraft carrier and fast attack vessels, which are under construction will add to Navy's maritime power. Shortage of all types of helicopters is an area of concern, so is amphibian US-2 ShinMaywa which has been on the drawing board for a long time. Another area is the dwindling conventional submarine fleet. Considering the long gestation period of acquisition of submarines, there is a requirement to expedite these projects. After fructification of these projects, the combination of nuclear powered submarine, conventional submarines and aircraft carriers will enable India to cast a long strategic shadow over the Indian Ocean region.