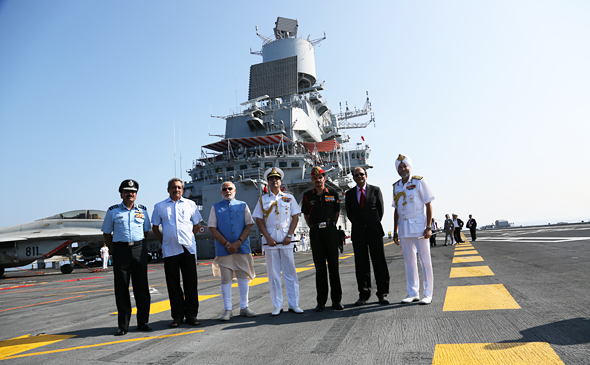 Hon'ble Prime Minister Shri Narendra Modi along with Hon'ble RM Shri Manohar Parrikar, Chairman COSC & CAS Air Chief Marshal Arup Raha, CNS Admiral RK Dhowan, COAS Gen Dalbir Suhag, Defence Secretary Shri G Mohan Kumar and FOC-in-C West Vice Admiral SPS Cheema
Combined Commanders' Conference was held on December 15, 2015, in a unique setting in the Indian Ocean, 40 nautical miles off Kochi, onboard INS Vikramaditya. The nation's maritime prowess was witnessed by Prime Minister Narendra Modi, Defence Minister Manohar Parrikar, Defence Secretary G. Mohan Kumar, National Security Adviser Ajit Doval among Chief of Army Staff General Dalbir Singh, Chief of the Naval Staff Admiral R.K. Dhowan, Chief of the Air Staff Air Chief Marshal Arup Raha, and other top brass of the three services. The review of the operational preparedness of the armed forces of the nation was done by the Prime Minister onboard the largest warship of the country with 30 warships, five submarines and 60 aircrafts demonstrating the intricate naval manoeuvres at sea.
Before embarking INS Vikramaditya for the conference, the Prime Minister reviewed tri-services Guard of Honour at the Southern Naval Command, Kochi.
During the three-and-a-half-hour meeting, the chiefs of the three forces briefed the Prime Minister about the previous year's performance and the challenges ahead.
Addressing the Combined Commanders' Conference, the Prime Minister said India is seen as a "new bright spot" of world economy, and also as "an anchor for regional and global peace, security and stability". He admitted that there were "many challenges and barriers on the path." He added, "Our strategic deterrence is robust and reliable, in accordance with our nuclear doctrine, and our political will is clear." He said there was an urgent need for both the Government and the 13-lakh strong armed forces to undertake far-reaching reforms in their beliefs, doctrines, objectives and strategies as well as improve the poor teeth-to-tail combat ration.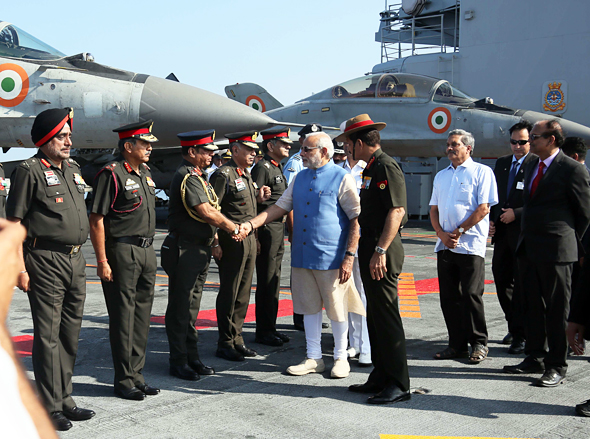 Hon'ble Prime Minister Shri Narendra Modi being introduced to top Army Commanders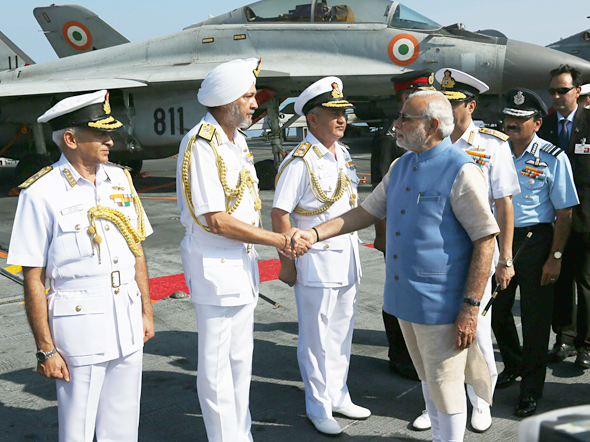 Hon'ble Prime Minister Shri Narendra Modi meeting top Naval Commanders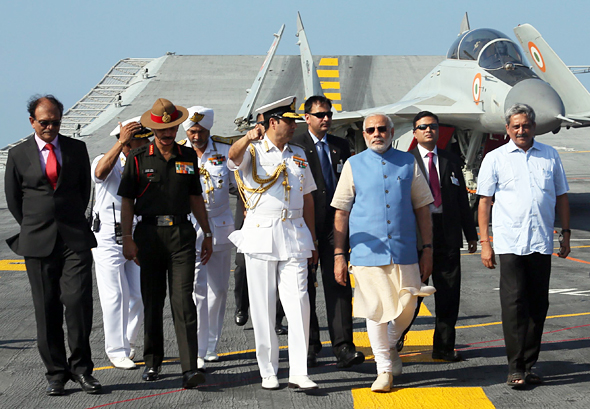 Hon'ble Prime Minister Shri Narendra Modi on board INS Vikramaditya being briefed by Chief of the Naval Staff Adm RK Dhowan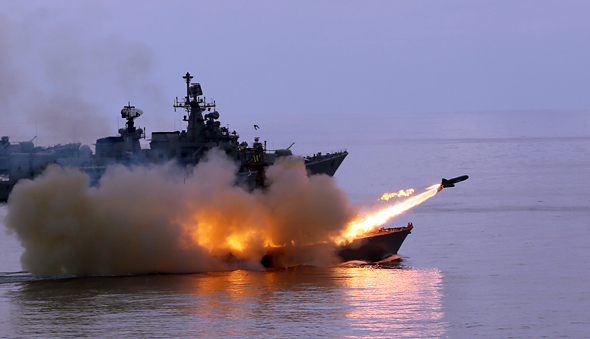 A Surface-to-Surface Missile fired by INS Nirghat (a missile boat) during the Operational Demonstration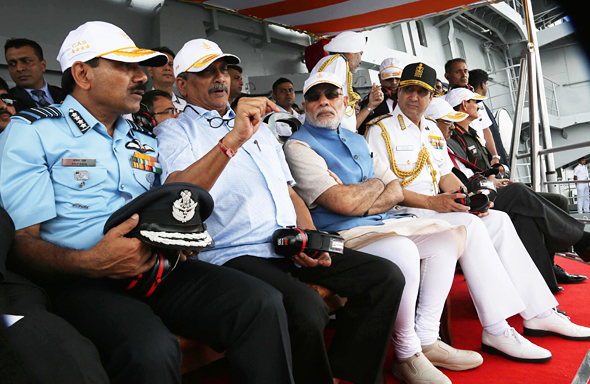 Hon'ble Prime Minister Shri Narendra Modi witnessing various exercises during the Operational Demonstration by Naval ships, submarines and aircraft