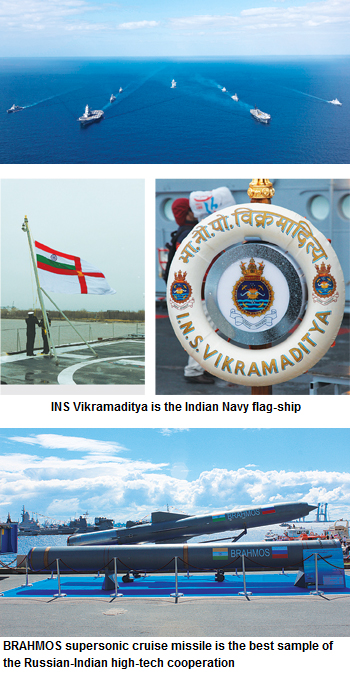 September 1, 2015, witnessed the 50th anniversary since the first agreement with India was signed for the delivery of Soviet naval equipment, i.e. four Project I641K diesel-electric submarines, five Project 159E escort ships, and five Project 368P motor boats.
Since 1965, when the first contract with India's Navy in the history of bilateral relations was signed, over 70 warships have been built at Russia's shipyards for the country. It is worth mentioning that India was the first foreign customer to get her ships constructed based on special export designs. Never before had anyone ever received anything but generic ships and boats.
Today, Russian and Soviet military equipment accounts for about 80 percent of India's Navy inventory. It is Russian ships that comprise its backbone. Russia's long experience and traditions in shipbuilding, enormous combat capabilities and unique characteristics of Russian submarines, surface ships, as well as ship weapons (some are still unsurpassed in the world) keep arousing India's intense interest.
Close and trustful cooperation is crucial in the strategic partnership between Russia and India. This explains the trend in the bilateral cooperation of getting Russian designs constructed at India's shipyards, as well as some of her systems integrated into Indian ships. It is still in its infancy but gains pace steadily. It is in order to mention how Russia's experience in the construction of carriers, including the Vikramaditya, comes in handy in building India's national Project 71 aircraft carrier and outfitting her with Russian systems. Rosoboronexport also assists the Indian Navy in designing and equipping Project 15A and 15B destroyers, and Project 17 frigates. Thanks to her close ties with Russia, India gained access to unique supersonic, antiship missile technologies that resulted in the whole BrahMos family of missiles.
For the sake of successful implementation of future projects, Rosoboronexport is ready to work closely with Indian state and private organizations and shipyards authorized by India's Navy.
"Examples are in abundance of successful Indian-Russian projects and everyone is cognizant of those. Russia has been a key partner of India with a vital role in a comprehensive strengthening of her Navy, from construction of warships and shore infrastructure facilities to training of crews," says Head of Rosoboronexport's Navy Special Equipment and Services Export Department Oleg Azizov. "India has set a strategic goal to effectively defend the national interest in the immense economic zone and the World Ocean, whereas Russia, her true and faithful friend, and strategic partner, facilitates India in every way."