Exercise Malabar 2015 will be gauged from the prism, the growing eminence of Indo-US strategic partnership to the levels not seen before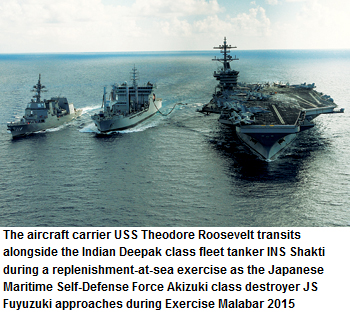 Originally Exercise Malabar was conceived as a naval exercise between the US Navy and the Indian Navy (IN). However, over the years the scope of bilateral naval exercises has expanded to include Japan's Maritime Self-Defense Forces (JMSDF), navies of Australia and Singapore, depending upon availability. The first edition of bilateral Malabar Exercises was in 1992 and included diverse activities, ranging from fighter combat operations from aircraft carriers, through Maritime Interdiction Operations Exercises, etc.
It was for the first time during Malabar 2004 that a nuclear powered submarine of Los Angeles class was deputed by the US. Soon thereafter for Malabar 2005, nuclear powered aircraft carrier USS Nimitz made its presence. However, Malabar 2007 witnessed the largest participation of 13 warships of US Navy, including nuclear-powered aircraft carrier, USS Nimitz, which was protested when anchored off Chennai in July 2007. The other US warships were a conventional aircraft carrier USS Kitty Hawk, nuclear-powered submarine USS Chicago, two guided missile cruisers and six guided missile destroyers. IN deputed eight warships to include aircraft carrier INS Viraat, guided missile destroyers Mysore, Rana, Rajput and fleet tanker INS Jyoti, in addition to a missile corvette INS Kuthar. Australian Navy sent a frigate and a tanker, two destroyers from Japan and one destroyer from Singapore. This was the largest line up of warships participating in Exercise Malabar.
China had strongly protested against Exercise Malabar 2007 in the Bay of Bengal since it was expanded to include the Australian, Japanese and Singaporean navies. Since then, China has always viewed the multilateral naval exercise in this region as part of a grand security axis in the Asia-Pacific region to 'contain' it.
Consequently, participation of JMSDF was restricted to 2009 and 2014 editions of Exercise Malabar which were held in north-western Pacific. Exercise Malabar 2015 is being viewed as significant enough for elevating the strategic partnership between the US and India at least a few notches up. Participation of a nuclear-powered Nimitz class aircraft carrier and a nuclear-powered Los Angeles class submarine, in addition to other two warships from the US Navy is also greatly significant as the Indian Prime Minister seeks US top-end technologies for indigenous development of nuclear powered aircraft carriers and submarines in India. The strong lobbies on both sides seem to be working vigorously for taking forward the emerging opportunities for co-development and indigenous production of platforms and systems under the evolving bilateral Defence Trade and Technology Initiative.
Indeed, Exercise Malabar 2015 will be gauged from the prism, the growing eminence of Indo-US strategic partnership to the levels not seen before. In this context the most significant development was the double quick time clearance by the Cabinet Committee on Security for acquiring 22 Apaches, Longbow gunships and 15 Chinook heavy-lift helicopters languishing for a long time.
Since its inception in 1992, as a bilateral exercise between the Indian and US navies, the scope, complexity of operations and level of participation has increased steadily in successive editions of the India-US Malabar Naval Exercise. The 18th edition of the exercise was held in the Western Pacific in July 2014 in which JMSDF was invited to participate.
19th edition of the Exercise Malabar 2015 was conducted in the Bay of Bengal from October 14 to 19, 2015. The inaugural session was the joint press conference at Chennai on October 14, 2015 of all commanders of the participating navies. The scope of Exercise Malabar included wide-ranging professional interactions during the Harbour Phase and a diverse range of operational activities at sea during the Sea Phase.
The US Navy was represented by the ships from Carrier Task Force (CTF) 70 of the USN 7th Fleet, which is based at Yokosuka, Japan. The CTF comprised the Nimitz class aircraft carrier, USS Theodore Roosevelt, Ticonderoga class cruiser, USS Normandy and Freedom class littoral combat ship, USS Forth Worth. In addition, one Los Angeles class nuclear powered submarine, USS City of Corpus Christi, F-18 aircraft from US Carrier Air Wing and P-8A long-range maritime patrol aircraft actively participated in the exercise.
During Exercise Malabar 2015, the Indian Navy was represented by INS Shivalik an indigenous frigate; INS Ranvijay, a guided missile destroyer; INS Betwa, an indigenous frigate; and INS Shakti, a fleet support ship. In addition, one Sindhughosh class submarine, INS Sindhudhvaj, long-range maritime patrol aircraft P-8I and integral rotary-wing helicopters also actively participated in the trilateral exercise. The JMSDF was represented by JS Fuyuzuki, a missile destroyer with SH 60K integral helicopter.
Exercise Malabar 2015 succeeded in achieving its objective of enhancing naval cooperation among important navies of Indo-Pacific regions which helps in enhancing mutual understanding. Sharing of best practices by the three navies will strengthen their respective capacities and help create better synergies for effective and speedy action to deal with challenges of disaster prevention and relief and maritime safety and security in the Indo-Pacific region, for the benefit of the global maritime community.