Innovation in an organisation is the key to its performance in the field of technology and aids in production of new age equipment and systems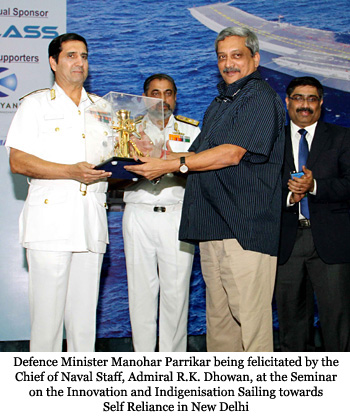 A Seminar on 'Innovation and Indigenisation' was held on July 16 and 17, 2015, at Kothari Auditorium, DRDO Bhawan, New Delhi, under the aegis of the Directorate of Indigenisation, Integrated Headquarters, Ministry of Defence (Navy), and Defence, Aerospace & Security, Confederation of Indian Industry with the theme of 'Sailing Towards Self-Reliance.'
The preamble of the seminar stated, "Innovation in an organisation is the key to its performance in the field of technology and aids in production of new age equipment and systems. This is especially true in case of requirements for the armed forces, where any technological edge in terms of weapons and systems over the adversary can give enormous benefit in terms of platform sustenance and operational worthiness. The importance of self-reliance in the defence forces cannot be overemphasised and the Indian Navy has been at the vanguard in promoting indigenous design and construction of warships and equipment for many decades. The process of achieving self-reliance in the Indian Navy is complex and requires active participation from many organisations. The indigenous development and induction of technologically superior equipment and systems can only be achieved through innovation leading to indigenisation and finally self-reliance in the country. The Indian Navy on its part has the responsibility of driving the self-reliance process, since it is the final end-user of the product developed through indigenous sources."
In pursuance of the Government of India's 'Make in India' thrust and achieving the Indian Navy's goal of self-reliance, a two-day 'Naval Innovation and Indigenisation Seminar' was organised to provide an opportunity to Indian Navy as well as industry representatives to meet under one roof, to collectively discuss the end requirements, plans of the Indian Navy in this direction while pursuing innovative methods and out-of-the-box concepts to realise the nation's goal of self-reliance in defence sector.
The inaugural session began with an opening address by Vice Admiral A.V. Subhedar, Chief of Materiel, followed by address by Sukaran Singh, Co-Chairman CII-National Committee on Defence & Managing Director and Chief Executive Officer, Tata Advanced Systems Limited.
Anil D. Ambani, Chairman, Reliance Group, the latest entrant in the defence sector, marked his presence prominently and made a scintillating presentation by assuring total support to the Prime Minister's campaign 'Make in India' which he called is the step in the right direction. While re-emphasising the need for self-reliance in the ongoing naval capability building plans, he assured that in addition to the existing infrastructure and shipbuilding assets existing at the Pipavava Shipyard evaluated at Rs. 10,000 crore, his enterprise has plans for further investments to the tune of Rs. 5,000 to facilitate expansion of the shipbuilding capabilities to indigenously construct warships in collaboration with the Defence Research and Development Organisation (DRDO) for ships ranging from aircraft carriers to destroyers, frigates, offshore patrol vessels (OPVs), submarines, etc.
At the beginning of Session I a presentation on 'Make in India with special focus on Defence Industry' was made by Mrs Shubhra Singh, Joint Secretary (IPP). She highlighted the initiatives taken towards promotion or defence production by creating five nodes, namely: Amritsar-Kolkata, Delhi-Mumbai, Mumbai-Bengaluru, Bengaluru-Chennai and Chennai-Visakhapatnam as industrial hubs for the purpose. This was followed by yet another scintillating presentation on 'Indigenisation in Indian Navy—An Overview' by Rear Admiral D.K. Tripathi, Assistant Chief of Naval Staff (Policy & Plans). He brought out that technology perspective and capability road map has been formulated based on Maritime Capability Perspective Plan and disseminated to enhance the indigenous contents. He emphasised on industry participation in manufacturing of helicopters and UAVs.
The other presentations of the Session I included 'Shipbuilding in India and Indigenisation Prospects' by Commodore G. Harish, Additional Project Director, Naval Design; 'Indigenisation for Self-Reliance' by Captain K.S. Nathan (Retd), General Manager L&T; and 'Indigenous Shipbuilding – A Tool for Strategic Maritime Cooperation in Indian Ocean Region' by Captain Mohit Goel from Naval Dockyard, Mumbai.
During Session II, presentations made were 'Creating a Meta-University Based Ecosystem for State-of-the-Art Design & Production of Naval (Defence) Equipment under Make in India Vision' by Professor Arun Kumar Jain of the Indian Institute of Management, Lucknow; 'Innovative Techniques for Manufacture of High Integrity Components' by Sachin Agarwal, Managing Director, PTC Industries Ltd; 'Need for having Lightweight Armour Solutions for Deployment on Naval Platforms' by Rajesh Gupta, Senior Manager, MKU; and 'Deployment of Indigenous Crypto Algorithms' by Professor Manindra Agarwal, IIT, Kanpur.
To round-up the proceedings the inaugural address was given by Admiral R.K. Dhowan, Chief of the Naval Staff, on the arrival of Manohar Parrikar, Raksha Mantri. Raksha Mantri thereafter delivered the keynote address. A compendium on Technology Perspective and Capability Road Map was released by the Raksha Mantri.