"The importance of the 'winged component' of the Navy – its Air Arm – is well understood at the highest echelons and we are indeed looking at equipping the Indian Navy with a whole array of aircraft to meet the myriad tasks with which it is regularly tasked". — Raksha Rajya Mantri Rao Inderjit Singh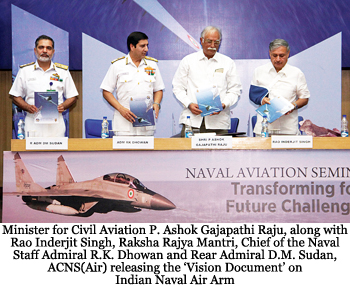 The Indian Navy's Flet Air Arm is well poised for an unprecedented growth and transformation. For an informed domain awareness a Naval Aviation Seminar was organised by the Indian Navy (IN) on the theme "Indian Naval Air Arm — Transforming for Future Challenges" to discuss and debate on the 'way ahead'.
The two-day seminar was held at Dr D.S. Kothari Auditorium, DRDO Bhavan, New Delhi on April 30, 2015 and May 1, 2015. While P. Ashok Gajapati Raju, Minister of Civil Aviation, was the Chief Guest, Rao Inderjit Singh, Minister of State for Defence had consented to be the Guest of Honour. The seminar was attended by Admirals R.H. Tahiliani, Arun Prakash and Sureesh Mehta, all of whom are former Chiefs of the Naval Staff, along with a large number of Naval Aviators.
Inaugural Session
The keynote address was delivered by Admiral R.K. Dhowan, Chief of the Naval Staff (CNS), Inaugural Address by Admiral Arun Prakash (Retd) followed by Addresses by P. Ashok Gajapati Raju and Rao Inderjit Singh.
In his keynote address CNS traced the history of naval aviation with Sealand landing at Cochin in May 1953 that IN acquired its wings. He broadly highlighted the comprehensive plan for airfield modernisation and the Fleet Air Arm which are on the threshold of transformation. He reiterated that the blue print of the Fleet Air Arm is firmly anchored on self-reliance.
Admiral Arun Prakash in his inaugural address stated that on May 11, 2015, Indian Fleet Air Arm will commemorate its 62nd anniversary. He emphasised that the Navy sees the air power as the vital component of sea power. IN is well on its way to becoming world's prominent maritime world power. Last two decades have seen rejuvenated faith in IN due to sterling contributions in the humanitarian and disaster relief, reassuring assistance to the neighbouring countries and anti-piracy roles. Successful induction of MiG-29K and Kamov 31 and operationalisation of Vikramaditya has enhanced the sea denial and power projection substantially. He pointed out that for a balanced growth, time has come to adopt concept of Naval Warfare Centre for IN.
During his address, Raksha Rajya Mantri Rao Inderjit Singh stated that ensuring a multidimensional Navy which is capable of securing our growing interests in our near and extended neighbourhood is of highest priority at the Ministry of Defence. He further stated that the government is committed to strengthening the preparedness of the defence forces and will provide full support to the Navy for its modernisation and development plans. "The importance of the 'winged component' of the Navy – its Air Arm – is well understood at the highest echelons and we are indeed looking at equipping the IN with a whole array of aircraft to meet the myriad tasks with which it is regularly tasked," said the Minister.
He concluded by saying, "I am happy to note that this seminar is being organised at a time when Naval Aviation is at the threshold of an unprecedented growth. I am sure that the seminar would benefit all stakeholders to plan the future growth of the Naval Air Arm. I am also confident that the seminar will provide a boost to the 'Make in India' initiative launched by our Prime Minister Narendra Modi. The ability to design and build aircraft is a strategic core capability for a nation. Though the IN has given significant impetus to indigenisation, there is a need to sustain these pioneering projects and futuristic initiatives by harnessing the available capability infrastructure and resources including intellectual capability to guarantee a vibrant defence industry in the future".
Indian Naval Air Arm – Vision Document: Minister for Civil Aviation P. Ashok Gajapathi Raju, along with Rao Inderjit Singh, Raksha Rajya Mantri, Chief of the Naval Staff Admiral R.K. Dhowan and Rear Admiral D.M. Sudan, ACNS(Air) released the 'Vision Document' on Indian Naval Air Arm. The Vision Document contains the Prologue, Vision Statement and the Guiding Principles of the Flight Plan. Following are the salient features of the Document:
Vision Statement
To effectively undertake full spectrum maritime air operations, in consonance with the IN's responsibilities, the Naval Air Arm will:
Maintain fully role-worthy air assets, qualified aircrew and trained maintenance personnel, supported by a responsive materiel and logistics organisation.
Enhance operational capability through induction of cutting-edge technologies and integration with the Navy's networkcentric backbone.
Assure Flight Safety through implementation of stringent policies, safety audits and review mechanisms to protect valuable aircrew and aviation assets at all times.
Develop effective leadership, maintain a well motivated and professional force and sustain a vibrant community through requisite support systems.
Session II – Net Security Provider – Capabilities with the Naval Air Arm
Session II was most efficiently steered by Admiral Sureesh Mehta (Retd) as the Chairperson. Vice Admiral A.K. Singh (Retd) presented the first paper of the session elucidating on vital role of "Air Arm in Support of Fleet Operations" from the perspective of a submariner who eventually ended his career as a Fleet Commander and the Flag Officer Commanding-in-Chief.
The second presentation of the Session was by DIG K.R. Suresh, Indian Coast Guard (ICG) Headquarters. He stressed upon the "Importance of Airborne Platforms in Coastal Security". In his presentation he gave a detailed account of measures instituted to beef up Coastal Security post Mumbai 26/11. Besides the improvements brought about in the coastal surveillance system, he charted the road map of growth air arm of the ICG.
The most candid and effective presentation of the Session was by Vice Admiral Anil Chopra (Retd) on a most relevant theme of "Aircraft Carrier and Fleet Operations". From his personal experience of commanding an aircraft carrier, INS Viraat and subsequently the Western Fleet, he emphasised the eminent role of an aircraft carrier in the Fleet Operations. Delving upon the way ahead for indigenous construction of future aircraft carriers, he advised against the much fancied nuclear-propulsion and the electromagnetic aircraft launch system. Instead, he made a pragmatic case for a launch system based on Catapult Assisted But Assisted Recovery (CATOBAR) for future IAC II and beyond.
The last presentation of the Session on "Joint Maritime Air Operations" was by Air Vice Marshal Anil Khosla, Director General, Air Operations, IAF. He shared his experiences as the former Air Officer, Maritime Air Operations, Mumbai, and advocated for greater synergy between the two services for maritime strike capability within the areas of interest.
Session III – US Perspective on Maritime Air Operations
Vice Admiral Mike Shoemaker, Chief of Naval Aviation, US Navy presented a paper on "US Perspective on Maritime Air Operations." The presentation included an exhaustive overview on employment of Naval Air Arm in the maritime operations. He presented the US naval perspective on what constitutes the US Maritime Air Operations and the concept of operations of Carrier Battle Groups. In consonance with the geostrategic imperatives of the US, the US Navy has garnered a fleet of 14 nuclear-powered super-aircraft carriers. He presented the highlights of F/A 18 Super Hornet upgrade programme which will extend its service life beyond 2030. He also highlighted the utility of unmanned combat air systems (UCAS) in carrier borne operations. In conclusion, he advocated for a Strategic+ partnership between USN and IN, empowering IN for greater strategic roles and responsibilities in the Indian Ocean.
Session IV – Future Aircraft Carrier and Carrier Borne Operations
Session IV was chaired by Vice Admiral Sunil Damle (Retd). The first presentation of the Session was by Rear Admiral Sudhir Pillai, Chief Instructor (Navy), Defence Services Staff College, Wellington, on "Strategy and Contours towards a Future Naval Air Wing". He emphasised on the linkages between the current force levels and future force planning. He highlighted the roles of HALE UAV in the event of communication satellites were damaged. Likewise the relevance and importance of AEW&C fixed-wing aircraft was also emphasised. He advocated employment of UAVs on surface combatants. He opined that while CATOBAR seemed inevitable, feasibility of inducting EMALS should also be examined.
The second presentation of the Session was by Andrew Duggan, Managing Director, Insitu Pacific Limited (Boeing Subsidiary) on theme "UCAS and UAS in Carrier Operations." He highlighted the emerging technologies in this spectrum which can be gainfully employed as cost-effective and low-risk solutions.
Rear Admiral A.K. Saxena, Director General Naval Design (Surface Ship Group), drew out the contours that go into "Building an Indigenous Aircraft Carrier." In his presentation he highlighted a plethora of design considerations that are factored into designing an aircraft carrier, an extremely complex and highly complicated exercise by any standards. He brought out the peculiarities in flight deck dimension and arrangements, launch and recovery systems, hangar spaces, aviation fuel capacities, etc, which substantially differ from the surface ship designs.
Scott Forney, Senior Vice President, General Atomics, introduced "Future Aircraft Carriers – Emerging Technologies" in his presentation. He apprised on the latest position in development of electromagnetic Aircraft Launch System and progress on induction of the system on board under construction super aircraft carriers Gerald Ford and John F. Kennedy for the US Navy. He highlighted the importance and versatility of the system for induction on IAC II.
Session V – Development of Naval Platform
Dr P.S. Subramaniam, Programme Director, Aeronautical Development Agency presided over the Session. In a joint presentation on "Aircraft Development" Commodore C.D. Balaji (Retd) and Commodore L.A. Maolankar, Test Pilot brought the challenges and progress on development of light combat aircraft (LCA), Navy. It was brought that buying an aircraft is as complicated as building an aircraft. Highlights of recent success of LCA Mk II for its successful launch and recovery from the shore based ski-jump at INS Hansa, was presented.
Conrad Banks, Chief Engineer (Research, Technology and Advance Projects) Rolls-Royce, UK, in his presentation elucidated long standing co-operation between Rolls Royce and Air Force and IN "Aircraft Engines." S. Rangarajan, Chief Executive Officer, Data Patterns highlighted the successes in indigenous development of displays, mission computers, IFF Mk XII(A) automatic test equipment, automatic flight testers, etc.
Dr Ajit Kalghatki, Director R&D, Bharat Electronics Ltd. highlighted the progress made in "Indigenisation of Avionics for Naval Air Arm." Nikhil Khanna, Country Director – India, Raytheon, talked on "Weapons – Air, Land, Sea, Space, Cyber". From the stable of Raytheon he highlighted the systems, such as AGM65 Maverick Missile, Airborne Low Frequency Sonar, AGM-154, Joint Stand-off Weapon, AGM-84 Harpoon, for possible induction.
Session VI – 'Make in India' – Naval Aviation
The last Session of the Seminar was chaired by Rear Admiral D.M. Sudan, Assistant Chief of Naval Staff (Air). The Session was flushed with high quality presentations on "Future Production Approach for Indigenous Aircraft" by Dr K. Tamilmani, Director General Aero, DRDO, HAL – Meeting Services Requirements" by Suvarna Raju, Chairman, HAL, "Bridging IN's Requirements with Industry" by Vice Admiral D. Deshpande (Retd), "'Buy and Make (Indian)' – Industry perspective on Aircraft Production" by Mr Atul Punj, Chairman Punj Lloyd and "'Make in India' – Policy Facilitation" by Rajiv Aggarwal, Joint Secretary, Department of Industrial Policy and Promotion.
Valedictory Session
On conclusion of the Seminar, the Valedictory Address was delivered by Major General B.C. Khanduri (Retd), Member of Parliament. Acknowledging the contribution of a large number of delegates and participants, Rear Admiral Ravneet Singh, Flag Officer Naval Aviation, in his closing remarks expressed grateful thanks to all concerned. Special credits were attributed to Assistant Chief of Naval Staff (Air) for brilliant planning, coordination and conduct of the twoday Seminar.
Tailpiece
Coinciding with the Naval Aviation Seminar, a discussion session on the recently published article "Making Waves: Aiding India's Next-Generation Aircraft Carrier" by Ashley J. Tellis, Senior Associate, Carnegie Endowment for International Peace was held at WWF India Auditorium, New Delhi under the aegis of Ananta, Aspen Centre (formerly Aspen Institute India). The Session was chaired by Admiral Arun Prakash (Retd). Main highlights of the Paper and the Discussion are appended as box item above.
"Making Waves : Aiding India's Next-Generation Aircraft Carier" – Author Ashley J. Telis
The United States and India have agreed to form a working group to explore the joint development of India's next-generation aircraft carrier. While the IN has already begun design work, wide-ranging cooperation with the United States has enormous potential and offers India the opportunity to acquire the most capable warship possible. Such collaboration would increase the IN's combat power and would resonate throughout the Asian continent to India's strategic advantage. The most valuable US contributions are likely to materialise in the fight, possibly in the move, and hopefully in the integrate functions.
Bringing Cooperation into Focus
The prospect of a major Chinese naval presence in the Indian Ocean transforms India's hitherto secure rear into a springboard from which coercive power can be brought to bear against the Indian landmass.
The principal objective underlying bilateral cooperation should be to ensure that India's next-generation aircraft carrier—to include its air wing and its capacity for combat operations—will be superior to its Chinese counterparts.
Though cooperation on the fight, move, and integrate functions is likely to be most indispensable and rewarding, joint development should in principle span all the mission areas involved in carrier design.
Above all else, the Indian Navy should not succumb to the temptation to make collaborative development merely an exercise in procuring technology.
Recomendations for the United States
The Fight Function
Explore the possibility of equipping India's carrier with the electromagnetic aircraft launch system (EMALS).
Offer India access to various advanced aviation systems, such as the US Navy's E-2C/D Hawkeye for airborne early warning and battle management and the fifth-generation F-35C Lightning strike fighter, so as to permit the Indian Navy to secure a combat advantage over its rivals' air wings.
Making Waves : Aiding India's Next-Generation Aircraft Carier
The Move Function
Consider changes to current US policy to allow for discussions about nuclear propulsion technology in order to, among other things, make the integration of EMALS technology a viable option for India's next-generation carrier.
The Integrate Function
Support a partnership between the IN and the US Naval Sea Systems Command, and US private industry as appropriate, to validate the vessel's engineering and production designs, imbibe best practices from the US experience when constructing the carrier, and coordinate on sea trials prior to commissioning the ship.
Encourage the conclusion of consulting contracts and memoranda of understanding between Indian shipyards and US industry to assist India in incorporating advanced construction techniques when building its new large-deck carriers.