Narendra Modi had, charted, before assuming office, a well-planned strategy to deal with some critical foreign policy issues before domestic events crowded his political horizon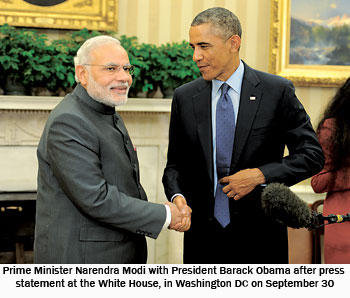 Such is the intensity of India's domestic political activity, as compared to other democracies, that it makes huge demands on the time and mind-space of its leadership. Aware of this pitfall Narendra Modi had, obviously, charted, before assuming office, a well-planned strategy to deal with some critical foreign policy issues before domestic events crowded his political horizon.
Consequently, India's new Prime Minister ensured that he hit the ground running; and the inaugural oath-taking ceremony was converted into a successful mini-SAARC, with Mauritius thrown in. Soon thereafter, Modi visited Bhutan and Nepal to mend neighbourhood fences. A gathering in Brazil provided him an early opportunity to meet the BRICS leadership. This was followed by a warm welcome and bonding with Shinzo Abe in Japan, from where he returned to receive Chinese supremo Xi Jinping in Ahmedabad on his birthday.
For a Prime Minister, barely four months in office, the pace of foreign affairs interaction could not have been more hectic than this. However, it was certainly the best crash-course Modi could have had, in international relations and diplomacy, before meeting the leader of the waning superpower President Barack Obama.
Modi's Motivation
While the ostensible motivation for Modi to schedule a US visit so early in his five-year tenure was attendance at the 69th annual session of the UN General Assembly (UNGA), there were four other reasons that need brief mention, in order to make a cogent assessment of this outing.
Firstly, it was to be a 'rite of passage' to mark his transition from the status of pariah, denied a US visa in 2005, to honoured state guest. Secondly, Modi needed to convey his personal thanks to the politically influential and well-heeled Indian-American diaspora which had rendered solid support to his election campaign and would continue to be a source of advocacy in the US. Thirdly, he came to reassure a disillusioned and sceptical US business community that he would make it easy, safe and lucrative for them to invest in India; something the country badly needs for economic revival.
Finally, as it became painfully obvious during Xi Jinping's recent visit to India, India needs a diplomatic hedge to provide some leverage with Beijing. It is fortuitous that the US, too, happens to have a somewhat similar requirement at this juncture.
Some Highlights of Visit
Let us, then, review some key highlights, which contributed to the undoubted success of Modi's maiden visit to the United States as Prime Minister of India.
At the UNGA, where he spoke in Hindi, Modi belied media predictions by largely ignoring Nawaz Sharif's provocative speech. In a statesman-like address, he summarily dealt with the Kashmir issue and then went on to dwell on terrorism; criticising those who distinguished between so-called, 'good' and 'bad' terrorists as well as those (read Pakistan) who used it as a policy instrument. While expressing solidarity with the US in its fight against the Islamic State of Iraq and the Levant (ISIL), he refrained from committing India to material or manpower support for the military action.
In New York's Central Park, Modi made a remarkable outreach to engage the American public directly; by attending the Global Citizen Festival on September 28. Modi's initiatives on women's empowerment and improving sanitation had earned him an invitation from the organisers of the fest attended by 60,000 young people. He delivered his only English-language speech, at this high-profile international advocacy event, and concluded, to cheers, with the Star Wars phrase: "May the Force be with you."
The programme at Madison Square Garden (MSG), according to Modi's own Tweet, "was overwhelming. It was very special to interact with members of the diaspora." Prime Minister Modi was the star of a glitzy show for the Indian-American community at a venue better known for hosting rock stars and world heavyweight boxing champs. To an embarrassingly adulatory audience, he offered substantive commitments; visas on arrival for US citizens by 2015 and lifetime visas for Indian-Americans. By all accounts, Modi's MSG appearance was a resounding success. No other Indian Prime Minister has connected so well with the Indian-Americans, or satisfied their yearning for recognition of the motherland, as Modi seemed to have.
As far as the US business community was concerned, Modi started on a reassuring note by engaging directly with business leaders. Rather than paint rosy pictures, he focused on what he and his government needed to do, in order to attract higher levels of investment. The sense of mutual disenchantment, accompanied by a decline in Indo-US business relationship, had begun in 2010 when Parliament passed a nuclear liability law whose daunting provisions essentially frightened off the US nuclear power industry. This had negated the positive impact of the landmark 2005 agreement on civilian nuclear cooperation, so painstakingly negotiated by the Manmohan Singh-Bush regimes.
Modi's promise of simplified procedures, rapid decision-making, implementation of the goods and services tax by 2016 and the tantalising potential of India's huge market should infuse the necessary vigour into this wilting relationship.
The Strategic Underpinning
Even before he came to office, Modi had marked India and the US as 'natural allies', stating: "It is in the interest of both the nations to develop further on our relationship." President Obama, in turn, had outlined the task ahead for both leaderships: to work together "to fulfil the extraordinary promise of the US-India strategic partnership."
Modi and Obama seemed to have engaged each other closely in their Oval Office meeting on September 30, and also developed a close personal rapport. The two leaders were said to have expressed concern about rising tensions over territorial and maritime disputes, and affirmed the importance of ensuring freedom of navigation and overflight throughout the Indo-Pacific region. The White House staff commented that the talks were 'extraordinarily successful' and provided a boost to 're-energize the relationship'. The State Department echoed the sentiment, saying, that the talks had 're-launched' the Indo-US relationship.
Building on this agenda, India's National Security Adviser Ajit Doval and his US counterpart Susan Rice, discussed regional developments, including stability in Afghanistan and cyber as well as maritime security. Issues relating to defence cooperation and arms purchases (encompassing technology transfers and joint production), intelligence-sharing, cooperation on anti-terrorism and strategic consultations were also addressed at various levels.
As always in such matters, the 'devil is in the detail' and a true assessment of Modi's US visit would emerge only in hindsight; a few months down the line. Till then, both sides can ponder over words of the Modi-Obama joint editorial which said, "The true potential of our relationship has yet to be fully realized. The advent of a new government in India is a natural opportunity to broaden and deepen our relationship. With a reinvigorated level of ambition and greater confidence, we can go beyond modest and conventional goals."
Postscript
The term 'strategic' has, unfortunately, come to be grossly over-used in New Delhi's politico-diplomatic discourse. India has established 'strategic partnerships' with at least 20 countries (including China), and officials in the Ministry of External Affairs as well as the Ministry of Defence are often hard put to explain the significance or relative importance of these relationships and their bearing on India's posture of 'strategic autonomy.'
In the fuzzy environment that prevails right across South Block, it is vital for decision-makers to continuously remind themselves of British statesman, Lord Palmerston's words: "Britain has no eternal allies and no perpetual enemies, only interests that are perpetual and eternal…" India's new Prime Minister, particularly, cannot afford to have less than complete clarity, as far as India's vital interests are concerned.
As India ponders over the form and content of cooperation it should seek with the US, Modi cannot overlook China's resolute quest for regional domination and its determination to keep India confined to a 'South-Asian box' by means of the Sino-Pak nuclear and military nexus. Equally obvious is the fact that India, currently, has few cards to play—economic, diplomatic or military—vis-a-vis an increasingly belligerent China; strategic autonomy is an unlikely trump.
Harking back 43-years, to the heyday of the Non-Aligned movement, let us recall the signing of the 1971 signing of the Treaty of Peace and Friendship with the USSR. Let us also recall that as the unholy Nixon-Kissinger duo urged Mao Tse-tung to intervene militarily in the Bangladesh War the US Navy sailed Task Force 74 into the Bay of Bengal—both to relieve pressure on Yahya Khan's doomed Eastern army. In mid-December 1971, The Soviet Ambassador in Delhi dismissed the possibility of external intervention by emphasising that the Soviet Fleet was also in the Indian Ocean and would checkmate the US Navy; and if China moved into Ladakh, USSR was ready to respond militarily in Sinkiang. Not a leaf stirred on the Sino-Indian border and Pakistan surrendered in Dhaka.
India's national interests remain eternal; but surely, allies can change.

The author is former CNS