The Finance Minister stated that the allocation for defence has been enhanced by 10 per cent from 2,03,672 crore in budget estimates 2013-14 to 2,24,000 crore (about $37.30 billion) in 2014-15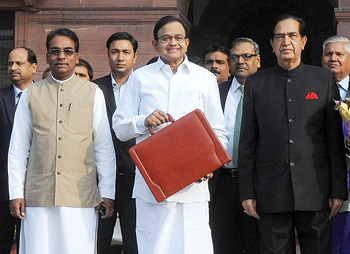 During an electi on year it is not practical for the government in power or its successor government to prepare or debate on the full budget and pass it before the start of the new financial year. To overcome this problem, the outgoing government announces an interim budget or vote on account in February which is followed by a full budget by the new government in a few months' time after it has taken over. The interim budget also forms the framework for the final budget. Accordingly the outgoing UPA Government decided to opt for an interim budget. Highlights of the defence budget 2014-15 are given in the succeeding paragraphs.
In his about 6,000 words long speech on the interim budget in the Parliament on February 17, the Finance Minister stated that the allocation for defence has been enhanced by 10 per cent from 2,03,672 crore in BE 2013-14 to 2,24,000 crore (about $37.15 billion) in 2014-15. He dwelt at length on the issue of 'one rank one pension,' being the election year and said, "I am happy to announce that Government has accepted the principle of One Rank One Pension for the defence forces. This decision will be implemented prospectively from the financial year 2014-15. The requirement for 2014-15 is estimated at 500 crore and, as an earnest of the UPA Government's commitment, I propose to transfer a sum of 500 crore to the Defence Pension Account in the current financial year itself."
Revenue Budget (figures in brackets pertain to BE 2013-14) (figures in crore):
Army. Army's revenue allocation also includes allotment for Rashtriya Rifles, National Cadet Corps (NC), Military Farms, Ex-Servicemen Contributory Health Scheme (ECHS) and other revenue expenditure. The overall allotment is 92,601.32 ( 81,833.93).
Navy. It also includes repairs and refits and other revenue expenses for which 13,975.79 ( 12,194.43) has been allotted.
Air Force. It also includes special projects and have been allotted 20,506.84 ( 18,295.10).
Indian Coast Guard. Coast Guard has been allotted 1,130.26 ( 1,054.81).
There is normally a marginal upward trend in the revenue allotment due to dearness allowance and other factors. Navy will have a problem as additional funds will be required for repairing the ships and submarines which were damaged during accidents.
Capital Budget (figures in brackets pertain to BE 2013-14). The capital budget includes funds for land and construction, capital requirement of other organisations like ECHS, NC, DRDO, Naval Fleet, Naval Dock Yards etc, apart from modernisation of the armed forces. Capital allotment for the Coast Guard is given separately under the Ministry of Defence-Demand No. 20 (which normally covers revenue budget). The total allotment is 89,587.95 ( 86,740.71).
Army. For aircraft and aero engines 21,27.99 ( 1,527.79); for heavy and medium vehicles 2,128.16 ( 2,024.37) and for other equipment 16,155.93 ( 9,758.86).
Navy. For aircraft and aero engines 3,330.69 ( 6,708.71); for heavy and medium vehicles 34.27 ( 53.74); for other equipment 4,358.10 ( 2,192.82) ; for Naval Fleet 12,856.06 ( 11,772.26) and for Naval Dock Yards 1,612.87 ( 2,011.17).
Air Force. For aircraft and aero engines 16,271.43 ( 25,539.59); for heavy and medium vehicles 194.29 ( 2.82); and for other equipment 15,352.17 ( 11,505.65).
Coast Guard. Coast Guard has been allotted 1,550 ( 1,775), a decrease from last year but an increase from last year's revised estimates of 1,060.
Ordnance Factories. 529.56 ( 435.96).
Research and Development. 5,975.25 ( 5,057.60).
Prototype Development under Make Procedure. 35.71 ( 29.34)
Brief Analysis of Capital Budget
It is not possible to give any detailed analysis as the new government can only decide on the pattern of expenditure but the interim budget does give out the thought process in the formulation of the interim budget.
Army. There is an increase in the capital allocation for the Army as compared to last year. Major requirements of the Army are helicopters for the Army Aviation Corps, variants of the 155mm gun and anti-tank missiles. The trend in the budget indicates some progress towards these requirement in the coming financial year.
Air Force. There is a drop by about 9,000 crore in the allocation for aircraft and aero engines. The major requirement of the Air Force is the finalisation of the Rafale deal. It is also understood that all issues between HAL and Dassault have been resolved. The Defence Minister A.K. Antony had mentioned during the inaugural of Defexpo 2014 that he has exhausted the 2013-14 defence budget thus it was a clear indication that the Rafale deal will spill over to the financial year 2014-15. It is now uncertain that with the drop in this allocation, whether the deal will be finalised in the current year unless additional funds are allotted. There is an increase by about 3,842 crore for other equipment which probably pertains to infrastructure like airfields and maybe air defence systems.
Navy. The allocation under aircraft and aero engines has been reduced by almost 50 per cent that means ruling out any new acquisitions like 16 multi-role helicopters (as an interim measure) and amphibian aircraft. US Sikorsky S-70B and European NH-90 were tried out earlier but final decision is still pending. The ShinMaywa US-2 amphibian was a strong contender but it is also hanging fire. The allotted funds may be used for past deals like MiG-29K carrier-based fighter jets of Russian origin. The allocation for the naval fleet is used for acquiring new ships and payment of past liabilities. There is a marginal increase in the allocation but considering that about 45 ships and submarines are under construction in the Indian ship yards, there is a requirement for additional requirement. The capital allocation for the naval dockyards is for modernisation of the infrastructure which is required if they have to perform more efficiently and match the international standards.
Coast Guard. It is difficult to find the reason for under spending last year. There could be many reasons for this like the Coast Guard could not spend the funds or the Government sanctions did not come in time or the delivery schedules were delayed. Considering the Coast Guard's key role in the coastal security structure, they have to be allotted adequate funds to enlarge their organisational infrastructure; for acquiring additional ships, fast boats, helicopters and aircrafts.
Research and Development. There is an increase by about 800 crore and it is hoped that it is used judiciously. There is a small allotment under Prototype Development under Make Procedure of 35.71 crore which is a very humble beginning as far as indigenous production but no comment can be made as it is not known as to which system is being under this head. The Defence Minister's wish list of indigenous development and production is only possible if the stranglehold of defence research, development and production is reduced, and private industry is involved in a big way. Unlike the Government's defence industrial empire which can write off endless losses, the private companies want to see the money either from the Government or the clients before they can fulfill their end of the bargain.
Conclusion
The interim budget does not inspire with respect to modernisation. With some deft handling of figures, there is a marginal increase in the capital allocation specially for the Army. There is a noticeable increase in the revenue budget due to pay, allowances and pensions, which is expected in an election year. There is no point in comparing the budget with the GDP as long as adequate funds are allotted for modernisation and they are spent during the financial year. The Defence Minister's statement that he has exhausted the capital budget is factually true but was it spent on priority projects or given to the DRDO and defence PSUs as 'advance' for missile systems like Akash, just to exhaust the budget? The Government can only answer this. The Defence Minister must have realised that if you cannot steer the acquisitions transparently and without a shadow of corruption, being pristine honest personally is not enough. Defence acquisitions are very complex even in an ideal environment and more so in India with its long history of corruption in defence deals. Rafale deal may have been postponed to avoid another scandal.
No conclusion can be complete unless the details of the defence budgets of Pakistan and China are included. Pakistan had announced a hefty 15 per cent hike in its defence budget to 627 billion (about $6.32 billion) for 2013-14 as their financial year is from July 1 to June 30. China plans to raise its defence budget by 12.2 per cent to 808.2 billion yuan (about $132 billion) in 2014, according to a draft budget report submitted to the national legislature for review. In 2013, China spent 720.197 billion yuan on national defence, which was a 10.7 per cent increase from the previous year. China has been allotting twin digit budget for the last two decades. The current budget is the highest in the last three years. The budget also does not disclose other indirect allocations. The clearly indicates China's vision and future plans. It is hoped the India's final defence budget by the successor government brings a new dawn for the procurement process and modernisation.