Indonesia is the world's largest archipelagic state, the world's largest Muslim-majority nation and the world's third most populous democracy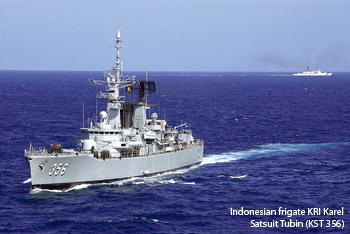 abortion atlanta
abortion price
redirect
Indonesia is an archipelago located in South East Asia. The archipelago contains 17,508 islands (6,000 inhabited) which is strategically located astride or along major sea lanes from the Indian Ocean to Pacific Ocean. Its area is 19,04,569 sq km and 15th in the world. Its natural resources include petroleum, tin, natural gas, nickel, timber, bauxite, copper, fertile soils, coal, gold and silver. It suffers occasional floods, severe droughts, tsunamis, earthquakes, volcanoes and forest fires. Indonesia contains the most volcanoes in the world with about 76 still active. It has a coastline of 54,716 km and maritime claims include exclusive economic zone (EEZ) of 200 nm (about 374 km) and 12 nm (about 22 km) of territorial sea when measured from claimed archipelagic straight baselines.
Historical Background
Dutch started colonizing Indonesia since the 17th century. It was also occupied by Japan from 1942 to 1945. It declared its independence shortly before Japan's surrender but Netherland stood its ground and it took about four years of bitter fighting, negotiations and UN intervention before Netherlands relented to grant freedom to Indonesia in 1949. This followed a period of turmoil with Indonesia's experiment with parliamentary democracy. As a result President Soekarno declared martial law in 1957 and established "Guided Democracy" who was then eased out of power in 1967 by President Suharto who ruled until 1988 with his "New Order" government. Suharto was also toppled in 1998, followed by free and fair elections in 1999. Since then Indonesia is on the path of political and economic recovery. Indonesia is the world's largest archipelagic state, the world's largest Muslim-majority nation and the world's third most populous democracy. Indonesia has been carrying out reforms and implementing programmes to alleviate poverty, preventing corruption, improving education, preventing terrorism, improving economic conditions and so on. In 2005, Indonesia reached a historic peace agreement with armed separatists in Aceh, which led to democratic elections in Aceh in December 2006.
International Relations
Indonesia maintains close relationships with its neighbours in Asia, and is a founding member of the Association of South East Asian Nations (ASEAN) and the East Asia Summit. It has also restored its relations with China after the freeze in the Suharto era. Indonesia was a founder of the Non-Aligned Movement and the Organisation of the Islamic Conference (now the Organisation of Islamic Cooperation). Indonesia is signatory to the ASEAN Free Trade Area agreement, the Cairns Group, and the World Trade Organisation (WTO). Indonesia has also been receiving humanitarian and development aid in particular from the US, Western Europe, Australia, and Japan. US has been specially assisting Indonesia on security matters. The US has been training the Indonesian Marine Police, US Coast Guard has been assisting Indonesia in its maritime security needs with US Pacific Command overseeing their security related needs. US has also been providing Foreign Military Financing for the Indonesian Navy. Joint naval exercises include annual South East Asia Cooperation and Training (SEACAT) exercise with navy liaison officers from Brunei, Indonesia, Malaysia, the Philippines, Singapore, Thailand, and the US tracking vessels of interest in a multilateral maritime interdiction scenario. SEACAT highlights the value of information sharing and multilateral cooperation in scenarios that give participating navies hands-on practice in maritime security operations. Similarly there are other joint exercises with Southeast Asian navies and the US.
Current Environment
Indonesia has had impressive political and economic developments in recent years with the optimistic forecast that it could become the world's ten largest economies as early as 2030. With India's poor record of economic reforms in the recent past which has resulted in the slowdown of economic growth, many economic experts feel that Indonesia may replace India in BRIC nations. BRIC term was probably used in a Goldman Sachs 2003 report, which speculated that by 2050 these four economies would be wealthier than most of the current major economic powers. During 2012 Indonesia's GDP (purchasing power parity) of $1.237 trillion was 16th in the world. Its GDP in terms of real growth rate in 2012 of 6.2 per cent was 43 in the world. Indonesia's GDP has been growing steadily above 6 per cent for the last three years.
International Maritime Disputes
Indonesia has been trying to establish stable fixed land and maritime boundaries with all of its neighbours. EEZ or maritime boundaries have not been established with Timor-Leste. All borders between Indonesia and Australia have been agreed upon bilaterally but a 1997 treaty that would settle the last of their maritime and EEZ boundary has yet to be ratified by Indonesia's legislature. Indonesian also challenges Australia's claim to Ashmore Reef where Australia has closed parts of the Ashmore and Cartier Reserve to Indonesian traditional fishing and placed selective restrictions. Land and maritime negotiations with Malaysia are ongoing and disputed maritime area include the maritime boundary in the Ambalat oil block in the Celebes Sea. Indonesia and Singapore continue to work on finalising their 1973 maritime boundary agreement by defining disputed areas north of Indonesia's Batam Island. Maritime delimitation talks continue with Palau and EEZ negotiations with Vietnam. Indonesia has some concerns about China's territorial claims in the South China Sea as China's 'nine-dashed line' which runs very close to Jakarta's Natuna Islands, and Chinese and Indonesian patrol boats were involved in a few incidents (during 2010 and even in March 2013) near the islands where Indonesian Navy was trying to prevent illegal fishing by arresting Chinese fishermen but were deterred by threat of force by Chinese ships to release them. While Indonesia has no claims in the South China Sea, China's 'nine dash line' does overlap with the Indonesian EEZ when demarcated from the Natunas. This line refers to the demarcation line used by the governments of China and Taiwan to stake their claims in the South China Sea. Indonesia expects that such incidents are going to increase in the future and thus has to develop its Navy to counter them.
Armed Forces
Indonesian armed forces (Tentara Nasional Indonesia, TNI) include Army (TNI-Angkatan Darat [TNI-AD]), Air Force (TNI-Angkatan Udara (TNI-AU)), National Air Defense Command (Kommando Pertahanan Udara Nasional [Kohanudnas]) and Navy (TNI-Angkatan Laut [TNI-AL]) which includes marines (Korps Marinir, KorMar) and Naval Air Arm.
Defence Budget
Modernisation of armed forces is expensive and Indonesia's defence budget so far has been modest. It has been 0.67 per cent of GDP in 2010, 0.69 per cent of GDP in 2011 and 0.86 per cent of GDP in 2012. In 2013 procurement budget is estimated to be around $1.67 billion, while in 2014 it could rise to $1.8 billion. To give impetus to the modernisation of defence forces, President Susilo Bambang Yudhoyono promised in 2010 to increase defence spending to 1.5 per cent of GDP by 2014. If that happens, Indonesia will have a defence budget of $14–15 billion range, subject to its economy continues to grow by 6-7 per cent annually. If this happens then Indonesia will become the largest defence spender in South East Asia.
Indonesian Navy
The Navy faces non-traditional maritime security challenges in Indonesia's EEZ, such as illegal fishing, piracy, human and drug trafficking. Due to the frequent disasters, the Navy also prepares seriously to improve its capability for Humanitarian Assistance and Disaster Relief. The example of the Indian Ocean tsunami of 2004; with its epicentre off the west coast of Sumatra, Indonesia, resulting in the confirmed death of 1,30,736 in Indonesia alone with countless missing or homeless; still haunts the country. The Indonesian Navy is the largest navy in South East Asia based on the number of active personnel and ships. All commissioned ships of the Navy have the prefix KRI (Kapal Perang Republik Indonesia), which means Republic of Indonesia warship.
Background
The Indonesian Navy was established on August 22, 1945, following the Indonesian Proclamation of Independence. It was formed as the Agency of the People's Security Sea Service with only a small assortment of wooden ships, landing crafts and whatever systems Japan left after its surrender. During the war of independence war (1945-49), predecessor of TNI-AL was able to conduct sea expeditions to various areas out of Java to establish naval establishment including naval bases. These naval operations helped in encouraging resistance against the Dutch and establishing armed forces. After Indonesia achieved independence in 1949, it started consolidating its Navy with the induction of ex-Koninklijke Marine (KM) ships, corvettes and destroyers. On December 5, 1959, ALRI established a fleet to organise, operate and increase weapon materiel. The establishment of a fleet was a milestone which was achieved in December 1959. The promulgation of the Indonesian EEZ in the 1980s gave further impetus for Indonesia to modernise its Navy. To develop the Indonesia's Navy into a professional, effective and modern navy it initiated a development and management programme, including the maintenance of forces through an integrated fleet weapons system. To achieve minimum maritime capability for sea denial the fleet was expanded with acquiring ships from Holland, erstwhile Yugoslavia, United Kingdom and Germany. The national shipyard PT PAL also started producing patrol boats.
Organisation
The Navy's headquarters is at Jakarta under the overall command of Chief of Staff. It has the Eastern Fleet located at Surabaya and the Western Fleet at Jakarta which were established in 1985. It also has a marine corps, a small air arm, and a military sealift command.
Naval Force levels and Modernisation
Currently the Indonesian Navy is focusing on 'Green Water' capability due to its maritime environment by acquiring smaller size, modern frigates and corvettes equipped with anti-ship missiles reinforced by a large number of patrol boats and guided-missile attack craft. Effort is also on to increase its coastal combatants and improved capability to rapidly deploy troops within the archipelago. Currently there are some critical gaps in long-range maritime surveillance, anti-submarine warfare (ASW), mining/countermining and subsurface capability. Future plans do include acquisition of limited 'Blue Water' capability for local force projection, protecting its EEZ against other nations like China.
Current Force Level
The Indonesian Navy has a total of 213-ships, consisting of 11 major surface combatants, 72 patrol and coastal combatants, 11 ships for mine warfare and mine countermeasures, 5 major amphibious ships, 26 landing ships, 54 landing craft, 2 submarines and 32 logistics and support vessels. However, some of them are obsolete and need urgent replacement.
Coastal Surveillance
The US provided Indonesia with five surveillance radars for the surveillance of the Malacca Strait followed by additional seven radars for maritime surveillance in the Makassar Strait during 2008. To avoid any adverse comments, Indonesia's then Defense Minister Juwono Sudarsono stated the installation of seven radars was meant to support ASEAN maritime defence and security. He also stated that the security of the Sea Lines of Communication in the Asia and Pacific region is a matter of vital importance. US has also funded an Integrated Maritime Surveillance System which includes coastal surveillance stations, ship-based radars, regional command and two fleet command centres. The US has also provided funds to sustain it up to 2014.
Security of EEZ
Indonesia's vast archipelago includes about 13,000 islands stretching over nearly 2 million square km. The north end of Indonesia is closer to the Andaman Sea and India's Andaman and Nicobar Islands. The southern end stretches to Timor and Arafura Sea, with close proximity to Australia. Indonesian island of Sumatra is straddled across the Strait of Malacca with the Malay Peninsula at the other end. Strait of Malacca is a narrow stretch of water which is the main shipping channel between the Indian and the Pacific Ocean and connects West Asia to economically important countries like China, Japan and South Korea. About 50,000 ships pass through this choke point annually, carrying 25 per cent of world's maritime trade including oil. Thus Malacca Strait has great strategical and economical importance. Indonesia's geography makes a land invasion unlikely but the maritime environment makes the job of its Navy more challenging and complex. Indonesia finds difficult in providing maritime security to even 12 of the country's 92 outermost islands.
Air Arm
The Navy has maintained a small air arm since 1958 which was primarily equipped for naval reconnaissance and coastal patrol duties. It was supplemented with Nomads (N-22) from Australia, Wasp ASW helicopters from the UK, and products of IPTN such as Cassa, Super Puma, Bell 412EP, and BO-105. The Indonesian Navy has received the first of the three maritime patrol aircraft CN235 MPA version (jointly developed by CASA of Spain and Indonesia) from the country's aircraft maker PT Dirgantara Indonesia. It plans to buy 11 anti-submarine helicopters in 2014 which may be Seasprite or Agusta.
Submarines
At present the Navy has only two 1,200-tonne Cakra class (Type 209) submarines of 1981 vintage. Daewoo Shipbuilding of South Korea has won a contract to provide three 1,400-tonne Type 209 Chang Bogo class submarines, two of which will be built in South Korea, while the third one is to be assembled in Indonesia by PT PAL. The first two boats are to be delivered in 2015 and 2016; the third has been scheduled for 2018.
Other Maritime Elements
The Marine Corps has also received amphibious vehicles from France and erstwhile East Germany to augment its resources. The military sealift command coordinates the navy's logistical support systems. The Indonesian Government also established an independent body, the Indonesia Sea and Coast Guard (KLKP) in 2009. The establishment is aimed at strengthening the security in Indonesian waters. Kopaska was formed on March 31, 1962, by President Sukarno to help his campaign in the province of Irian Jaya which wanted to break away from Indonesia. In that campaign, Kopaska (commando type frogman and underwater demolition unit of the Indonesian Navy) were ordered to ride the torpedo and guide it on to the enemy's ship. Currently the strength is about 300 men which are divided between the two fleets. The early US Navy Underwater Demolition teams and modern Navy SEAL teams have heavily influenced Kopaska as the earlier members were trained in US.
Modernisation
Indonesia's 2010 Strategic Defense Plan formulated a goal of developing a 'Minimum Essential Force' (MEF) 2024 which includes ambitious plans like acquiring a 274-ship navy and 12 new diesel–electric submarines. 274-ships include 110 surface combatants, 66 patrol vessels and 98 support ships. The focus still remains the development of 'Green Water' capability which will concentrate on developing maritime anti-access capabilities—such as antiship missiles, fast attack craft, submarines, shore-launched missiles, land-based tactical fighter aircraft, sea mining and amphibious warfare assets. The aim is to deter any potential adversary by sending the message to a potential adversary that it will be highly risky to deploy aircraft carriers, helicopter landing docks etc in the Indonesia's waters. The requirement of littoral warfare is strengthened by a large number of indigenous small patrol boats and fast attack guided-missile boats like the KCR-40 craft. Its PB-57 large patrol craft are fitted with C-802 missiles. Indonesia is also trying to acquire from China for licensed production of its 120-kilometre range C-705 surface-to-surface missile for its KCR-40s. Similar modernisation plans exist for the Army and the Air Force. It also includes the development of a viable domestic defence industrial base.
India-Indonesian Defence Relations
Economic Relations
India and Indonesia are ready to take their economic and strategic relations to the next level. Indonesia is India's third largest trading partner in ASEAN and bilateral trade is targeted to reach $20 billion by 2015. Indonesia has operationalised the Free Trade Agreement on October 1, 2010.
Maritime Relations
India's Andaman Islands are in close proximity to Indonesia which is crucial for controlling the entry point from the Indian Ocean to the Bay of Bengal. The two countries have signed a Defence Cooperation Agreement in 2001 and have had regular defence exchanges including the exchange of high level visits, ship visits, officers studying in Staff Colleges in either country and joint coordinated patrols in the mouth of the Malacca Strait. India's Defence Minister A.K. Antony visited Indonesia on October 15-17, 2012, as part of the biennial dialogue between the two Defence Ministers agreed during President Yudhoyono's visit to India in January 2011. The 3rd Joint Defence Cooperation Committee was held in Jakarta on October 15 preceding Antony's meeting. India and Indonesia had signed an MoU on counterterrorism in 2004. Indonesia's experience in successfully fighting against terrorism is exemplary. India cannot ignore Indonesia's credentials as the largest South East Asian nation, which is a vibrant democracy, and a bastion of moderate Islam with a good record in counter-terrorism and in maritime security.