There is a multi-tier arrangement for coastal security involving the Indian Navy, Indian Coast Guard (ICG) and marine police of the coastal states and Union territories. The State Marine Police jurisdiction extends up to 12 nautical miles (about 22 km), ICG functions between 12 and 200 nautical miles (about 22 to 370 km) which is the EEZ, and the Indian Navy extends beyond 200 nautical miles (370 km).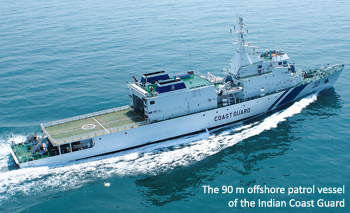 India has a coastline of 7,516.6 km, touching nine states and four Union territories (UT). There is more than 2.5 million square km of exclusive economic zone (EEZ). The mining areas allotted under the United Nations Convention on the Law of the Sea (UNCLOS) are about 2,000 km from the southernmost tip of India.
Mercantile Trade
Ports play a vital role in the overall economic development of the country. India has 13 major and about 176 minor ports. As GDP grows, so will be the sea traffic. About 90 per cent by volume and 70 per cent by value of the country's international trade is carried on through maritime transport.
Coastal Threat
The states of Maharashtra and Gujarat are strategically located and prosperous which makes their coastline vulnerable to smuggling, poaching of seafood, anti-national activities and terrorism. Smuggling of gold, arms and explosives has been quite common in this area. It is estimated that there are about 1,50,000 small fishing boats with no modern navigation means or communications moving freely around without any control. Thus management and security of India's maritime zone including the coastline is by itself a formidable and a complex task, gaps in which were amply displayed during the terrorist attack on Mumbai on November 26, 2008.
Recap
Operation Swan: On March 12, 1993, terrorists carried out a series of explosions in Mumbai which ravaged the city, caused 250 fatalities and 700 were injured. India launched 'Operation Swan' during August 1993 to prevent clandestine landings along the coasts of Maharashtra and Gujarat. The scheme has been transferred in totality during March 2011 to the Ministry of Defence (MoD) and has been extended up to March 31, 2014.
Post-Kargil: After the Kargil Operations in July 1999, a committee of Group of Ministers was formed under L.K. Advani with the brief to make recommendations on "Reforming the National Security System". It recommended the creation of infrastructure for the protection of India's vast coastal areas.
MHA's Coastal Security Schemes
Division of responsibility: There is a multi-tier arrangement for coastal security involving the Indian Navy, ICG and marine police of the coastal states and UTs. The State Marine Police jurisdiction extends up to 12 nautical miles (about 22 km), ICG functions between 12-200 nautical miles (about 22-370 km) which is the EEZ, and the Indian Navy extends beyond 200 nautical miles (370 km).
Coastal Security Scheme (CSS): CSS Phase-1: To strengthen coastal security, a CS was formulated to cover nine coastal states and four UTs. Phase-I of the scheme was approved in January 2005 for implementation in five years from the year 2005-06 and extended for one year till March 31, 2011. The scheme included 73 coastal police stations and stands completed on March 31, 2011.
Coastal Security initiatives post-26/11
MoD: Comprehensive measures were announced by the Defence Minister, A.K. Antony, and duly approved by the Cabinet Committee on Security (CCS). The salient features were:
The Indian Navy has been made responsible for overall maritime security which includes both coastal and offshore security duly assisted by the ICG, state marine police and other Central and state agencies.
Four Joint Operation Centres (JOCs) are to be established under the jurisdiction of the respective Cs-in-C. The Cs-in-C will also hold additional responsibility as Cs-in-C, Coastal Defence.
A national command, control, communication and intelligence network (NC3IN) would be established for realtime maritime domain awareness.
The Indian Navy will also control all ICG joint operations.
Necessary infrastructure will be created for all organisations involved in coastal security by the way of control centres, personnel and equipment. This also included a specialised force, called the Sagar Prahari Bal (SPB), comprising 1,000 personnel and equipped with 80 fast interception craft (FIC).
Vessel and air traffic management systems will be installed wherever required.
The ICG has been additionally designated as the authority responsible for coastal security within the territorial waters, including areas to be patrolled by the coastal police.
The proposal for setting up of static coastal radar chain and a comprehensive network chain of automatic identification system (AIS) stations along the entire coast as well as island territories has been approved.
Further update
Joint Operation Centres: JOCs at Mumbai, Visakhapatnam, Kochi and Port Blair are operational.
Raising of SPB and procuring of FICs: The Sagar Prahari Bal (SPB) comprising 1,000 personnel has been raised by the Navy. The Indian Navy has signed a Rs. 300-crore deal with a Sri Lankan shipyard company for the procurement of 80 FICs. The delivery has started and is likely to be completed in a couple of years.
Island territories: Since 2011, the Indian Navy has strived towards creation of operational and administrative infrastructure in the Andaman and Nicobar Islands and the Lakshadweep and Minicoy Islands. Naval Base INS Dweeprakshak (Island protector) has been established at Kavaratti in Lakshawadeep for this purpose.
Establishment of additional ICG Stations: By the end of 2012, ICG was to have 42 CG stations (CGS). At present there are about 36 CGS stations, with the last one being commissioned at Pipavav in Gujarat. Work is in progress for the remaining six.
ICG Force Level: There are approximately 75 surface vessels in service and many more are on order. ICG plans to double its strength by 2018. There are 45 helicopters and fixed-wing aircraft which would be further strengthened with the induction of two medium-range surveillance aircraft in the near future. Other inductions are:
ICG Ship Vaibhav, the third in the series of 90 metres class offshore patrol vessel has been commissioned during May 2013.
The ICG Ship Rajveer, 50-metre inshore patrol vessel (IPVs), the seventh in the series of eight IPVs designed and built by the Garden Reach Shipbuilders and Engineers Limited (GRSE), was commissioned during August 2013.
50 interceptor boats are also on order, sixth of which built by Larsen and Toubro (L&T) was launched during August 2013. ABG has also supplied thirteen 26m FIC. Construction of 20 fast patrol boats of 50 metres length, designed by SEDS, Kochi, and being built by Cochin Shipyard Limited for the ICG is in progress.
Bharati class interceptor boats: Fifteen interceptor boats of 28 m length are also being built by Bharati Shipyard for the ICG.
Coastal Surveillance Network: A coastal surveillance network (CSN) along the coastline is being established with 46 stations being setup under Phase-I and 39 stations under Phase-II.
Phase-I of the CSN has been completed on the mainland and work is in progress for the island territories.
National Command Control Communication and Intelligence Network (NC3IN): NC3IN network is being set up by the Indian Navy as the backbone for the national maritime domain awareness (MDA) project.
MHA
Formulation of CSS Phase-II
CSS Phase-II: CS Phase-II has been approved. The scheme is to be implemented over a period of five years starting from April 1, 2011. Other important details are:
Coastal Police Stations-131 (this includes upgradation of 20 Coastal Police Stations and the establishment of 10 Marine Operational Centres in Andaman and Nicobar (A&N) islands.
Vessels 12 tonne: 180
Rigid Inflatable Boats: 25 (for island territories)
Large Vessels: 10 (for A&N islands)
Jetties: 60
Implementation Status
All the coastal states/UTs have initiated the process of land identification and land acquisition, for operation and construction of coastal police stations and jetties. Out of the 131 sanctioned coastal police stations, 54 have been operationalised, land has been acquired/under possession for 54.
Procurement of Phase-II Boats
Procurement of approved 180 boats and 10 large vessels for A&N islands in Phase-II of Coastal Security Scheme is being done by the MHA.
Comprehensive Security Plan for A&N Islands
A&N Administration has formulated a comprehensive security plan for A&N Islands in consultation with Indian Navy, Indian Coast Guard and other stakeholders, and submitted to the Ministry of Home Affairs (MHA). It is to be implemented over a period of eight years, in three phases.
Registration of Boats
All the fishing/non-fishing boats plying in Indian waters will be registered under a uniform system by the Department of Shipping.
Installation of Transponders on Boats
All types of vessels including fishing vessels, other than fishing vessels of less than 20 metres length, are to be installed with automatic identification system (AIS) type B transponders. For vessels of less than 20 metres length, ICG is carrying out trials for suitable tracking systems.
Issuance of ID Cards to Fishermen
All the fishermen are being issued ID cards which are relatable to a single centralised database.
Multi-purpose National Identity Cards
The Registrar General of India is working on a project for issuance of multi-purpose national identity cards to the population in the coastal villages and by the end of 2012, 5.1 million cards had been produced.
Port Security
The security of 12 major ports of the country is being looked after by the Central Industrial Security Force. However, no security norms for the 187 minor ports of the country have so far been evolved. The Ministry of Shipping had constituted a Working Group in July 2009 for standardisation of ports security. The Working Group has submitted its report which is under consideration.
National Committee for Maritime and Coastal Security
A National Committee for Strengthening Maritime and Coastal Security against Threats from the Sea had been constituted by the government in August 2009, under the chairmanship of the Cabinet Secretary. Defence Minister A.K. Antony has been periodically reviewing measures taken for coastal security.