Navantia, a Spanish public company that belongs to the SEPI (a state-owned enterprise subordinate to the Spanish Ministry of Economy and Treasury), is a world leader in the products it offers. The company is involved in design and construction of high-tech military vessels and civil vessels; design and manufacturing of control and combat systems; technology transfer; overhauls and alterations of military and civil vessels; support to the service life of its vessels and systems; diesel engine manufacturing and turbine manufacturing. Navantia has been expanding globally. In October 2005, Navantia, as part of a consortium with the French company DCNS, and the French company Armaris entered into a technology transfer agreement on three Scorpene submarines in India. Here in an interview with SP's Naval Forces, José Luis Montes Martínez, General Manager, India Liaison Office, talks about Navantia in India.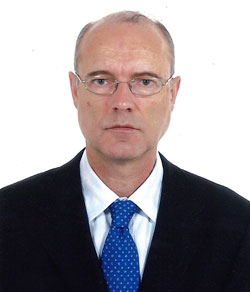 SP's Naval Forces (SP's): Can you indicate on your relationship with the Indian Navy and the Indian armed forces in general?
José Luis Montes Martínez (Martínez): We mainly deal with the Indian Navy. Personally I have been involved with India only for the last five months, so my relationships are not yet very extended.
SP's: Which specific projects are currently on and how are they progressing?
Martínez: With the Indian Navy we only have future projects.
SP's: What are Navantia's upcoming offerings to the Indian Navy and also the Indian Coast Guard?
Martínez: We will involve at least in the following tenders: LPD, Project P-75(I) – AIP submarines and Fleet Support Ships (FSS).
SP's: Can you indicate on any industrial partnerships, if finalised, with any shipyards? Can you also indicate on some basic features of these partnerships?
Martínez: Larsen & Toubro, Chennai, in the LPD and FSS projects. If awarded, on both projects we will do engineering work and additionally in the FSS programme we would build two or three vessels while L&T would build the rest.
SP's: What makes you most excited in the context of India as a market?
Martínez: Indian Navy programmes already known to fit perfectly with our capacities. On the other hand, we have extended our good experience in working in partnership with local shipyards in other contracts with foreign navies, so our know-how perfectly fits the needs of the Indian Navy in terms of product and indigenous construction.
SP's: I believe Navantia also has a series of land-based solutions. Does Navantia intend to work with the Indian Army and allied organisations?
Martínez: Yes. We do not pretend to be limited to the Navy.
SP's: How do you view Navantia's future in next 5 to 15 years?
Martínez: We have a clear idea: to expand internationally. Our designs are very attractive for most of the navies.