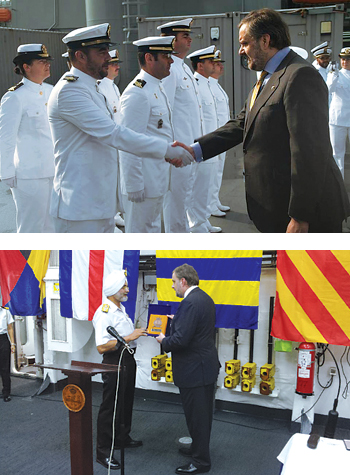 After spending a year in Australia, the Spanish combat supply ship ESPS Cantabria arrived at Mormugao Port, Goa, on November 26. This port visit to India is the ship's second stop on its journey back to Spain after 10 days from the port of Jakarta in Indonesia.
Since its departure from Ferrol Port in Spain on January 3, 2013, until its expected arrival in Spain on December 21, the ESPS Cantabria in its about a yearlong deployment in Australia, has worked hand-in-hand with the Royal Australian Navy (RAN). The aim of was to reinforce and increase the mutual relation of trust and support as well as enhance interoperability between both Navies.
On November 26, Indian Navy officials visited the ESPS Cantabria followed by representatives of the Spanish Defence Industry (Navantia & Indra). On November 27, in the morning, the Ambassador of Spain, Gustavo de Aristegui, visited the ship. A reception hosted by the Ambassador of Spain also took place onboard the ship and was attended by Rear Admiral B.S. Parhar. The ESPS Cantabria finally departed the Mormugao Port on the morning of November 28 to continue its journey back to Ferrol Port in Spain. Its last stop before heading back home is expected to be at the Turkish Port of Aksaz.
Characteristics
DISPLACEMENT
19.550 tonnes.
LENGTH
174 mts.
BEAM
23 mts.
PROPULSION
Two diesel engines with 10.890 KW each. Max speed; 20 knots and Range 6,000 miles
AIRCRAFT
Hangar: 3 medium/2 heavy HELOS
CREW
144
ARMAMENT
6 SRBOC MK-36 (CHAFF Launcher)
4 "Browning" 12,7 mm
4 MG-42 7,62 mm
SENSORSR
Radar ARIES SAAS-NAV for surface search.
Radar ARIES SAAS-SCH for helicopter control fitted with IFF CIT-25D, transponder system
ESM system RIGEL.
DIANA System, (SDDN in Spanish) provide information to GPS, AIS, gyro and meteorological.
LINK-11-LINPRO
Optronic Survilliance Sytem, (SVO in Spanish), TECNOBIT System: TV and FLIR.
Multifunction CONAM C2D/C3D Consoles. Four consoles, one (C3D) with three displays and three (C2D) with two displays.
All sensors are integrated with the Combat System, SCOMBA.
OTHERS
8.000 CUMS F-76
2.000 CUMS F-44
200 tonnes fresh water.