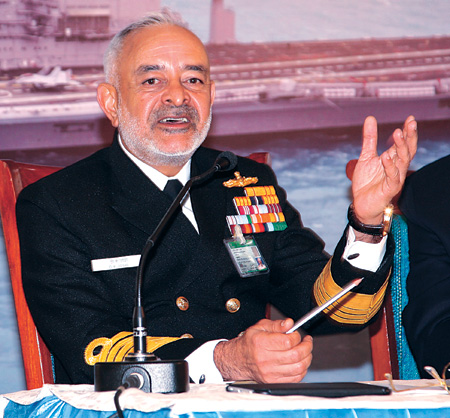 There has been no pirate attack reported within 450 nautical miles of our coast in the last two years," said the Chief of the Naval Staff (CNS) Admiral D.K. Joshi, while also calling for regulations to check the incidences of private floating armouries and the private armed guards operating close to Indian waters. Addressing a press conference ahead of the Navy Day on December 3, the Navy Chief said that the floating armouries could perpetrate attacks similar to 26/11. "Adverse fallout of piracy of serious concern is the largely unregulated carriage of armed guards onboard merchant ships. There are scores of ships operating as floating armouries, outside any coastal state jurisdiction. Lack of any provisions to deal with such vessels or armed personnel hampers legal actions. We have recommended that this necessitates formulation of a regulatory framework by the International Maritime Organisation (IMO)."
Expressing satisfaction at India's effort at self-reliance, the Navy Chief said that the Navy is proud that all 45 ships and submarines, which are currently on order for Indian Navy, are being constructed in India in both public as well as private shipyards. "Launch of Vikrant, attainment of criticality of Arihant's nuclear reactor and its impending sea trials, induction of Shivalik class stealth frigates, ongoing trials of Kolkata, the lead ship of Project 15 A stealth destroyers, have demonstrated the strength of our research and development (R&D), naval design and industry. The synergy between Navy, the Defence Research and Development Organisation (DRDO) and industry has enhanced the pace, quantum and quality of indigenisation. Globally very few select countries construct their own ships, aircraft carriers and submarines, including nuclear ones, and this achievement is a matter of national pride."
The launch of GSAT-7 in collaboration with the Indian Space Research Organisation (ISRO), a dedicated satellite for Navy under project Rukmani is a landmark achievement in enhancement of our blue-water networked operations. We are also supporting ISRO in the Mars Mission through Naval teams embarked on ships currently in the South Pacific."
Explaining further to a question on selfreliance raised by Jayant Baranwal, Editorin-Chief, SP's Naval Forces, CNS said that a lot of money needs to be invested in R&D and the industry has to show interest. "Our enthusiasm is 100 per cent, the industry has to respond." In the three operational capabilities required for a ship-"float, move and fight"-he said "we have 100 per cent capability in the first category, something to be really proud of; while a lot of improvement is needed in the 'move' and 'fight' categories." Giving details on India's self-reliance efforts, Vice Admiral N.N. Kumar, the Chief of Material, Indian Navy, informed SP's that the Indian Navy, DRDO, the Bharat Electronics Limited (BEL) and industry are working together on many programmes; Pipavav is working on five offshore patrol vessels (OPVs), and Larsen and Toubro (L&T) on torpedo tubes and rocket launchers.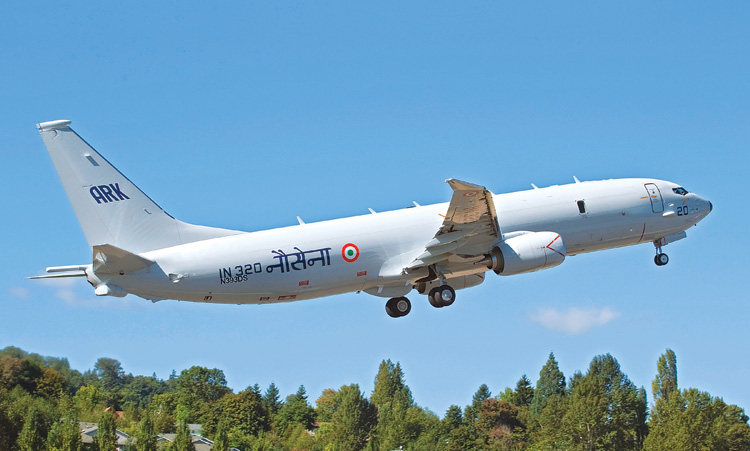 Three Boeing P-8Is have been delivered to the Indian Navy
Replying to a question on coastal security by Jayant Baranwal, the Navy Chief informed that the costal security measures taken at present are at a vastly improved stage and much of the hardware for the coastal security network has already fructified. As regards registration of the fishing vessels, he said that the process is on. He assured that the Navy continues to maintain enhanced vigil across the entire spectrum of India's maritime interests, including coastal security and is enhancing its preparedness gradually. "Coastal security remains a key focus area for us. With regular exercises and setting up of Joint Operations Centres (JOCs), coordination between various agencies has improved considerably. Situational awareness has also improved with phased implementation of National AIS Network and coastal radar chains. We are constantly upgrading the military infrastructure and facilities in our island territories to improve surveillance, joint and well coordinated operations. While downstream activities are being progressed, we are concurrently working towards further augmentation of assets and infrastructure under Coastal Security Phase II."
Admiral Joshi informed that a Coastal Security Bill to further improve multiple agency and Centre-state interface has also been drafted. The Ministry of Home Affairs (MHA) has agreed to steer it. He also explained about the 'hub and spoke' model as part of the coastal security measures wherein information is received from the coastal police force, radars, transponders and the data is analysed at the regional headquarters level and concurrently shared with the JOCs and all that neutral and nonhostile inputs are filtered out.
On China's increasing maritime capability and recent activities in the South China Sea, he said that the Indian Navy has no confrontation with any Navy and is constantly in the process of evaluating the capability of other navies which could be detrimental to our Navy. "We do not embark on any country specific preparation but only capability development. We look at the capability of other navies and see how we can counter, in our national interest. Our capability should be such that we are able to safeguard our maritime interest." On the South China Sea, he said that the Indian Navy does not operate on a regular basis but has units at sea and the issue is under close observation.
The Navy Chief said that INS Vikramaditya's recent commissioning has bolstered Indian Navy's carrier centric 'blue-water' capability. The MiG-29K fighters at Goa are undertaking intensive training, to commence deck flying and integrate Vikramaditya into Navy's operational architecture.
Further giving details of different programmes, the Admiral said that the Vikrant is expected to be commissioned around 2017. On the Hawk advanced jet trainers (AJTs), he said with its recent induction, naval aviation is undergoing a qualitative transformation. Similarly, the recent induction of P-8I Boeings has ushered in a new era for Navy's air surveillance and stand-off attack capabilities. "The P-8I programme is going great. It is a long-range surveillance and stand-off attack aircraft." Informing further on the maritime patrol aircraft of the Navy, he said that the long-range maritime reconnaissance (LRMR) is the biggest in the category and request for proposal (RFP) for mediumrange maritime reconnaissance (MRMR) has been issued a month back. Admiral Joshi said that the Indian Navy, which already has experience in operating amphibous craft like the Sealand, does have plans for induction of amphibious aircraft, which would be of great use in far-flung islands like in Lakshwadeep and Maldives. Updating on Project 75I, the Navy Chief admitted that there has been delay and the Navy is hopeful that the final approval would be accorded early. Arihant, the nuclear powered submarine, he said, is likely to be inducted within a year and 100 per cent of harbour acceptance trials are now over.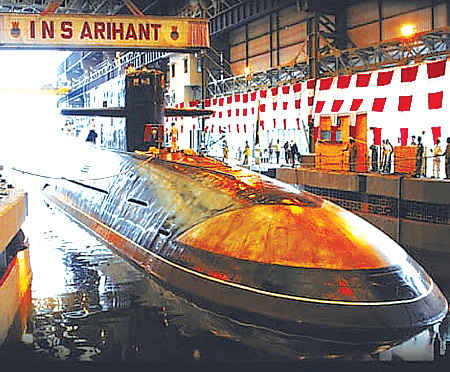 The Indian Navy's nuclear-powered submarine Arihant will be inducted within a year
On the Sindhurakshak incident, the Admiral informed that salvage activity has not yet commenced and the Navy is in the process of finalising from five international vendors, out of which three were called for commercial bid. The L1 vendor will be decided soon. Quite a bit of investigation has been done, and further details would be found after the salvage activity. "The Board of Inquiry (BOI) will take for weeks, but the submarine has to be floated."
As regards foreign cooperation, the Navy Chief said that bilateral Coordinated Patrols (CORPAT) along shared international maritime boundaries are being regularly conducted with Indonesian and Thai navies, to address common concerns of poaching, drugs and human trafficking, and gunrunning. The maiden CORPAT with Myanmar was undertaken this year and "we plan to invite more Indian Ocean Region (IOR) countries into similar cooperative endeavours. Two of our initiatives IONS and MILAN have been receiving overwhelming response as well as requests for membership, and have helped productive interaction with a number of navies. The IONS Operational Seminar, held at Mumbai in September this year, was a success and saw participation by 22 regional navies. Similarly, MILAN has been steadily gathering momentum. Beginning with just five members in 1995, we hosted 14 navies for MILAN 2012. Next year we are expecting 20 littoral navies to participate in MILAN 2014." On his recent visit to Sri Lanka which was soon followed by the Sril Lankan Defence Minister's India visit, the CNS said that it's an ongoing activity and there is at present no plan of scaling up naval cooperation with the country.
On the proposal for the appointment of a four-star officer as the permanent Chairman of Chiefs of Staff Committee, the Navy Chief stated that all the three services have agreed to have a permanent Chairman of Chiefs of Staff Committee who would be in-charge of looking after the tri-services issues and a final decision on the matter would be taken by the government. However, discussions on whether the Chairman would be from the Indian Army, Navy or Air Force, service or non-service has not been discussed by the services and would be a political decision.