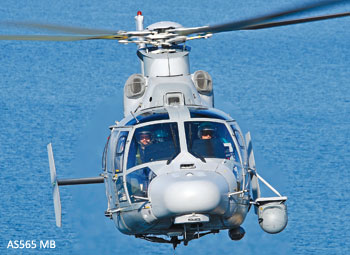 Eurocopter keen on expanding its base in India showcased its naval and maritime helicopters, among them the AS565 MB Panther and the AS365 N3 Dauphin. A militarised version of Eurocopter's twin-engine Dauphin helicopter, the Panther is a multi-purpose, medium-weight aircraft designed for applications such as anti-submarine and anti-surface missions, search and rescue (SAR), surveillance and monitoring patrols in exclusive economic zones (EEZ), maritime counter-terrorism, casualty and medical evacuation, and troop and cargo transport.
Eurocopter's AS565 MB Panther offers a mission-proven rotorcraft in service with military forces across the world. The product is the military version of multi-role, twin-engine Dauphin family whose largest civilian operator is Pawan Hans Helicopters Limited.
Eurocopter is hoping that the government liberalises the defence sector further for increased OEM participation.
Speaking to SP's Naval Forces at NAMEXPO 2013 in Kochi recently, Eurocopter Vice President (Sales and Customers Relation) India and South Asia, Rainer Farid said: "There are many programmes in India, but most of them are delayed due to scandals, impending elections...and it is a really difficult environment now." The Indian Army has shortlisted companies for its requirement of 197 helicopters but there have been delays.
Farid said: "We are patient here. We want to go into cooperation with India too." He gave examples of significant strides made in cooperation with countries such as South Korea (for co-development of 7-tonne helicopter), Australia (joint venture for NH90), US (for Lakhota medium helicopters) and Brazil (for EC735).
"In the helicopter segment, everything here is obsolete except the Dhruv. The Sea Kings are over 30 years old and it is time for replacement. India has come up with 'buy and make' programme and this is a good route." Eurocopter, he said, is keen on transferring technology, building a global supply chain in India etc. "We are looking at joint venture, provided it is not 26 per cent FDI. It is our technology and we will be responsible for the end product."
Eurocopter is offering India the AS565 MB Panther and the product is in the technical evaluation stage and trials are expected early next year.