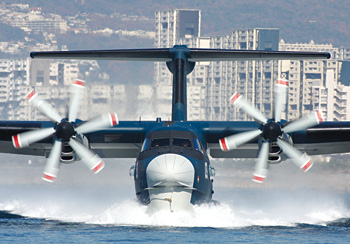 ShinMaywa showcased the US 2i amphibian increasing awareness about the aircraft and numerous roles and missions that the aircraft can accomplish making it a force multiplier and game changer in the Indian Ocean Region (IOR).
Uniquely, the US 2i, is the only aircraft in the world that operates in sea state five conditions on the high seas as well as on rivers and lakes: carries a sizeable payload of personnel (30 personnel) and stores (three tonne of load): and has the longest endurance with the shortest take-off and landing distance in its class (only 300 metres). The aircraft is presently the only amphibious aircraft fitted with the state-of-the-art 'boundary layer control system' for lift augmentation. This allows the aircraft to operate at very low speeds and consequently reduces the take-off/landing run of the aircraft and allows for safe afloat operations during rough sea conditions. This aircraft is an ideal platform to carry out long-range logistics support role for the Indian Navy, Island support operations, casualty evacuation, humanitarian assistance and disaster relief, long-range search and rescue (SAR) and exclusive economic zone (EEZ) surveillance for the Indian Coast Guard (ICG) and the Navy.
Many important dignitaries including Vice Admiral Satish Soni, Commander-in-Chief, Southern Naval Command, Vice Admiral N.N. Kumar, Chief of Material were amongst several Flag Officers and Staff from the Indian Navy, Indian Air Force and Indian Coast Guard visited the ShinMaywa stall and the company conducted many important business meetings.
The stall also generated huge interest from the local visitors every day, who were excited to know more about the unique amphibian. During the naval seminar at the expo, which was inaugurated by Vice Admiral Satish Soni, Commander-in-Chief, Southern Naval Command, Sujeet Samaddar, Director and CEO of ShinMaywa spoke on "Development of Advanced Naval Aviation Systems and Sustainable Repair Support" and presented his views on leveraging acquisitions for technology infusion in the aerospace sector.