Surface maritime patrol is an active patrolling of the area with submarines, ships and boats. During wartime, maritime patrolling is critical but it is also essential in peacetime due to piracy, terrorism, smuggling, protection of fishing areas, exclusive economic zone and sea lines of communication.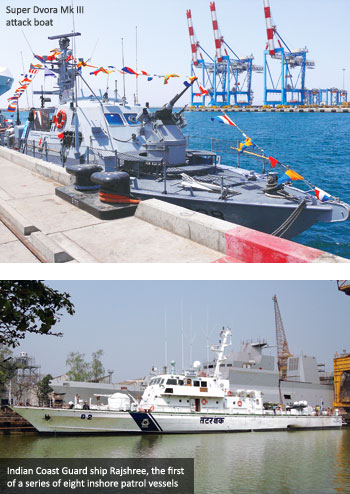 Mariti me patro lling is caried out by the navy, coast guard and law enforcement agencies for monitoring an area of water for any illegal activity. It can also be for other purposes like inspection and reconnaissance but mainly it is carried out for security reasons. Surface maritime patrol is an active patrolling of the area with submarines, ships and boats. During wartime, maritime patrolling is critical but it is also essential in peacetime due to piracy, terrorism, smuggling, protection of fishing areas, exclusive economic zone (EEZ) and sea lines of communication (SLOC). Search and rescue could also be carried out during patrolling due to the proximity of the patrolling elements. Detection of activity can be carried out by human beings but now electronic sensors are being used extensively. Surface maritime patrolling is augmented by aerial platforms and surface sensors. Some examples of aerial platforms are Lockheed Martin's P-3 Orion anti-submarine and maritime surveillance aircraft and Boeing's P-8 Poseidon multi-mission maritime aircraft. Helicopters, unmanned aerial vehicles (UAVs) and satellites are also widely used. Surface sensors are radars and aerostats mounted sensors. The type of surface maritime capability will depend on a country's need. For example India has a vast coastline; it has state marine police (up to 12 nautical miles (nm)/about 22 km), Indian Coast Guard (between 12 and 200 nm/about 22 km and 370 km) and the Navy operating beyond 200 nm. Others will have a combination of forces and equipment as per their security needs.
Surface Maritime Elements
Fast Patrol/Attack Craft: They come in all shapes and sizes. A few examples are:
Super Dvora: IAI's Ramta Division's Super Dvora class of multimission patrol and attack boats can carry out a variety of missions of offshore patrol, EEZ control, law enforcement, naval intelligence, command and control, interdiction and boarding of suspect targets, as well as nonmilitary missions such as search and rescue, humanitarian assistance and disaster relief. All Super Dvora class variants are fast and agile, and designed to attain and sustain high operating tempos. The Mini Dvora places emphasis on high manoeuvrability and operational proficiency while operating from the shallowest inlets and beaches to shallow littorals and beyond. The latest generation of Super Dvora Mark (Mk) I, II and III boats are deep sea capable but specifically designed for a full array of littoral, anti-terror, law enforcement and coastal security missions. Super Dvora Mk III is the latest fast patrol boat which is 25 metres long, has an operational radius of 700 nm (about 1,296 km) while has speed in excess of 45 knots (about 83 kmph) at a full displacement of 65 tonnes. In its attack mode, Ramta is currently working on a number of new configurations for the flexible Super Dvora platform, among them the "Strike", or what Ramta refers to as the "littoral warrior", equipped with a variety of very advanced precision weapon systems. In addition to the Israel Navy, the Super Dvora has been sold to nearly a dozen other international customers.
ARESA 1200 Interceptor Rib: Ares class of boats are manufactured by GRUP ARES Shipyard, Spain. Ares 1200 version has a length of 11.95 m, maximum speed of 40 knots (about 74 kmph) and a range of 400 nm (about 740 kmph). It carries one automatic gyro stabilised machine gun (12.7mm) and two manual machine gun (12.7mm). Other weapon combinations are possible on request. The other versions with tailormade capabilities are ARESA 1200 Defcon Rib, ARESA 1200 Stealth Rib, ARESA 750 commandos rib, ARESA 550 commandos rib and ARESA 400 commandos rib.
Fast Interceptor Craft: Larsen and Toubro (L&T) Marine and Ship Design Division has designed this craft which is 30 metres long with 90 tonnes displacement and can achieve a maximum speed of 45 knots (about 83 kmph). The interceptor boats has full aluminium-alloy hull for reduced weight and is powered by twin water-jet propulsion systems to enable quick response. They are meant for the Indian Coast Guard to carry out the role of coastal surveillance, search and rescue, anti-smuggling and anti-poaching operations in close coast and can also operate effectively in shallow water. About 54 such boats have been ordered.
ABG Fast Interceptor Craft: These are a series of 13, 26 metres high-speed interceptor boats designed and supplied in knocked down kits by Henderson based Global Marine Design and assembled by ABG Shipyard, Surat, for the Indian Coast Guard. They are wide aluminium hulled water jet propelled vessels for operations in close coastal and shallow waters. They have an endurance of 500nm (about 926 km) at 25 knots (46 kmph) and capable of doing high speed up to 45 knots (about 83 kmph) and are fitted with a 12.7mm 'Prahari' heavy machine gun.
Cochin Fast Patrol Vessels: These are a series of 20 patrol boats designed by SEDS, Kochi, and being built by Cochin Shipyard Limited for the Indian Coast Guard. The ship has been designed by SEDS, Kochi. The vessels have a length of 50 metres, designed speed of 33 knots (about 61 kmph). It has water jet propulsion through triple Rolls-Royce Kamewa 71S3np water jets. The vessel is capable of operating in shallow waters and offer higher speeds and better manoeuvrability than conventional propellers. The navigation package is being supplied by Northrop Grumman's Sperry Marine business unit. The primary role of the vessel include fisheries protection and monitoring, patrol within exclusive economic zone, coastal patrol, anti-smuggling, anti-piracy, and search and rescue operations.
Bharati Class Interceptor Boats: Fifteen such boats are being built by Bharati Shipyard for the Indian Coast Guard. The vessels have a length of 28 metres with a speed of more than 35 knots (about 64 kmph). The vessels can perform highspeed interception, close-coast patrol, lowintensity maritime operations, search and rescue and surveillance.
Inshore Patrol Vessel (IPV): This class of patrol craft are larger in size. The Indian Coast Guard has ordered eight IPVs which are being designed and built by the Garden Reach Shipbuilders and Engineers Limited, out of which the seventh has been commissioned during August 10. The IPV can achieve a maximum speed of 31.5 knots (about 58 kmph) and at a speed of 14 knots (about 26 kmph), it has an endurance of 1,500 nm (about 2,778 km). The special features of the ship include an integrated bridge system, integrated machinery control system and an indigenously built 30mm gun-mount with fire control system.
Sukanya Class Offshore Patrol Vessels (OPVs): They are large, offshore patrol craft in active service with the Indian Navy. Three lead ships were built by Korea Tacoma, now part of Hanjin Group. The Sukanya class have large hulls, although they are lightly armed since they are utilised primarily for offshore patrol of India's exclusive economic zone. However, they are capable of being heavily armed and upgraded to light frigates if the need arise. It has a displacement of 1,890 tonnes when fully loaded, length of 101 metres, speed of 21 knots (39 kmph), range of 7,000 nm (13,000 km), carries sensors and one 40mm 60-calibre Bofors anti-aircraft gun and two 12.7mm machine guns. Some of the OPVs are fitted with Dhanush ballistic missiles and two 25mm 80-calibre anti-aircraft guns.
Damen Offshore Patrol Vessels (OPVs)-Netherland: Damen OPVs are specifically developed for navies and coast guards for a wide variety of tasks in regions where there is low-level violence. The vessels are optimised to fulfil all duties including military security, military safety or humanitarian tasks. The OPVs are offered in a variety of flexible mission modules and modular manning concepts. The largest is OPV 3,750 which has a length of 108-metres, speed of 22 knots (about 40 kmph) and displacement of 3,750 tonnes. The OPV series range from 3,750, 2600 to 2400, 1800, 1400, 950 and 850.
BAE Systems UK: BAE Systems family of OPVs comprise 80-metre and 90-metre versatile and affordable ships. The 90-metres vessel is equipped with air surveillance radar which can be used to detect low flying aircraft often used in smuggling operations. The ship's rigid inflatable boat can be deployed swiftly from the davits for recovery and rescue operations and gives the ability to conduct sea boarding. Its automated 30mm small calibre gun system can engage fast inshore attack craft armed with short-range missiles, rockets, rocket-propelled grenades, machine guns or explosives, while 25mm guns mounted port and starboard provide secondary armament to the vessel. Featuring a 20-metres long flight deck, the 90 metres ship can land and fuel a medium-sized helicopter up to seven tonnes. It has a top speed of 25 knots (about 46 kmph) with a range of about 8,850 km.
Hovercraft: Hovercraft has high speed patrolling capacity in coastal shallow waters, marshy areas, creeks as well as deep seas. Indian Coast Guard have ordered eighteen 8000 TD class hovercrafts to the Griffon Hovercraft Ltd of UK. After the delivery of initial two hovercrafts, the remaining is being jointly built by the Griffon Hovercraft Ltd and the Garden Reach Shipbuilders and Engineers, Kolkata. The hovercraft's hull is made of light weight marine grade aluminium alloy having sprint speed of 53.5 knots (about 99 kmph) and fitted with a 12.7mm gun.
Blue-water Patrolling
Other than OPVs, all naval ships and submarines can carry out blue-water patrolling when required. It was reported by the Indian Navy that last year deployment of naval ships had gone up by 70 per cent which included patrolling for coastal security, guarding of exclusive economic zone (EEZ), anti-piracy mission and so on. The concept of littoral warfare pioneered by the US aims at littoral class of ships (LCS) having capability to operate in blue-water and in the littorals with equal efficiency. Some examples are the USS Freedom (LCS-1) and USS Independence (LCS-2). Same is being done for the new designs of submarines. Smaller submarines like the German Type 212A displaces 1,450 tonnes on the surface and 1,830 submerged. The French Agosta 90B SSK for export has a surfaced displacement of 1,490 tonnes and submerged of 1,740 tonnes. Maritime surface patrolling is very effectively augmented by aerial platforms.