Oman overlooks the Strait of Hormuz which is the sole entrance to the Arabian Gulf and the access of oil supplies to the world. The Royal Navy of Oman's fleet consists of various craft equipped with state-of-the-art combat systems, capable of carrying out its role under all circumstances. Naval bases and other units have been built to provide operational, logistic and administrative support to the fleet.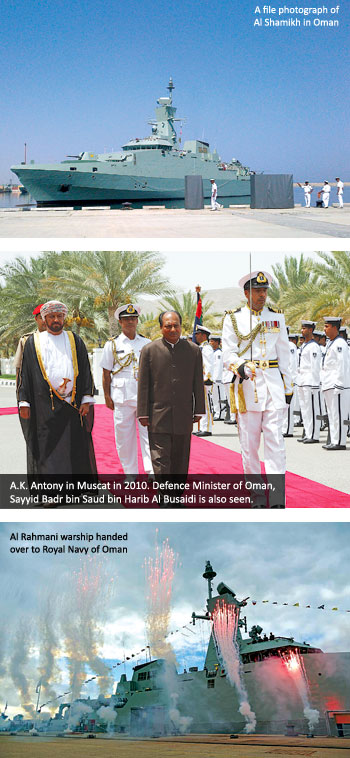 The Sultanate of Oman (conventionally called Oman) is an Arab state in the South West Asia. It is strategically located at the mouth of the Persian Gulf, on the southeast coast of the Arabian Peninsula. Its coast is formed by the Arabian Sea on the south-east and the Gulf of Oman on the north-east. The Portuguese explorers arrived in Oman during 1507 and occupied Muscat till 1650, which they used to protect their sea lanes. The Ottoman Navy took over the port of Oman in 1522 during the fight for control over the Persian Gulf. From the 17th century onwards, Oman had its own empire. During the 19th century, Oman was at the peak of its power and vied with Portugal and Britain for influence in the Persian Gulf and Indian Ocean. Oman's power declined during the 20th century and it came under the influence of UK, although it was never part of the British Empire or its protectorate. Oman has long-standing military and political ties with the US and UK. Oman is an absolute monarchy and according to international indices, Oman is one of the most developed and stable countries in the Arab world. Oman has long prospered by trading in the Indian Ocean. Oman follows a moderate and independent foreign policy which is aimed at maintaining good relations with all Middle East countries. In 1981, Oman became a founding member of the six-nation Gulf Cooperation Council. The present king Sultan Qaboos is educated at the Royal Academy Sandhurst and is respected by his fellow Gulf rulers as a defence strategist who has long seen the US as the key security guarantor of the region. Oman was the first Persian Gulf state to formally allow the US military to use its military facilities. It has hosted the US forces during every US military operation in and around the Gulf since 1980 and has become a significant buyer of the US military equipment. Oman is also a partner in the US efforts to counter-terrorism and piracy in the Persian Gulf and Arabian Sea.
Maritime facts: Oman has a coastline of 2,092 km. Its maritime claims include territorial sea of 12 nm (about 22 km), contiguous zone of 24 nm (about 44 km) and exclusive economic zone (EEZ) of 200 nm (about 370 km) which is about half a million km2.
Oil and gas: Similar to other Arab countries, oil is the mainstay of the economy of Oman but its oil and gas reserves are not as large as some of the other Arab countries in the neighbourhood. The Ministry of Oil and Gas is responsible for all oil and gas infrastructure and projects. Details of oil and gas production and reserves are:
Crude oil (production): 915,600 bbl/day (in 2012); 22 in the world.
Crude oil (proved reserves): 4.902 billion bbl (as on January 1, 2012); 25 in the world.
Natural gas (production): 35.94 billion cu m (in 2012); 26 in the world.
Natural gas (proved reserves): 849.5 billion cu m (as on January 1, 2012); 27 in the world.
Armed Forces of Oman
Oman's armed forces consist of the following:
Royal Army of Oman
Royal Navy of Oman
Royal Air Force of Oman
Oman maintains separate armed personnel to guard the royal household consisting of guards, special forces staff, sailors and pilots. It also maintains paramilitary forces.
Royal Navy of Oman (RNO)
Sultan Qaboos took over as head of the state on July 23, 1970, and is the Supreme Commander of the Armed Forces. He realised the importance of Oman's strategic location with its long coastline, connecting the trade routes between the East and the West. Oman overlooks the Strait of Hormuz which is the sole entrance to the Arabian Gulf and the access of oil supplies to the world. The Sultan has thus spared no effort to build a modern and efficient naval force capable of securing national interests of Oman. The fleet consists of various craft equipped with state-of-theart combat systems, capable of carrying out its role under all circumstances. Naval bases and other units were built to provide operational, logistic and administrative support to the fleet.
Vision
RNO has a National Strategic Plan for the modernisation of naval fleet, support systems and bases. It primarily focuses on the policy of phasing in and phasing out of ships and supporting the fleet with advanced vessels to maintain the sovereignty of Omani waters so that security and national tasks are safely preserved. This is in addition to safeguarding navigation, supporting development plans and preserving security and dignity of Oman. The future vision of RNO focuses on future strength of the fleet by providing it with advanced ships of various types to fulfill its operational role. In addition it also provides naval support units for the fleet.
Role of RNO
The role and duties of RNO are:
To impose national sovereignty on Omani territorial waters.
Secure patrol tasks in territorial water and the EEZ.
Protect naval bases and other RNO establishments.
Ensure sea shipping for SAF units along the Sultanate coasts,
Conduct hydrographic surveys for the Omani coasts.
Provide support to Royal Air Force of Oman and Royal Oman Police (who also have the mandate to provide coastal security).
Provide assistance to civilians during disasters and firefighting at sea.
Support coastguard unit to deter piracy operations and illegal migration, fight smuggling operations.
To support foreign relations of the Sultanate by implementing courtesy visits programmes from/to the brotherly and friendly countries.
To protect fishing zones and other natural resources.
Naval Surface Combatants
Oman has a modest fleet as compared to India but it is adequate for its vision and role. It has five modern corvettes and about a dozen patrol and coastal combatants. RNO has also ordered three offshore patrol vessels (OPVs). The OPVs are to be known as the Khareef Class Corvettes. The first two have been delivered and work is on the thired. Singapore Technologies Engineering Ltd had secured a contract to design and build four patrol vessels (PVs) for RNO which are likely to be delivered between 2015 and 2016. These PVs are 75-metre-long based on its proprietary fearless class PV.
Indo-Oman Bilateral Relations
India and Oman are linked by geography, history and culture. There is evidence to suggest that there was a people to people contact during the Indus Valley Civilisation and later on there were links with the Gujarat and Malabar coasts. Some salient aspects are:
Bilateral relations between India and Oman were formally established in 1953 with the Indo-Oman Treaty of Friendship, Navigation and Commerce. It was the first treaty between India and any Arab country.
Naval exercises have contributed to strengthening of bilateral ties between India and Oman.
The signing of a memorandum of understanding on Defence Cooperation in December 2005 and establishment of the Joint Military Cooperation in March 2006 has set the foundation for increased defence cooperation.
Naval cooperation between the countries has progressed steadily with increased port visits by naval ships and training of RNO personnel by the Indian Navy in hydrography, diving, training management, logistics management and dockyard management.
The state-owned Goa Shipyard Limited (GSL) has previously delivered three tugboats to Oman and is now getting further orders from Oman.
Several Indo-Oman bilateral naval exercises have been successfully carried out and have met the underlying aims of the operation.
Prime Minister Manmohan Singh visited Oman in 2008 to reinforce the bilateral ties.
As per a defence agreement signed in 2008 between India and Oman, a maritime security arrangement was concluded.
In October 2009, India and Oman conducted their first joint air exercises, code named Eastern Bridge, at the Royal Air Force of Oman base at Thumrait.
Defence Minister A.K. Antony visited Oman in May 2010 to reinforce India's bilateral security ties in the Gulf region where other major powers, including China, have deepened their strategic military cooperation.
India's bilateral security ties have advanced over the years with Oman, which has become central to any international strategy to stabilise the Arabian Sea as well as the Persian Gulf, the world's most volatile sea links. They also come under the shadow of terrorism, piracy and increasing illegal traffic in narcotics, arms and personnel. Post signing of a protocol on military relations, India and Oman have developed vibrant military cooperation during the last decade. Maritime cooperation between India and Oman is essential to impose security in the region. This was highlighted by Rear Admiral Anil K. Chawla, Flag Officer in Command of the Indian Navy's Western Fleet while addressing a gathering at a reception on INS Mysore (on September 22, 2013) at Port Sultan Qaboos when he said that the Omani Government provided important support to the ships of Indian Navy's Western fleet during their deployment in the Gulf of Aden for anti-piracy activities. "In fact, it will not be wrong to state that without Oman's staunch support to all the navies participating in anti-piracy operations in the region, the scourge would have not been brought under control. Oman is playing a key role in bringing stability in Somalia." Speaking on the occasion, J.S. Mukul, the Indian Ambassador to Oman, said that Port of Salalah is fast emerging as a regional hub in the multilateral fight against piracy. He added that "naval cooperation forms an important pillar of our multi-faceted relationship. The Indian Navy and RNO regularly conduct exercises, and training exchanges at all levels have further cemented bilateral ties. Oman has become an exceptionally reliable and close friend of India in supporting operations of our ships and aircraft in the region. I think that every country represented here today owes a vote of thanks to Oman."
Indian Navy-Royal Navy of Oman Exercise
The first Indian Navy-Royal Navy of Oman exercise was conducted in 1993. This year marks 20 years of Indian Navy and Royal Navy of Oman bilateral exercises.
Naseem Al Bahr (Sea Breeze) 2013
Naseem Al Bahr 2013 will be the ninth edition of the biennial bilateral exercise between the two navies of India and Omen. Four Indian naval ships Mysore, Tarkash, Tabar and Aditya have carried out a biennial exercise with RNO from September 23 onwards. The ships are on a month-long overseas deployment which is aimed at enhancing bilateral ties. The Indian task group is headed by Rear Admiral Anil Kumar Chawla, the Flag Officer Commanding of the Western Fleet. He said, "Piracy in the Indian Ocean is on the wane but issues on land in Somalia need to be resolved to completely eradicate the menace and create safe passage for a large part of the world's maritime traffic that passes through the trade route of the Gulf of Aden." He pointed out that Oman's ports, especially Salalah in the south, was handy for Indian warships dealing with the problem of piracy. He added that "like naval forces of the other countries in the world, the Indian Navy also provides safe passage to merchant ships in the Gulf of Aden by escorting ships from the start to the end point of a corridor considered risky. Since Indian naval vessels are patrolling the Gulf of Aden to counterpiracy attempts, the Navy has managed to capture 100 pirates and foiled over 40 piracy attempts in the last five years.
The Royal Omani Navy Ships participating were Royal Navy of Oman Vessels (RNOV) missile and gun vessels, RONV Al Muazzar, RONV Al Mussandam, RONV Al Naja and a Landing ship RNOV Temsah, along with Royal Air Force of Oman aircraft F-16, Hawks and Jaguars amongst others. The scope and content of naval exercise Naseem Al Bahr 2013 includes surface warfare, visit board search and seizure, anti-air warfare, air operation, advanced Helo operations and maritime interdiction operations.