Lockheed Martin has designed and manufactured the freedom-variant littoral combat ship (LCS) to meet the US Navy's requirement of a multi-mission ship to ensure protection from the world's ever-evolving seagoing threats. Joseph North, Vice President of Littoral Ship Systems, Lockheed Martin, in an interview with SP's Naval Forces, gave out details of its LCS programme, which would revolutionise naval operations addressing surface, mine, submarine, airborne and future threats.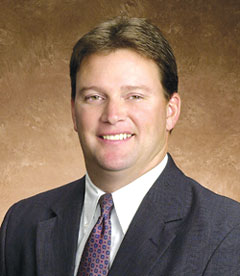 SP's Naval Forces (SP's): What was the concept and the objective behind the development of the littoral combat ship (LCS) programme?
Joseph North (North): To defend the world's ever-evolving seagoing threats, the US Navy developed a concept that would revolutionise naval operations with a multimission ship, able to address surface, mine, submarine, airborne and future threats. The ships would need to accommodate current and advancing technologies easily and affordably, which would prepare the service for imminent budgetary challenges, operational threats and technological advancements. It would also need to align with the nation's defence strategy and must be flexible and interoperable.
Working with the US Navy and industry teammates including Marinette Marine Corporation and Gibbs & Cox, Lockheed Martin has designed and manufactured the freedom-variant LCS to meet these requirements—from concept to delivery—in six years. LCS offers an affordable, reconfigurable platform that is crucial to national and global security. The warships are a critical element of the nation's future fleet.
SP's: Lockheed Martin must have considered a lot of path-breaking factors in the design of LCS. Could you briefly explain these design innovations?
North: With the Navy's requirement for LCS to have minimally manned crews, Lockheed Martin created some innovative and effective technology to reduce workload off the sailors. In addition to its shallow draft, speed, flexibility, multi-mission capability and other unique characteristics, LCS features high levels of automation. This includes an advanced combat management system, remote vehicles to prevent crew members from venturing into mine fields, a ship system health monitoring capability, laser-based fluid monitoring and machinery control systems. Using advanced automation, the LCS takes a significant step in accommodating current and future technological advances.
Lockheed Martin's innovative systems aboard the Freedom-variant LCS include:
COMBATSS-21: The Aegis-derived combat management system.
Intelligent System Manager (ISM): Lockheed Martin's ISM is a fully-integrated system that manages the ship's propulsion, electric plant, auxiliaries and engineering casualty/damage control systems.
Oculus: It is an automated data historian fed by more than 7,000 sensors attached to the ship's systems; helps track system health and determine when maintenance is needed.
LaserNet Fines-Online: It uses laser technology embedded into fluid systems to provide on-the-spot analysis of machinery health by detecting, counting, classifying and trending fluid contamination.
MH-60 Romeo: The MH-60R is the US Navy's new and most advanced multimission helicopter, designed for antisubmarine and surface warfare. The secondary missions include search and rescue, anti-ship surveillance and targeting, communication relay and medical evacuation (medevac)/vertical replenishment. The all-new air vehicle from Sikorsky Aircraft, with fully-integrated avionics and mission systems by Lockheed Martin, is now operational and deployed.
Remote Minehunting System: The remote minehunting system will become a primary mine-warfare mission package component aboard the LCS. The system's critical component is an unmanned, autonomous, semi-submersible remote multi-mission vehicle (RMMV) that tows an advanced variable depth sensor designed to detect, classify, localise and identify moored and bottom mines.
Automated Launch of Expendables (ALEX) Decoy Launching System: It executes decoy launch tactics to protect surface navy assets.
SP's: How do operations of LCS integrate with the Concept of Operations of the US Navy?
North: The US Navy will be better able to explain about its LCS concept of operations. However, as far as the ship's interoperable design, LCSs are networked to share tactical information with other naval aircraft, ships, submarines, joint and coalition units and LCS groups, providing the right information quickly and effectively. Leveraging the US Navy's investment in open architecture and common C3 systems, we are delivering proven warfighting capability in the littorals and interoperability across a full-spectrum of surface Navy and US Coast Guard ships.
SP's: What is the difference in concept of operations of a multi-mission frigate and a LCS?
North: The Navy would be able to specify the differences between a multi-mission frigate and a LCS. At a high level, the primary difference between a LCS and a frigate is the LCS's ability to adapt. LCS was designed from the keel up to be a focused mission ship that has 40 per cent reconfigurable space. LCS conducts the US Navy's inherent missions (anti-piracy, special operations, maritime interdiction operations, humanitarian assistance/disaster relief, homeland defence, search and rescue, visit, board, search and seizure, theatre security cooperation, etc.), while hosting a single mission suite of roll-on capabilities to conduct surface, mine and anti-submarine warfare.
SP's: How does the LCS operate in the littoral region?
North: The LCSs shallow draft allows it to access double the number of ports than other ships which require deeper waters in which to operate.
SP's: Can it be used effectively for antipiracy and other constabulary roles?
North: Yes, due to its flexibility, LCS can be used for a number of missions, some of which have not yet been defined by the Navy. The US Navy's current plans for the ship include anti-submarine warfare, mine countermeasures and anti-surface warfare, all of which the ships can conduct due to their modular capability. This modularity is a great enabler and cost saver over the expected life of a ship, as it allows operational flexibility. Additionally, modularity means the Navy can make improvements to the ship at a reduced cost and avoid re-work necessary with other ship classes. But even more important potentially than that is the ability to avoid the cost and time away from the fleet, normally experienced while upgrading a ship system.
SP's: What are the sensors and weapon systems specific to LCS?
North: The Freedom-variant LCS features COMBATSS-21 (C-21), an Aegis-based combat management system. C-21 is an open architecture, allowing for quick integration of new capabilities such as weapons, sensors and communication links. C-21 integrates the radar, electro-optical/infrared cameras, gunfire control system, countermeasures and short-range anti-air missiles. The sensor/weapon systems include the TRS 3D radar, 57mm gun, gunfire control system, rolling airframe missile system and ALEX decoy launch system, among others.
SP's: The Lockheed Martin team has designed and constructed two LCS ships. The first ship USS Freedom (LCS 1) was delivered to the US Navy in 2008 and successfully completed its first deployment in 2010, two years ahead of schedule. Have you effected any improvements in the succeeding ships?
North: The team has been able to rollin changes from the first ship, USS Freedom, to the second and third ships, USS Fort Worth (LCS 3) and Milwaukee (LCS 5). Incorporating improvements in as early as the second ship, in a new ship class, is unprecedented in shipbuilding. Some of the changes include:
Waterjet tunnel extensions allow the ship to carry more fuel, which enhances the range and increases the speed and payload capability.
New launch, recovery and handling system is easier to operate, and weighs less with recurring cost savings.
With lessons learned through lead ship testing, we strengthened the deckhouse in line with production to reduce fatigue and increase operational lifetime.
We incorporated a new Office of Naval Research and developed axial flow waterjet design. These waterjets replace the mixed flow waterjets which are installed on LCS-1 and LCS-3. These enhance performance while expanding operational envelope.
We created a new gas turbine electric start system which is simpler and saves cost and weight. It also reduces the overall time to start the gas turbines and allows them to be started simultaneously.
SP's: How many more LCS ships are on order for the US Navy?
North: Contracts were awarded to Lockheed Martin and Austal USA on December 29, 2010, for the construction of up to 10 ships (fiscal years 2010 to 2015) each, beginning with LCS 5 and LCS 6, respectively. With this acquisition strategy, the each shipbuilder received fixed price contracts for a total of 20 ships from fiscal year 2010 to fiscal year 2015. Each year, the Navy can exercise options to buy four more LCSs, two from Lockheed Martin and two from Austal. The Navy can order four more ships in both 2014 and 2015.
SP's: What role do you see the LCS playing in the Asian region, including the Middle East? Have you made the offer of LCS to any Asian country?
North: The Navy has said that it is committed to the LCS programme and to the US Department of Defense's pivot to the Asia-Pacific, and will lay out its specific roles and plans for the ships when they are ready. We will support the US Navy as needed for maintenance and sustainment of the LCSs, wherever their missions take them. So far, the first littoral combat ship USS Freedom has proven the US Navy's LCS concept of operations on its maiden deployment to South East Asia. On this deployment, USS Freedom participated in several multinational exercises, including Cooperation Afloat Readiness and Training (CARAT) Malaysia and CARAT Singapore, and has met all the milestones set for it. Based on the performance, its future with the Navy looks bright.
As far as bringing a ship with LCS capabilities to other countries, we are marketing the littoral combat ship Freedom variant with our US Navy partners, but we see an international preference for more multimission, fixed system capability while retaining modularity. Lockheed is able to address the global interest with the multimission combat ship (MCS). The MCS is a highly manoeuvrable, multi-role combatant with shallow draft, automation, flexible crew size, and leading edge/open technology to integrate system, sensor and weapon capabilities. Due to the proven design of the MCS, which is built on Lockheed Martin's expertise with the US Navy's littoral shipbuilding programme, navies can establish their preferred size and overall requirements. Currently, we have seen interest in hull lengths from 85 to 118 metres, and the hull is built and proven from 67 to 150 metres at various displacements. Like LCS, MCS is a highly-flexible combatant with its modularity allowing for reconfiguration.