China is a major maritime country. The seas and oceans provide immense space and abundant resources for China's sustainable development, and thus are of vital importance to the people's well-being and China's future. It is thus essential to exploit, utilise and protect the seas and oceans, and build China into a maritime power.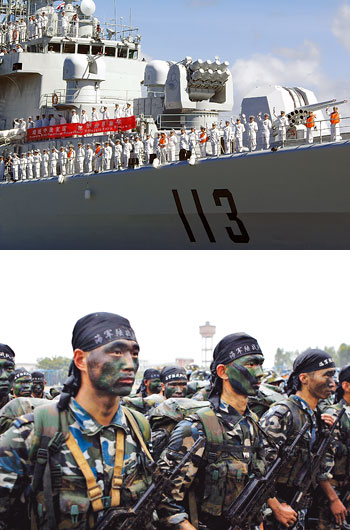 China has recently issued the eighth white paper on national defence which gives out the new security challenges it faces and how it plans to develop, employ and deploy its armed forces to counter the threats. Understanding the thrust of the white paper is important as it has been published after the change of guard at Beijing. The paper gives out the shift to the Asia-Pacific region for economic development and politely terms the likely conflicts in this region as 'strategic interaction between major powers'. It further warns that it faces multiple and complicated security challenges. It also implies that as the US is reinventing its Asia-Pacific strategy, the region is undergoing serious changes. That means that China also has to develop its responses accordingly to look after its economic and security interests.
Analysis of the Security Threat by the White Paper
There are signs of increasing hegemonism, power politics and neo-interventionism. Local conflicts and hot-spot issues keep cropping up frequently. Traditional and non-traditional security challenges are deeply interrelated and there is an ever increasing inclination by nations to acquire better weapons. The Asia-Pacific region is becoming an increasingly significant area for world economic development and strategic interaction between major powers.
China's geostrategic interests: On the issues concerning China's territorial sovereignty and maritime rights and interests, some neighbouring countries' adverse actions are complicating or exacerbating the situation. For example, Japan is causing trouble over the issue of the Diaoyu Islands. The threats posed by three forces, namely, terrorism, separatism and extremism, are on the rise. The "Taiwan independence movement" separatist forces and their activities are still the biggest threat to the peaceful development of cross-straits relations. Factors affecting social harmony and stability are growing in number, and the security risks to China's overseas interests are on the increase.
On future wars: There are rapid changes being affected in future warfare including mechanisation and informationisation (probably implies information warfare including network-centric operations). Major powers like the US and its allies are vigorously developing new and more sophisticated military technologies so as to ensure that they maintain their strategic superiorities in international competition in such areas as outer space and cyber space.
Main security concerns: The main security concerns that China perceives are as follows:
Some country (probably meaning US) has strengthened its Asia-Pacific military alliances/relations and increased its military presence in the region which periodically adds to the tension in the region. The alliances are with countries like Japan, South Korea, the Philippines, Thailand, Singapore, etc and on the periphery are counties like Australia and India.
China is very sensitive about its territorial sovereignty and brooks no interference in Tibet, Taiwan, its maritime rights and interests or island territories like the conflict with Japan over the issue of the Diaoyu Islands.
China visualises that the threats of terrorism, separatism and extremism are on the rise. The problem is further compounded by the incidence of major natural disasters, security accidents and public health.
Commitment to Peace
In spite of the above challenges, China propagates a new security concept featuring mutual trust, mutual benefit, equality and coordination, and pursues comprehensive security, common security and cooperative security. It emphasises that all its policies are committed to peace.
China will never seek hegemony or behave in a hegemonic manner nor will it engage in military expansion.
Defence Forces
China: Geographical Facts
China has borderline of more than 22,000 km and a coastline of more than 18,000 km.
China is one of the countries with too many neighbours and the longest land borders.
Among all China's islands, more than 6,500 are larger than 500 square metres each. China's island coastline is over 14,000 km long.
Defence infrastructure: China will build a strong national defence and powerful armed forces which will "commensurate with China's international standing and meet the needs of its security and development interests".
Role: A senior officer from the People's Liberation Army (PLA) General Staff Headquarters elaborated in a press conference that the basic role of the armed forces is to fight wars in the information age and its peacetime mission is to prepare for wars. He added that "Chinese armed forces focus on protecting the country's sovereignty and security when it highlights capacity building under the principle of being able to fight a war and win a war".
Peaceful settlement: He also stressed that China always sticks to peaceful settlement of international disputes and solving problems with neighbouring countries through dialogue. China will not attack unless attacked but we will surely counterattack if attacked. Following this principle, China will resolutely take all necessary measures to safeguard its national sovereignty and territorial integrity. So far 'China's no first use of nuclear power' is implied but not clearly spelt out.
Structure of the Armed Forces
It appears that China now wants a larger role in global affairs through its armed forces in maintaining world peace, security and stability. Some of the measures undertaken are:
Increasing their interactions and cooperation with other armed forces.
Intensifying cooperation on confidencebuilding measures (CBMs) in border areas. India conducts regular CBMs with China on its borders.
Promote dialogue and cooperation on maritime security.
Participate in United Nations peacekeeping missions.
Cooperate in international counterterrorism efforts.
Participate in international merchant shipping protection and disaster relief operations.
Conduct joint exercises and training with other nations.
China's armed forces are composed of the People's Liberation Army, the People's Armed Police Force and the militia. Over the years, the PLA has been proactively and steadily pushing forward its reforms in line with the requirements of performing its missions and tasks, and building an information age military force. Some of the measures taken are:
The PLA has focused on reinforcing the strategic administration of the Central Military Commission (CMC) by establishing the PLA Department of Strategic Planning, reorganised the GSH (Headquarters of the General Staff) Communications Department as the GSH Informationisation Department, and the GSH Training and Arms Department as the GSH Training Department.
The PLA is modernising its combat forces by optimising their size and structure of the various services and arms. Reorganise the troops so as to make operational forces lean, joint, multi-functional and efficient.
Improve their training standards and carry out human resources development.
Strengthen the development of new- and high-technology weaponry and equipment to build a modern military force structure which India has not been able to do though the Defence Research and Development Organisation (DRDO) and defence public sector undertakings (DPSUs) have been in existence since Independence. China's aircraft carrier Liaoning is a shining example of this.

The White Paper discloses for the first time details of the Army, Navy, Air Force and the second artillery corps of the People's Liberation Army.
PLA Army
The PLA Army (PLA) is composed of mobile operational units, border and coastal defence units, guard and garrison units. In line with the strategic requirements of mobile operations and multidimensional offense and defence, the PLA has been reoriented from theatre defence to trans-theatre mobility. It is accelerating the development of Army Aviation troops, light mechanised units and Special Operations forces, and enhancing building of digitalised units, gradually making its units small, modular and multi-functional in organisation so as to enhance their capabilities for air-ground integrated operations, long-distance manoeuvres, rapid assaults and special operations. The PLA mobile operational units include combined corps, plus additional independent combined operational divisions (brigades), and have a total strength of 8,50,000.
Operational mobile units: They include combined corps plus additional independent combined operational divisions (brigades).
Combined corps: There are 18 combined corps which is composed of divisions and brigades similar to corps elsewhere in other global armies. They are mobile which means that they can move and deploy very rapidly within their integral means. 'Combined' implies that the corps consists of balanced force of all fighting arms and logistic units. The 18 Combined Corps' are under seven area military commands as follows:
Military Commands: The seven military area commands are:
Shenyang (16th, 39th and 40th Combined Corps)
Beijing (27th, 38th and 65th Combined Corps)
Lanzhou (21st and 47th Combined Corps)
Jinan (20th, 26th and 54th Combined Corps)
Nanjing (1st, 12th and 31st Combined Corps)
Guangzhou (41st and 42nd Combined Corps)
Chengdu (13th and 14th Combined Corps)
PLA Navy
The PLA Navy (PLAN) is China's mainstay for operations at sea and is responsible for safeguarding its maritime security and maintaining its sovereignty over its territory. The PLAN is composed of submarines, surface vessels, naval aviation, Marine Corps and coastal defence arms. In line with its naval strategy, the PLAN is trying to accelerate the modernisation of its forces to carry out offshore operations; develop advanced submarines, destroyers and frigates; and improve integrated electronic and information systems. Furthermore, it is developing blue-water capabilities for conducting mobile operations, carrying out international cooperation, countering non-traditional security threats, and enhancing its capabilities of strategic deterrence and counterattack. The PLA Navy has a total strength of 2,35,000 officers and men, and three fleets which are Beihai Fleet, Donghai Fleet and Nanhai Fleet. Each fleet has fleet aviation headquarters, support bases, flotillas and maritime garrison commands, as well as aviation divisions and marine brigades. In September 2012, China's first aircraft carrier Liaoning was commissioned into the Navy which has contributed immensely towards building a strong Navy and safeguarding China's maritime security.
PLA Air Force
The PLA Air Force (PLAF) is China's mainstay for air operations, responsible for its territorial air security and maintaining a stable air defence posture nationwide. It comprises units of aviation, ground air defence, radar, airborne and electronic countermeasures arms. In line with the strategic requirements of conducting both offensive and defensive operations, the PLAF is strengthening the development of a combat force structure that focuses on reconnaissance and early warning, air strike, air and missile defence, and strategic projection. It is developing such advanced weaponry and equipment as new-generation fighters and new-type ground-to-air missiles and radar systems, improving its early warning, command and communications networks, and raising its strategic early warning, strategic deterrence and long-distance air strike capabilities. PLAF has a total strength of 3,98,000 officers and men, and an air command in each of the seven Military Area Commands of Shenyang, Beijing, Lanzhou, Jinan, Nanjing, Guangzhou and Chengdu. Under each air command, there are bases, aviation divisions (brigades), ground-to-air missile divisions (brigades), radar brigades and other units. In addition, PLAF has one airborne corps.
PLA Second Artillery Force
The PLA Second Artillery Force (PLASAF) provides China with strategic deterrence. It is mainly composed of nuclear and conventional missile forces and operational support units, primarily responsible for deterring other countries from using nuclear weapons against China, and carrying out nuclear counterattacks and precision strikes with conventional missiles. PLASAF has under its command, missile bases with a series of "Dong Feng" ballistic missiles and "Chang Jian" cruise missiles. Dong Feng series of missiles range from intermediate to intercontinental ballistic missiles. Chang Jian is a land attack cruise missile with a range from 2,500 km to 3,000 km. PLASAF also has training bases, specialised support units, academies and research institutions.
Military Operations other than War (MOOTW)
Elaborating on armed forces role in MOOTW, the WP lays down that China's armed forces will adapt to the changing security environment and emphasises the employment of armed forces in peacetime. They have to actively participate in China's economic and social development, and provide disaster relief. China's armed forces are the initiator and facilitator of and participant in international security cooperation. They uphold the Five Principles of Peaceful Coexistence, conduct all-round military exchanges with other countries, and develop cooperative military relations that are non-aligned, non-confrontational and not directed against any third party. China claims that it derives its foreign policy from the Five Principles of Peaceful Coexistence i.e. mutual respect for sovereignty and territorial integrity, mutual nonaggression, non-interference in each other's internal affairs, equality and mutual benefit, and peaceful coexistence. Originally, these were in the famous 'Panchsheel Treaty' signed between India and China in 1954 during Prime Minister Jawaharlal Nehru's reign. Interpretation of these five principals is as China perceives. India still cannot forget the way it was backstabbed in 1962. The same area of Ladakh was in focus recently but has now been amicably resolved. As per China's perception, the five principles provide a peaceful alternative to the concept of the US and its allies which often reflect the US interests, attempt to restrict rights of other nations to develop and sell weapons of mass destruction, suppress opposition, violate human rights like in the prisons of Iraq, Afghanistan and Guantánamo Bay, and pursue economic policies which suit the interests solely of the US and its allies.
People's Armed Police Force
The People's Armed Police Force (PAPF) is composed of internal security and other specialised forces. During peacetime, the PAPF's main tasks include performing guard duties, dealing with emergencies, combating terrorism and participating in and supporting national economic development. In wartime, it is tasked with assisting the PLA in defensive operations. The border public security, firefighting and security guard forces are also components of the PAPF.
Militia
The militia is an armed organisation composed of the people not released from their regular work which actually means that they are non-professional fighters and citizens of China, similar to the Territorial Army in India. The militia acts as a backup force of the PLA with the charter participating in the socialist modernisation drive, performing combat readiness support and defensive operations, helping in maintaining social order and participating in emergency rescue and disaster relief operations. The militia falls into two categories: primary and general. The primary militia has emergency response detachments; supporting detachments such as joint air defence, intelligence, reconnaissance, communications support, emergent engineering repair, transportation and equipment repair; and reserve units for combat, logistics and equipment support.
Safeguarding Maritime Rights and Interests
China is a major maritime country. The seas and oceans provide immense space and abundant resources for China's sustainable development, and thus are of vital importance to the people's well being and China's future. It is thus essential to exploit, utilise, and protect the seas and oceans, and build China into a maritime power.
Role of PLAN: Apart from its routine combat readiness activities, the PLAN provides support for China's maritime law enforcement, fisheries, and oil and gas exploitation. It has established mechanisms to coordinate and cooperate with law-enforcement organs of marine surveillance and fishery administration, as well as a joint military-policecivilian defence mechanism. Further, the PLAN has worked in coordination with relevant local departments to conduct maritime survey and scientific investigation; building systems of maritime meteorological observation, satellite navigation, radio navigation and navigation aids; releasing timely weather and sea traffic information; and ensuring the safe flow of traffic in sea areas of responsibility.
Public Security Forces: These are the paramilitary police manned by the regular service personnel of the People's Armed Police and organised and equipped along military lines, but are under the Ministry of Public Security and local public security (police) departments for command and control. They primarily include three police forces: Border Troops, Firefighting Troops, and Guard Troops. The Border Public Security Force is an important armed maritime law enforcement body which exercises jurisdiction over both violations of laws, rules and regulations relating to public security administration and suspected crimes committed in China's internal waters, territorial seas, contiguous zones, exclusive economic zones and continental shelf. In recent years, the border public security force has endeavoured to guarantee the security of sea areas, strengthened patrols, surveillance and management along the sea boundary in the Beibu Gulf and around the Xisha sea areas, and effectively maintained maritime public order and stability.
Protecting Overseas Interests
With the gradual integration of China's economy into the world economic system, overseas interests have become an integral component of China's national interests. Security issues are becoming increasingly important, involving overseas energy and resources, strategic sea lines of communication and Chinese nationals overseas. Vessel protection at sea, evacuation of Chinese nationals overseas and emergency rescue have become an important role for the PLA to safeguard national interests. As a follow up of this policy, China has been actively participating in escort operations in the Gulf of Aden and waters off Somalia since December 2008 for countering piracy. In February 2011, the turbulent situation in Libya posed grave security threats to Chinese institutions and nationals in Libya. As a result the Chinese Government organised the largest overseas evacuation since the founding of the PRC, and 35,860 Chinese nationals were taken home.
Indian Perspective
India sadly lacks the tradition of strategic culture, thus there has been no policy/white paper which enunciates clearly as to what are the future strategic policies and plans based on which India's armed forces can translate them into action in terms of organisations and infrastructure. When Babu Jagjivan Ram was the Defence Minister, he did try to give out some policy in terms of duration and intensity of conflict. Later on General Krishnaswamy Sundarji, the Chief of Army Staff, established the Perspective Plans Directorate in the Army Headquarters and goaded the government to spell out some sort of strategic perspective for the future. After the Kargil War there was the Kargil Review Committee Report which was more of a localised affair. After the Mumbai terrorist attack again there was a study on coastal security which is being implemented in phases. However, there has been no synergised strategic level policy focused on regional and global thrusts. Other countries like the US have their Quadrennial Defense Review which is a legislatively-mandated review of the Department of Defense's strategy and priorities. India has to learn from other countries and make a beginning at some stage if they aspire to become at least a regional power. From China's White Paper, it is clear that the PLA plays a key role in China's foreign and security policies including regional and global interests. India is also required to engage and interact with PLA more intensely to learn and shape its own policies and plans accordingly.