Due to the gloomy economic situation in India and also globally, the defence modernisation budget has been cut by 10,000 crore. It is not clear as to what all modernisation schemes will be affected but it is certain that the pace of modernisation will further slow down.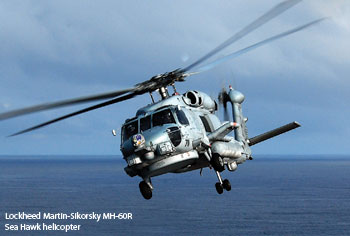 Indian Navy's Acquisition and Modernisation Plans
INS Vikramaditya: The delay in the delivery and cost escalation of the aircraft carrier from Russia is well documented. The issue has been taken up at the highest level with Russia, including during Putin's visit in December. It is now likely to be delivered in 2013 (read the article on Vikramaditya in this issue for further updates).
P-8I: India has received the first P-8I maritime surveillance aircraft from Boeing in the US. The aircraft will be used for training the Indian Navy crew. It is understood that two more are likely to be handed over in 2013. A total of eight Boeing P-8I Poseidon maritime reconnaissance aircraft have been contracted for. The Indian Navy is expected to contract for four more P-8Is during 2013, once the deliveries begin.
Request for proposal (RFP) for P75-I: The Indian Navy is likely to issue the RFP to procure six submarines with air independent propulsion capability under the P-751 Project which is worth over $10 billion ( 50,000 crore). The Defence Acquisition Committee had already cleared the proposal. Two submarines would be acquired from a selected foreign shipyard and the remaining four would be built by the stateowned Mazagon Dock Ltd and Hindustan Shipyard Ltd. However, it is learnt that the Ministry of Defence is planning to allow private local shipbuilders to participate in the P-75I Project.
MiG-29K: Indian Navy has received the delivery of four MiG-29K Fulcrum-D carrier-based fighter jets from Russian aircraft manufacturer MiG under a $1.5-billion ( 7,500 crore) contract for the supply of 29 additional MiG-29K/KUB ship-borne fighters. The contract also include pilot training, aircraft maintenance and flight simulators.
Upgraded Indian Navy submarine starts sea trials in Russia: An Indian Navy kilo class diesel-electric submarine INS Sindhurakshak has been overhauled at the Zvezdochka Shipyard in northern Russia. After necessary sea trials, it is likely to be handed over during early 2013.The upgradation programme include a complete overhaul of the submarine, improved control systems, electronic warfare systems and an integrated weapon control system. Indian Navy holds 10 of these submarines, out of which four have been overhauled and delivered.
INS Tarkand: Indian Navy had placed an order on Yantar Shipyard in Kaliningrad, Russia, for three Talwar class frigates. INS Teg and INS Tarkash have been handed over and the third INS Tarkand is to be handed over during the summer of 2013. INS Tarkash joined the Western Fleet during end December 2012. A formidable array of weapons and sensors include the supersonic BrahMos missile system, advanced surface-to-air missile system, upgraded 100mm medium-range gun, optically controlled 30mm close-in weapon system, torpedoes, rocket launchers and advanced electronic warfare/communication suite.
Raytheon Gets Torpedo Contract
Raytheon has been awarded a $45.3 million to the US Navy contract to provide MK 54 lightweight torpedo hardware, test equipment, spares and related engineering and repair services for the US fleet inventory and in support of foreign military sales (FMS) to the Indian Navy and the Royal Australian Navy. Raytheon is the US Navy's sole production supplier for MK 54 lightweight torpedo hardware, in production since 1999. The MK 54 is the Navy's next-generation anti-submarine warfare weapon deployed from surface ships, helicopters and fixed-wing aircraft to detect and attack underwater targets.
Project 15A: Three ships of Project 15A, which are follow-on of the existing Delhi class destroyers, with improved stealth features, weapon and sensor fit were scheduled for induction commencing early 2013.
Project 15B: A contract had been signed with Mazagon Dock Ltd for four more P15B destroyers, which will follow the P15A ships. Some progress is expected in 2013.
Corvettes: Four anti-submarine warfare corvettes (ASW) are being built at the Garden Reach Shipbuilders and Engineers Limited, Kolkata. They are the first stealth corvettes designed and built indigenously as specialised ASW surface combatants. The first ship is scheduled to be inducted during early 2013 and the remaining at a yearly interval.
Offshore patrol vessels: Four offshore patrol vessels are under construction at the Goa Shipyard Limited for the Indian Navy and are scheduled for induction from end-2012 onwards. The first vessel INS Saryu, indigenously designed in-house and built by Goa Shipyard Ltd was handed over to the Indian Navy on December 21, 2012.
Request for proposals for four LPDs, 16 shallow water ASW ships, one survey training vessel and two diving support vessels are also expected to be issued in 2013.
Naval satellite: The naval satellite is planned to be launched in 2012-13. It will then provide a larger coverage for maritime domination of the Indian Ocean.
INS Arihant sea trials: Indian Navy has commenced the sea trials of INS Arihant, India's first indigenous nuclear-powered ballistic missile submarine developed under the advanced technology vessel project.
Project Seabird IIA: A major expansion of the strategic Naval Base at Karwar has been cleared by the Cabinet Committee on Security. Project Seabird Phase-IIA is expected to be completed by 2017-18 at a cost of approximately $2 billion ( 10,000 crore).
Cadet training ship: ABG Shipyard Ltd has got the repeat order from the Indian Navy for supplying of a cadet training vessel for about $97 million ( 485 crore).
Naval Tejas: The Government has cleared the purchase of eight naval Tejas fighters for Indian Navy. The RFP is likely to be issued soon. A mix of twin-seat trainers and single-seat fighters will be build for 1,000 crore.
Request for Information: RFI has been issued for medium-range anti-ship missile for naval surface platforms.
30mm naval guns: Defence Acquisition Council has accorded acceptance of necessity (AON) for procurement of 118 thirty mm naval guns for Navy and Coast Guard. The case will be further processed during 2013.
Medium-range maritime reconnaissance aircraft: A global RFI was floated for medium-range maritime reconnaissance (MRMR) aircraft to replace the fleet of 10 Islanders and the same is likely to be processed during 2013.
Multi-role helicopter (MRH): The Indian Navy is looking for 16 MRH to replace the ageing Sea King helicopters, process for which is on and the movement forward is likely to take place in 2013.
Twin-engine naval utility helicopters: A RFP for procurement of 56 twin-engine naval utility helicopter had been issued as replacement of Chetak and medium-range antisubmarine torpedo carrying helicopters and some progress on this is expected in 2013.
Unmanned aerial vehicles (UAVs): There is likely to be some progress on the RFI issued on UAVs in 2012.