Offshore patrol vessels are highly flexible and inexpensive platforms, capable of a broad range of constabulary and low-intensity maritime operations. Indeed, given their attributes, it is inevitable that in the coming era, the offshore patrol vehicle's role, quantity and importance in mitigating maritime security risks, will become more pronounced.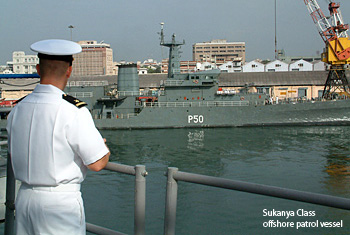 Destroyers, frigates and corvettes ; armed with lethal missiles and torpedoes — indeed, the plethora of heavily-equipped warships of different countries deployed to curb the piracy menace off the Somali coast for the last few years — are an impressive array of maritime power. However, they are in sharp contrast to the cheap trawlers and dinghies used by the pirates. Such an overkill and imbalance of force could be overcome by deploying smaller, less expensive and nimble-footed vessels. Indeed, there are such ships all over the world, in most navies, coast guards and marine police forces—and this sea soldier is called the offshore patrol vessel (OPV).
An OPV is a relatively light and agile naval platform generally designed for coastal defence duties. They may be operated by a nation's Navy, Coast Guard, or police force and are commonly found engaged in various maritime security roles, including anti-smuggling, anti-piracy, fisheries patrols and immigration law enforcement. They are also often called upon to participate in rescue operations.
History of the OPV evolution indicates that during both the World Wars, in order to rapidly build up numbers, all sides created auxiliary patrol boats by arming motorboats and seagoing fishing trawlers with machine guns. Some modern patrol vessels are still based on fishing and leisure boat designs. Smaller OPVs are typically less than 50 metres in length and usually carry a single medium-calibre artillery gun as the main armament and a variety of lighter secondary armament such as machine guns or a closein weapon system. Depending on the role, vessels in this class may also have more sophisticated sensors and fire control systems that would enable them to shift to the traditional warfighting role, if mandated.
The ship's company of a typical OPV may be one-third that of a heavily armed frigate. Further, accommodation invariably exists for extra personnel to accommodate boarding parties, law enforcement personnel or survivors of some disaster at sea. Other attributes of an OPV are a speed of 20-25 knots in order to escort merchant ships and intercept pirate vessels; diesel propulsion for extended patrol operations and an ability to replenish fuel and food at sea from naval supply ships. Further, anti-ship and anti-personnel weapons include one or more remote-controlled and stabilised medium-calibre guns to fire warning shots as necessary and provide a stand-off distance from rocket-propelled grenade launchers and other offensive weapons (smugglers and pirates may fire at any vessel obstructing their operations); sensors such as surface warning radar and electronic warfare equipment; suitable radios and command and control systems to permit the compilation of a common operating picture with supporting forces; embarked highspeed boats to pursue pirate vessels and transport boarding parties and inspection teams; and a light to medium helicopter.
Insofar as the Indian Navy's OPV holdings are concerned, the Sukanya class offshore patrol vessels have been in service for the last two decades. Vessels of the Sukanya class are named after notable women from Indian epics. The first three ships were built by Korea Tacoma, now part of Hanjin Group, while four were constructed at the Hindustan Shipyard in India. The lead ship in this class, INS Sukanya (P50), was commissioned in August 1989. Six such ships were commissioned between 1989 and 1993. One of them, the erstwhile INS Saryu, was sold to the Sri Lankan Navy and commissioned as SLNS Sayura in 2000. Sayura was refitted with new weapon systems prior to its delivery. The ship now serves as the flagship of the Sri Lanka Navy.
Sukanya Class offshore patrol vessels are principally used to conduct offshore patrol duties in the exclusive economic zone (EEZ) of India. Off late, they have been deployed for anti-piracy operations in the Arabian Sea. The Sukanya Class OPV features a large hull which is fitted with light armament for offshore patrol missions. The platform can be upgraded to a light frigate by integrating heavy weapon systems. Two ships of the class, INS Subhadra and INS Suvarna, were retrofitted with a missile stabilisation platform to launch Dhanush ship-based ballistic missiles. The main gun fitted on the bow deck is a 40mm, 60 calibre Bofors anti-aircraft gun. They are also armed with 12.7mm machine guns. The embarked helicopter is deployed in search and rescue (SAR) and maritime patrol missions. Sukanya Class OPV's are powered by two diesel engines driving a twin-shaft propulsion system.
Main threats to offshore and coastal assets come from clandestine attacks. Defence against such furtive attacks requires extensive patrolling and show of force to ensure checks at all vital access points along the coast. This would essentially remain a naval operation, under the larger ambit of securing the coast. In India, there is a growing consensus that OPV is the most critical platform for coastal security, especially as the Navy now has the onerous responsibility to be the lead player in the coastal security matrix. Consequent to the unfortunate events of 26/11, the Cabinet Committee on Security (CCS) had designated the Indian Navy as the authority responsible for overall coastal security of the country. In the past four years, several steps have been taken to strengthen coastal security, including induction of assets and manpower, organisational changes and most importantly, the synergy between all the stakeholders in coastal security. Much more remains to be done to close the remaining gaps on our vast coastline and hence urgent steps are being taken now to operationalise the national command, control, computer and intelligence (NC3I) network across the country, which is being steered by the Indian Navy, installation of radars along the coast by the Coast Guard and the establishment of a coastal AIS chain by the Ministry of Shipping. Thus, coastal security is a high priority for naval planners.