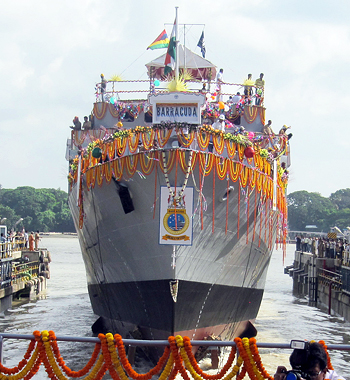 The Mauritian OPC CGS Barracuda slides down into the Hooghly river after launch at GRSE, Kolkata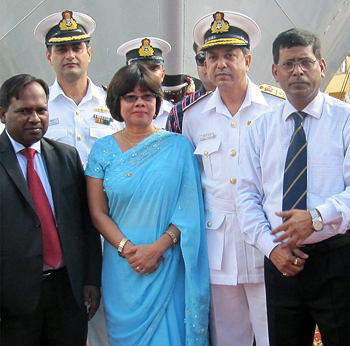 Senior Chief Executive, PMO, Government of Mauritius, K.O. Fong Weng-Pooran, Mauritian High Commissioner, Dr Arye Kumar Juggessar, DCNS Vice Admiral P.K. Chatterje with GRSE CMD, Rear Adm (R) A.K. Verma during OPV launch at Kolkata
An offshore patrol vessel (OPV) for the Coast Guard of the Government of Republic of Mauritius was on Friday, launched from Kolkata-based Defence Public Sector Undertaking, Garden Reach Shipbuilders & Engineers Ltd (GRSE), which is the first defence export order for a warship being built in India.
Christened "CGS Barracuda", the ship was launched by Senior Chief Executive, PMO, Government of Mauritius, K.O. Fong Weng-Pooran in the presence of the Mauritian High Commissioner, Dr Arye Kumar Juggessar.
Others present included Deputy Chief of the Naval Staff, Vice Admiral Pradeep K Chatterjee and other dignitaries from Ministries of Defence, External Affairs and West Bengal administration.
The contract was inked on March 4, 2011, marking a significant milestone in Indo-Mauritian cooperation and friendship, and also ushered in a new chapter in Indian Shipbuilding with the first ever export order for a warship placed on an Indian Shipyard.
The keel of the ship was laid on April 23, 2012. Contracted to be delivered within 42 months, GRSE expects to deliver the ship by September 2014, Chairman & Managing Director, GRSE, Rear Admiral (Retd) A.K. Verma stated.
The OPV measures 74.10 mtr in length and is 11.40 mtr wide. It will be capable of a maximum speed of 20 knots will have an approximate displacement of 1,300 tonnes.
The fuel-efficient and cost-effective ship has been fitted with state-of-the-art main engines, controls and integrated bridge system catering to all needs of communication and navigation. The ship will be provided with improved habitability with fully air-conditioned modular accommodation.
Towards ensuring the safety and security of the maritime and exclusice economic zone (EEZ) of Mauritius, the OPV will be capable of undertaking multifarious roles such as anti-piracy, search and rescue, anti-smuggling, anti-drug surveillance and anti-poaching opertions.
It can also undertake logistic support including transportation of dry cargo, fuel oil, fresh food, pollution response and external fire fighting, transportation of small detachment of troops or personnel and helicopter operations without hangar.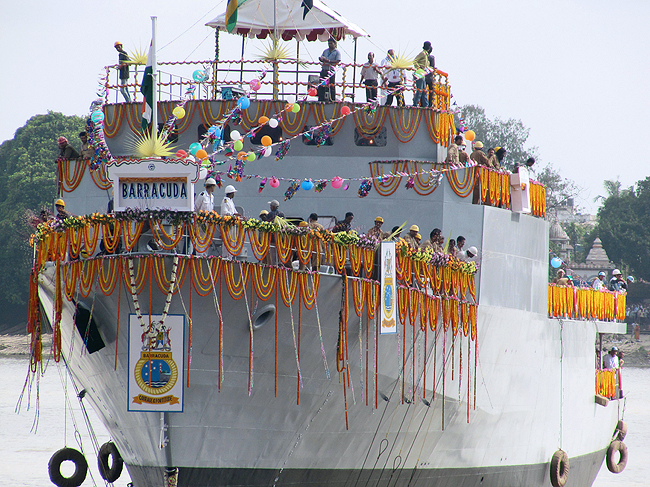 A flower bedecked Mauritius OPV enters the Hooghly river after launch at GRSE, Kolkata