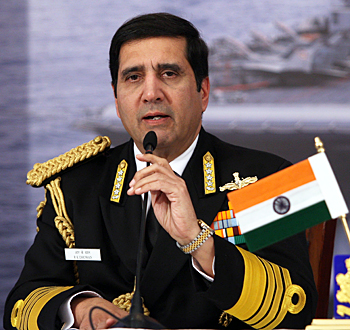 Admiral RK Dhowan, Chief of the Naval Staff interacts with Press on the Eve of Navy Day.

Photo Credit: PRO (Indian Navy)
December 3, 2015: Addressing the annual Navy Day Press Conference on December 03, 2015 Admiral RK Dhowan, Chief of the Naval Staff addressed a host of issues including the operational readiness of the Indian Navy (IN), infrastructure development, human resources management, coastal security, cyber security, foreign cooperation initiatives, joint exercises, etc.
He reiterated that Indian Ocean has emerged as the world's centre of gravity as 80% of the oil and trade that emanates from Indian Ocean Region (IOR) is extra-regional in nature. This implies that any impediments to the free movement of oil or trade through IOR will have an impact not just on the economies of the region, but the global economy as well. Indian Navy (IN) which is the world's fifth largest navy has onerous responsibilities to be the net security provider in the maritime domain of interest to India. IN is empowering India with maritime security to safeguard its assets employed for the economic growth of the country. Indian Navy is on the threshold of transformation through continuous consolidation of its capabilities through Indigenisation. The blue-print of IN is firmly anchored on self-reliance and indigenisation. Towards this objective Science and Technology roadmap and Infrastructure plans to meet the futuristic requirements has been promulgated and disseminated widely to the indigenous industry for its greater participation. This vision is directly in line with the 'Make in India' initiative of the Honourable Prime Minister.
With the aim to showcase IN, foster a better understanding of the navies of the world and share best operational practices; the International Fleet Review is scheduled at Visakhapatnam in February 2016. A scintillating video clipping on the forthcoming prestigious event was showcased for the audience. This was followed by yet another video clipping demonstrating the annual round-up of IN and its growing prowess.
He highlighted measures initiated in maintaining a high tempo of operations with IN ships deployed at extended ranges from Indian coasts, spanning from the South China Sea and Sea of Japan in the East to the Persian Gulf and the Atlantic Ocean in the West and at the same time remaining focused on maritime and coastal security in close liaison with other national authorities and agencies. He also highlighted that transformation has taken place with the induction of MiG 29K, Boeing P8I, Vikramaditya, newer and powerful surface and sub-surface platform participating in networked Theatre Level Operational Readiness Exercise networked through dedicated naval satellite Rukmini.