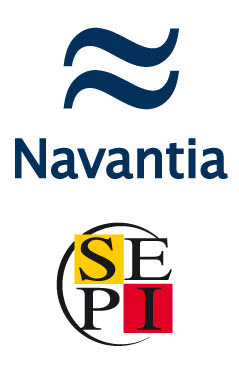 From already existing Platform Control simulators, mainly focused on crew engineers training, Navantia has extended the capabilities towards bridge pilots' world, providing an overall solution for both kinds of crew members to face training scenarios together along the same sessions.
Furthermore, unlike other existing bridge simulators in the market,NAVANTIS runs on a generic modular hardware, based on an extensible touch surface that lets the use of the same bridge training room for multiple boats just by running specific configuration software.
Navantia, ship builder and designer, is also a recognized Systems manufacturer for Combat and Platform Control. In the field of Control Systems, has proven outstanding achievements for a wide range of platforms mainly but not only under Navantia umbrella.
Navantia has established a unique way to present and arrange the information in its Integrated Platform Management System (IPMS), through the use of tree different and complementary views: 2D, 3D and DATA. The 2D View presents functional schematic diagrams used for normal operation. 3D View is an accurate three dimensional representation of the ship structure and its equipment, including pipes and ducts. DATA View presents the information by means of data sheets and listings with powerful search and filtering tools.
The Navantia IPMS software includes many other features: Documentarium, screen capture and video record, trending diagrams, electronic charts, notifications, users management, responsibilities assignment, data logging, reports generation, datasets, playback mode, signals browser, electrical consumers, optimum routes, damage plot, kill-cards, stability and strength calculations, spherical views, personnel location, SMS alerts, and more.
Navantia approach to crew training is,in essence, the use of the very IPMS software used on board, together with underlying platform simulation software, directly feeding IPMS database in substitution of field data collected by IPMS controllers.
Crew training based exclusively on IPMS software is partial training since local control is an essential part of ship day to day operation. For this reason, Navantia enriched its training system providing virtualized physical panels accessed through 3D view. This lets future crews ship familiarization and local controls operation.
Extending this concept, Navantia also virtualizes the most complete physical panel on board which is the bridge console. The natural evolution is to complete the training scope ship outwards once mastered the ship inside. This is not just the result of a natural evolution but is done with the aim of linking pilot and engineer crews training, facing the same scenarios and interacting at a level only overtaken by ship actual use.
A natural environment recreation is possible with the use of a powerful real time 3D engine capable of representing different atmospheric conditions affecting visibility like rain, clouds, fog and lighting in any hour of day or night. Other meteorological agents are present such as wind, sea state and currents affecting ship motion.
Navantia proposes a modular continuous touch surface called "Glass Console" to avoid specific hardware in bridge training. This way, a single installation can be configured to accurately represent any bridge console of those ships to be trained in. That bridge room, together with its associated training Engine Control Room, collaboratively engage the same scenarios designed by the training instructors.
The Navy can have several NAVANTIS in different Naval Bases or Training Centers which can be interconnected in order to work together in real time in the same virtual environment. This enables different crews to be trained in those maneuvers that involve several ships. One perfect example for this scenario is replenishment at sea between two ships where not only navigation skills are required but also precise fuel or liquid transfer actions via IPMS.
Way ahead remains open for Navantia to incorporate more elements into training sessions once Navantia's Combat Systems and other simulators enter the scene together with NAVANTIS to date. Integrated Training would then complete its meaning at maximum dimension.