Maritime Environment
The world's economy sails on the oceans as 95% of the goods sold and the majority of the world's oil and gas move on them. The security of EEZ and ports is also of primary importance.
India's Maritime Environment
The scope of India's maritime security is challenging as it has 7,516 km of coastline touching 9 states and 4 union territories, 13 major ports, 185 minor ports and a 2.31 million square kilometer EEZ.
Maritime Threat
Coastal areas are prone to smuggling, poaching for seafood and terrorism. Piracy has added another dimension to maritime security concerns.
Layered Maritime Security - Concept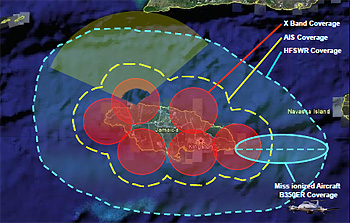 Maritime security concept involves layered security with organizations like maritime police, coast guard and the navy having their areas of responsibility. Apart from the layered security, certain selected high risk installations like ports and dockyards have perimeter security. Raytheon's view is that banking solely on perimeter security can be effective but it is always an expensive approach. It is thus better for a port to provide some local security, but also rely on national security in the territorial waters and the EEZ, and even security beyond the EEZ.
Sensors
Radar and camera are critical sensor tools for surveillance.
Analysis/Command and Control
The mass of information available far exceed the ability of individuals to deduce useful intelligence for decision making thus the requirement of a command and control system which can:
Integrate multiple sensor feeds into positions and tracks.
Collate multiple information inputs to the position and tracks created.
Provide alerts and warnings.
Share pertinent and critical information among all agencies involved.
Response
Navy, coast guard and maritime police assets constitute the bulk of a nation's response capability thus they should be organized and equipped accordingly.
Consultative Approach
Raytheon adopts a consultative approach for developing any security solution by understanding the nation's threat and suggests solutions most suited to their environment.
Maritime Protection Process
This involves predict; deter; detection; identification; classification of tracks including analysis and prioritization; response to threat and resolve.

Developing India's Coastal Security
Raytheon's offers the following solutions:
High Frequency Surface Radar that detects large vessels as far as 320 km.
Affordable and easy-to-install coastal Pathfinder radar.
Provide state-of-the-art tracking with Maritime Small Target Tracker.
Combine sensor information using Raytheon's Multi Source Correlator Tracker.
State-of-the-art command and control systems, including Athena, MIMS, and Clear View.