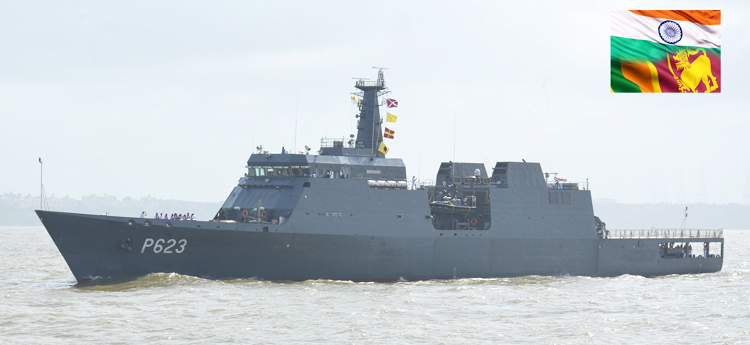 SNLS Sayurala departs Mormugoa Port Goa on its maiden journey to SriLanka
SLNS SAYURALA, the first Advanced Offshore Patrol Vessel (AOPV) designed and constructed by GSL for Sri Lanka Navy (SLN) embarked on its maiden voyage to Sri Lanka on 26th July 2017 from MPT/Goa. The delivery of the vessel, 86 days ahead of contractual schedule, added another feather in cap of GSL as Defence vessel Exporter from the country. The ship, along with Captain(ND) AN Amarosa, CO, SLN Sayurala and the entire crew members, was ceremonially seen off by Rear Admiral SS Ranasinghe, Chief of Staff of Sri Lanka Navy, RAdm SMDK Samaraweera, Flag Officer Commanding Naval Fleet, RAdm. Shekhar Mital, NM (Retd), CMD, Goa Shipyard Ltd & Shri. S. P. Raikar, Director (Operations) besides other dignitaries.
The Vessel will be ceremoniously commissioned on 2nd August 2017 at Colombo at the hands of H.E. Maithripala Sirisena, President of Sri Lanka in the presence of Shri Arun Jaitley, Defence Minister of India, Shri A, K, Gupta, Secretary Defence Production, Ministry Of Defence & RAdm Shekhar Mital Chairman Managing Director, Goa Shipyard Ltd.
CMD thanked Shri K Anpazhakan, IRS, Commissioner of GST, Shri I Jeyakumar, Chairman MPT, Shri. R Manohar, Commissioner of Customs, Government of India for timely support & help in completion of export procedures, State Government and local authorities for providing all the necessary assistance, which has enabled timely departure of the ship to Srilanka.
Rear Admiral SS Ranasinghe, Chief of Staff of Sri Lanka Navy, while addressing the gathering lauded the excellent work undertaken in the shipyard and complemented GSL for delivery of the state-of-the-art ship for Sri Lanka Navy. He further complimented the GSL work force on their skills and proactive attitude, which is an example for others to emulate.