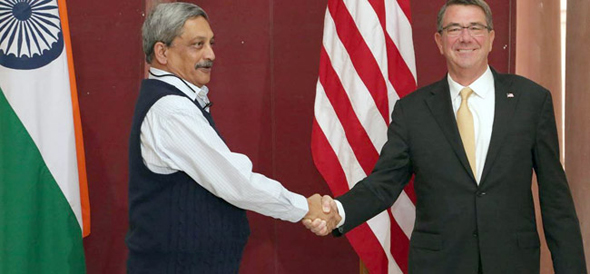 U.S. Secretary of Defense Ash Carter meeting with Raksha Mantri Manohar Parrikar
U.S. Secretary of Defense Ash Carter made an official visit to India at the invitation of Raksha Mantri Manohar Parrikar today, marking the seventh interaction between the two leaders. Raksha Mantri Parrikar and Secretary Carter reviewed the tremendous progress made in bilateral defense ties and discussed the immense promise for the future of India-U.S. security cooperation.
Both sides exchanged views on regional security issues including the threat posed by terrorism. They agreed to continue further strengthening the bilateral counter-terrorism cooperation and underlined the need to ensure that terror groups receive no patronage from any State.
Citing common values and our shared desire for peace and prosperity in the Asia Pacific and Indian Ocean region, the two leaders reflected on the convergence of interests that have driven the strategic and technological "handshakes" between our nations, and led to historic progress in our bilateral relationship.
India-U.S. defense relations in recent years have moved along a remarkable upward trajectory. Marked progress on agreements, including the signing of a Defense Framework Agreement in 2015, have laid a blueprint for collaboration between our defense establishments and enabled deeper cooperation. Joint exchange opportunities — in both personnel and training exercises — have expanded and strengthened our bilateral cooperation. The recent signing of the Logistics Exchange Memorandum of Agreement (LEMOA) has facilitated additional opportunities for practical engagement and exchange.
Today we finalized India's designation as a "Major Defense Partner" of the United States. The designation as a "Major Defense Partner" is a status unique to India and institutionalizes the progress made to facilitate defense trade and technology sharing with India to a level at par with that of the United States' closest allies and partners, and ensures enduring cooperation into the future.
Raksha Mantri Parrikar and Secretary Carter applauded the deepened scope of India-U.S. military-to-military ties, which includes a dramatic increase in defense trade.
With regard to technology, both sides welcomed the tremendous progress achieved under the Defense Technology and Trade Initiative (DTTI) and committed to explore new proposals and other innovative opportunities forco-production and co-development. The emergence of DTTI as an integral and enduring component of India-U.S. security cooperation is a sign that the relationship has matured to a level of strategic importance. DTTI will strengthen India's "Make in India" initiative and both sides committed to convening all new DTTI working groups prior to the next DTTI Group meeting anticipated for February 2017.
Raksha Mantri Parrikar and Secretary Carter agreed that the strong partnership between our countries is lasting and will thrive and grow for decades to come.
US-India Defense Relations Fact Sheet, December 8, 2016
In recent years, the United States and India have engaged in what the Secretary has dubbed a "strategic handshake" between our two countries as the United States policy of rebalance to the Asia Pacific converges with Indian Prime Minister Modi's "Act East" policy. This has been complemented by a "technological handshake" through which we have sought to leverage our respective industrial and technological capabilities to meet mutual security needs.
Strategic Handshake Accomplishments
The United States finalized India's designation as a "Major Defense Partner" today
The United States and India launched a new bilateral Maritime Security Dialogue in April 2016
President Obama and Prime Minister Modi issued the Joint Strategic Vision for the Asia-Pacific and Indian Ocean Region in January 2015
Secretary Carter and Minister Parrikar signed the Framework for the U.S.-India Defense Relationship in June 2015
Secretary Carter was the first U.S. Defense Secretary to visit Indian Eastern Naval Command in Vizakhapatnam in December 2015
Annual naval exercise MALABAR expanded to include Japan as permanent member
India twice participated with a ship in the biennial Rim-of-the-Pacific (RIMPAC) exercise — in 2014 and 2016 — hosted by U.S. Pacific Command after observing the exercise since 2006
Indian Air Force resumed participation in Exercise RED FLAG in Spring 2016
U.S. and India concluded Logistics Exchange Memorandum of Agreement in August 2016
India and United States for the first time conducted a joint peacekeeping course in New Delhi in August 2016, with plans to conduct follow-on iterations of the joint course in 2017
Technological Handshake
In 2012, United States and India launched the Defense Technology and Trade Initiative (DTTI). Under DTTI, the United States and India have launched seven joint working groups to explore collaborative projects and programs and signed two Science and Technology government-to-government project agreements — the Next Generation Protective Ensembles and Mobile Hybrid Power Sources — worth roughly $2 million.
Since 2008, U.S.-India defense trade has increased from roughly $1 billion to over $15 billion, including Indian procurement of 13 Lockheed Martin C-130 Hercules aircraft, 10 C-17 Globemaster and 12 P-8 Poseidon aircraft from Boeing, as well as 22 AH-64 Apache and 15 CH-47 Chinook helicopters. In December 2016, the United States and India signed a deal worth approximately $732 million to provide the Indian Army with 145 M777 Howitzer guns.
In 2012, Tata Advanced Systems Limited (TASL) and Lockheed Martin established a joint venture to produce C-130J Super Hercules airframe components. The 50th empennage was delivered in September 2016. TASL also has a joint venture with Sikorsky, established in 2011, to co-produce S-92 helicopter cabins. In June 2016, TASL and Boeing announced a Hyderabad-based joint venture to manufacture components for Apache helicopters and collaborate on integrated systems development opportunities in India.