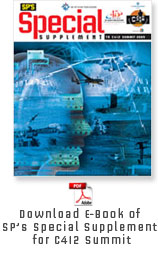 Defence Minister A.K. Antony has urged the private sector to enter the defence industry. Stressing on the need for indigenisation, particularly in the defence sector, Antony said it was imperative for a country of India's size and economy to have a vibrant defence industry. "Given the fact that India is emerging as a major economic player, this is certainly not a desirable state of affairs," Antony said, addressing a seminar on Command, Control, Communications, Computers, Intelligence and Information (C4I2) structures in Delhi on August 10. SP Guide Publications was the presenting sponsor of the two-day C4I2 Summit that witnessed lively deliberations and debate between prominent figures from India and abroad.
"Though our country has a massive industrial infrastructure, we are still a long way from establishing ourselves as a major defence equipment manufacturing nation. Much of the content of our defence requirement continues to be imported," Antony said. The Defence Minister further pointed out that the government has undertaken several policy decisions to correct this imbalance and seeks to promote private-public partnerships. The government has allowed 26 per cent FDI in the defence sector and the offset policy is aimed at encouraging technology inflows and enhance the capability of our defence industrial base, he added.
The Defence Minister emphasised that the private sector's IT prowess could be harnessed for the requirements of the armed forces. "Our country's demonstrated abilities in the field of information technologies should be leveraged towards this objective," he said. "The ability to process information and respond rapidly to changes in conflict situations can make all the difference between success or failure."
Organised by TV18, the seminar provided a platform for brainstorming between armed forces personnel, Defence Research and Development Organisation (DRDO), Ministry of Defence officials, defence equipment manufacturers and related industry professionals from both private and public sectors. The inaugural session was also addressed by Chief of the Naval Staff Admiral Sureesh Mehta, Chief of the Army Staff General Deepak Kapoor, Air Marshal S.C. Mukul, CISC, IDS and Dr Sreehari Rao, CC R&D (ECS), DRDO. The gathering was welcomed by Senthil Chengalvarayan, President of TV18. A vote of thanks was delivered by the Chairman of SP Guide Publications, Jayant Baranwal. E-18 CEO Farhad Wadia delivered the closing remarks.
All matters related to C4I2 were discussed threadbare in five sessions spanning the two days. Some of the prominent speakers were Dr Johan Leander of SAAB Technologies, Col. Patric Koh Lai Hawk of SAP Asia, Dr Vivek Lall, Country Head of Boeing IDS, Ashwani Kumar Dutt, CMD of BEL, S.N. Tandon, VP of C4I Rolta India, Dr V.S. Mahalingam, Director of the Centre for Artificial Intelligence & Robotics, DRDO and Lt General J.P. Singh DCIDS, HQ IDS. Some of the topics discussed were India's network enabled capabilities, C4I2—integration and development, understanding operational requirements of the three services, development of public private partnership, data fusion for C4I and composite intelligence services.
<!— Copy & Pasted from YouTube —>
<!— Copy & Pasted from YouTube —>