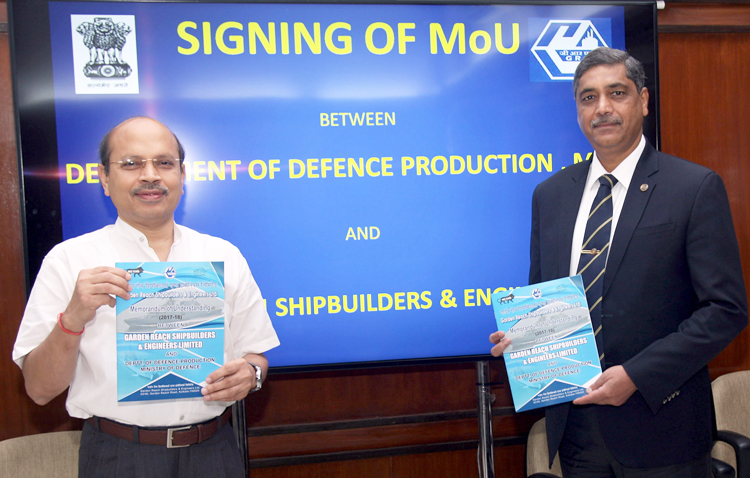 The Secretary (Defence Production), Ashok Kumar Gupta and the CMD of Garden Reach Shipbuilders and Engineers Limited (GRSE), Rear Admiral (Retd.) V.K. Saxena at the MoU signing ceremony, in New Delhi on July 18, 2017
A Memorandum of Understanding (MoU) was signed between Secretary (Defence Production) Ashok Kumar Gupta on behalf of the Ministry of Defence and Chairman and Managing Director (CMD), Garden Reach Shipbuilders & Engineers Limited (GRSE) Rear Adm (Retd) VK Saxena, here today. The MoU details the targets and achievements expected on various MoU performance indicators of the company during 2017-18.
The company has targeted to achieve a turnover of Rs. 1350 crore which is about 40 percent more than actual achievements of last financial year (2016-17).
During the current year, the company planned to spend Rs. 50 crore as CAPEX for further strengthening the infrastructure facilities including improving the design capabilities for construction of P-17A ships.
As part of 'Make in India' initiative of the Government, GRSE has set a target to develop Indigenous Capability and Infrastructure for Assembly, Test & Trial of Marine Diesel Engines, at its Engine Plant at Ranchi, during the current financial year.