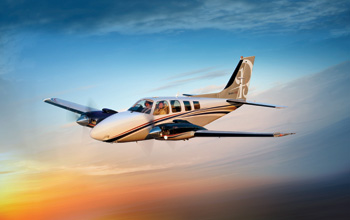 Beechcraft Baron G58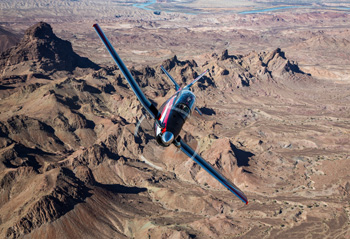 T-6C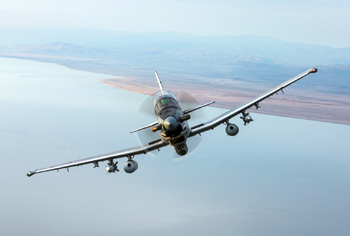 AT-6
Beechcraft, part of Textron Inc. company, showcased the new Baron G58, highlighting ISR (intelligence, surveillance and reconnaissance) platforms at the Paris International Airshow 2015 at Le Bourget. The Baron G58 ISR is a light, twin-engined piston aircraft specifically designed and equipped to perform ISR missions.
Speaking to SP's, Dan Keady, Senior Vice President, Special Mission Aircraft, said outside of AT6 (which was also on display), a multi-mission aircraft system designed to meet the spectrum of needs for the light attack mission, Textron Aviation has 20 products meeting requirements of special mission. "Whether it is for government or commercial operators, we have airborne solutions for critical missions. Beechcraft products are used for air ambulance, surveillance, maritime patrol, flight inspection among other defence and security applications."
Keady said the company has been focussing on special mission aircraft and that it 'can missionise single engine, twin engine, piston engine and jet' as per customer needs. This versatility gives the company an edge as it is in all engine segments.
The Beechcraft AT-6, he said, has been outfitted with state-of-the-art equipment such as the L-3 Wescam's MX-15Di sensor suite; Lockheed Martin's A-10C-based mission system and CMC Esterline's mission modified cockpit 4000. Besides, the AT-6, Beechcraft had on display a King Air 350ER, Grand Caravan EX and Baron G58 ISR.
The Baron G58 ISR, he said, has the highest dash speed in its class as to go on surveillance missions at short notice. The aircraft can support six hour missions with its fuel/payload. Beechcraft has long served the ISR markets with its range of King Air turboprops and first introduced a version of its twin-engine piston Baron G58 aircraft with ISR capabilities. The company delivered the first Baron G58 with an ISR package in 2013 to the Fuerzas Unidas de Rápida Acción (FURA), an agency within the Puerto Rico Police Department that uses the aircraft for law enforcement surveillance missions within the region.
The Baron G58 ISR package includes a FLIR 230-HD electro-optical/infrared (EO/IR) camera system, an operator's console that houses the mapping/mission management computer, a recorder and a multi-band communications radio system and data link for special mission operators. The 230-HD EO/IR camera has the ability to virtually see both day and night, over land and water, in both good and poor weather.
Indian scenario
Talking about the Indian market, Keady said that the growth has been 'flat' and the company was hoping that the present government would bring in 'friendly import regulations'. Textron, he said, has been working with various State governments, particularly in the North East where requirements of such aircraft seem to be coming up. The strategy, he said, is to understand the requirements of the state government and then penetrate the market. Its recent win has been in Uttar Pradesh where the government has purchased a King Air 250. Beechcraft sees opportunity in surveillance in India. The King Air 350 ER, he said, had a 270 degree search radar which could be used for maritime patrol and this aircraft had the capability to drop light crafts. The Grand Caravan EX could be deployed for cargo operations and had capabilities to operate on dirt runways.
Military aircraft delivered
Beechcraft announced at the show that it had delivered four T-6D military aircraft to the United States Army. "We are pleased that the U.S. Army is joining the U.S. Air Force, U.S. Navy and countries around the world in trusting the T-6 to prepare and support their combat flying forces," said Russ Bartlett,Ppresident, Beechcraft Defense Company. "This versatile platform comprised of four aircraft will be used in a variety of training and mission support applications."
The Beechcraft T-6D is a hybrid of the T-6B and T-6C trainers. It features new standard avionics, featuring integrated mission computers, up-front control panels, multi-function displays and a Heads-Up Display. The Army T-6D aircraft have a hard point wing to allow carriage of up to six wing-mounted pylons and two external fuel tanks.
Segment leadership
More than 7,300 Beechcraft King Air turboprops have been delivered to customers around the world since 1964, making it the best-selling business turboprop family in the world. The worldwide fleet has surpassed 60 million flight hours in its first 50 years, serving roles in all branches of the US military, and flying commercial missions ranging from traditional passenger and cargo transport to electronic and imagery surveillance, air ambulance, airway calibration, photographic mapping, training and weather modification.