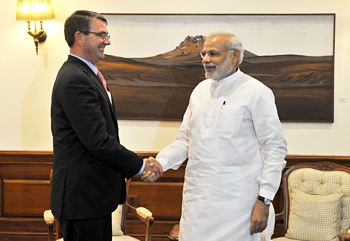 The US Defence Secretary, Ashton Carter calls on the Prime Minister, Narendra Modi, in New Delhi
The US Defence Secretary, Ashton Carter calls on the Prime Minister, Shri Narendra Modi, in New Delhi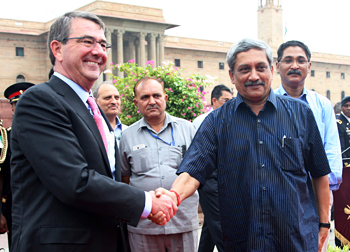 Defence Secretary of US, Dr. Ashton Carter being received by the Union Minister for Defence, Manohar Parrikar, in New Delhi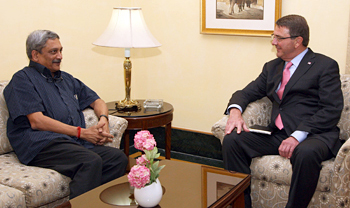 The Union Minister for Defence, Manohar Parrikar and the US Defence Secretary, Ashton Carter at One to One Talk, in New Delhi
June 3, 2015: During an official visit to India, Dr. Ashton Carter, the United States Secretary of Defence, met Defence Minister Shri Manohar Parrikar and called on Prime Minister Shri Narendra Modi. He also met the External Affairs Minister Smt. Sushma Swaraj and the National Security Adviser Shri Ajit Doval. Before arriving in Delhi, Secretary Carter also visited the Eastern Naval Command.
Defence Minister and Secretary Carter discussed the India-U.S. defence relationship, and the broader India-US Strategic Partnership, and reaffirmed their commitment to expand and deepen the bilateral defence relationship. The two also reviewed the existing and emerging regional security dynamics.
Defence Minister and Secretary Carter signed the 2015 Framework for the India-US Defence Relationship, which builds upon the previous framework and successes to guide the bilateral defence and strategic partnership for the next ten years. The new Framework agreement provides avenues for high level strategic discussions, continued exchanges between armed forces of both countries, and strengthening of defence capabilities.
The Framework also recognizes the transformative nature of the Defence Technology and Trade Initiative (DTTI). Both India and the United States have finalized two project agreements for joint development of Mobile Electric Hybrid Power Sources and the Next Generation Protective Ensembles.
In addition, building on the areas of agreement during President Obama's visit to India in January 2015, Defence Minister and Secretary Carter agreed to expedite discussions to take forward cooperation on jet engines, aircraft carrier design and construction, and other areas. The two also agreed to pursue co-development and co-production projects that will offer tangible opportunities for American defence industries to build defence partnership with the Indian industries including in manufacturing under 'Make in India'.
Defence Minister and Secretary Carter agreed to continue their efforts to enhance bilateral cooperation in areas of mutual interest, such as maritime security and knowledge partnership in the field of Defence.
Secretary Carter thanked Defence Minister for the help extended in the search for the US helicopter which went missing during the relief operations in Nepal.
Secretary Carter invited Defence Minister to visit US for the next meeting. Defence Minister accepted the invitation in principle.

The Union Minister for Defence, Shri Manohar Parrikar and the US Defence Secretary, Mr. Ashton Carter
exchanging the signed document of the 2015 framework for the India — US defence relationship,
in New Delhi on June 03, 2015. The Defence Secretary, Shri G. Mohan Kumar is also seen.
Photo Credit: PIB