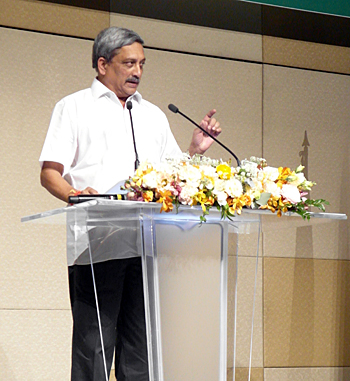 The Union Minister for Defence, Shri Manohar Parrikar addressing the India-Korea Defence Forum, in Seoul on April 16, 2015
Technology giant South Korea is emerging as a major player in the development and production of defence systems and platforms. It is high time that India develops close and cooperative relationship with the country's defence sector. Indian defence ministry officials have been looking into the possibility of strengthening defence relations since last one decade, but concrete action on the ground is yet to be seen. South Korea is considered to be very strong in shipbuilding. Though India has received some assistance, India needs to extensively tap the Korean advanced capabilities, especially in warship construction programme.
With the impending reform in foreign investment policy in the nascent Indian defence industry, the Korean defence industry needs to be made aware of the possibilities in India. With this aim, when the Indian Defence Minister Manohar Parrikar visited Korea in mid April, he told them of the US$ 250 billion Indian defence sector market arising in the next one decade and how South Korea can take advantage of the reformed Indian defence sector, the face of which is going to dramatically change in the years to come.
Though India and South Korean defence authorities have been interacting since early part of the last decade and a few Memorandum of Understandings (MoUs) were reached between the two sides from 2006 onwards, the solid foundation for India-South Korea defence was laid in 2010 during the visit of the then Defence Minister A K Antony. Five years later the present Defence Minister Manohar Parrikar has tried to build on this foundation, many chambers of cooperation.
During his April 16-17 visit to South Korea Parrikar was received by the top leadership of South Korea which included the Korean Defence Minister Han Min Koo, Admiral Choi, Chairman Joint Chief of Staff, Minister Chang of the Defence Acquisition Programme Administration (DAPA), and the National Security Advisor Kim Kwan-Jin. The two sides discussed existing bilateral defence relations. Both sides recognized that the relationship was one in which there are no obstacles to realizing the significant potential for military to military ties.
Both the countries have enjoyed a long term friendly and diplomatic relations which was further strengthened by signing of the MoU for defence cooperation in 2006. This was followed by another MoU on cooperation between the Coast Guards and in May 2007, the two sides held their first ever consultations on "matters of mutual interest" and agreed to strengthen cooperation in training of armed forces personnel, exchange of visits etc. After these important high level meetings, a senior defence official quoted Minister Chang (DAPA) as saying that their shared perspectives on regional and international issues created a firm foundation for cooperation in defence production, research and development. Parrikar emphasized that in recognition of the importance India attaches to Korea as a partner, he had chosen to make Korea the destination for his first visit under the "Make in India" campaign. Both sides agreed to enhance their efforts to develop mutually-beneficial partnerships in defence production. With the Korean National Security Advisor Kim, the two sides discussed regional and global issues of peace and security. They also discussed ways of intensifying bilateral cooperation in security and defence and considered ways to enhance these ties in a manner more commensurate with close strategic partners. During his interaction with Defence Minister Han, Parrikar focussed in particular on ways of expanding contact between the defence establishments on both sides, and ways of building deep partnerships between Indian and Korean defence industries.
Both India and South Korea realize that it will be a win-win situation for Indian and South Korean defence industry and also the Indian armed forces, which can afford to rely on quality Korean systems, if India encourages South Korean defence companies to invest in India. South Korean consumer and auto companies have very good experience of working in India and the Korean defence companies can learn a few lessons from them.
Parrikar was accompanied by the Defence Secretary and senior Indian military and civilian officials from the Ministry of Defence and an Indian defence industry delegation coordinated by the Federation of Indian Chambers of Commerce and Industry (FICCI) which comprised top officials of Goa Shipyard, Larsen and Toubro , Tata Power, Bharat Forge , Micron Instruments ltd , Saertex India ltd etc.
Parrikar also co-chaired the India-RoK Defence Ministerial meeting with his Korean counterpart Gen. Han Min-Koo on April 17. They held extensive discussions on the entire gamut of the bilateral defence relationship and regional and global issues of mutual interest, and in particular identified ways to upgrade the defence relationship.
During the visit of Antony in 2010 the two sides had signed an MoU between the DRDO and DAPA of South Korea, with the aim of identification of futuristic defence technology and areas of mutual interest and pursuing R&D works in both the countries. It also envisaged co-development and co-production of defence products with Indian industry through DRDO. Marine systems, electronics and intelligent systems etc were identified as priority areas. India has expressed its keenness to tap South Korea's strong capabilities in ship building technology and missile development besides host of other strategic land systems.
To further boost strategic ties, India and South Korea in December 2014 had agreed to enhance cooperation in sectors like shipbuilding, electronics, defence production, infrastructure and energy besides outlining mutual interest in areas of nuclear energy and cyber security. This strategic cooperation will further help the industry of both the countries to come forward for mutually beneficial business decision leading to co-development and co-production of strategic products as envisaged in the 'Make in India' call of the Prime Minister Narendra Modi.
Reports suggest that Parrikar has broached the possibility of getting more specialized amphibious assault ships, called the Landing Platform Docks ( LPD). India wants to indigenously build four such warships, which will be the biggest ever made in the country other than the under construction 40,000 tonne INS Vikrant. The Chief of Goa Shipyard Rear Admiral Shekhar Mittal who was part of the delegation is reported to have discussed the idea with his counterparts from the Korean shipyards.