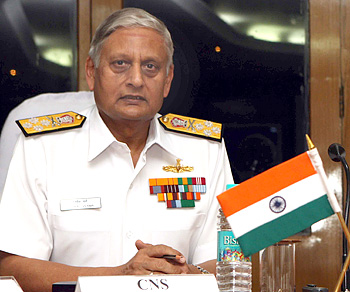 Admiral Nirmal Verma, Chief of the Naval Staff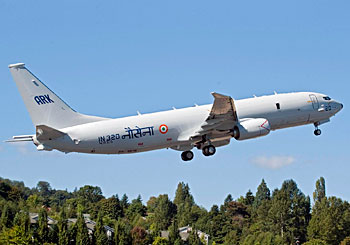 Boeing P-8I aircraft during its first flight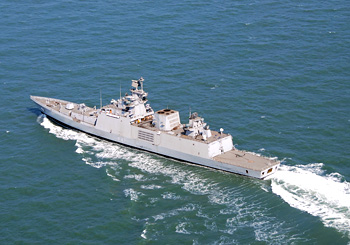 INS Shivalik during sea acceptance trials
India will be spending at least an additional $50 billion for its naval build-up from 2012 to 2017. Outgoing Navy Chief Admiral Nirmal Verma disclosed that the government has granted Acceptance of Necessity (AON) for naval acquisitions worth Rs. 2,73,000 cr (approximately $ 50 billion).
This makes India's naval modernisation programme one of the world's largest naval build-ups. The $50 billion approvals include the acquisition of 49 new warships, in addition to the 46 which are already on order, as part of the Maritime Capabilties Perspective Plan 2012-2017.
The tempo for the build-up has been set by the conclusion of 191 naval contracts worth Rs 92,069 crore over the last three years, which have also seen the induction of 15 new ships, including top-of-the-line warships like the follow-on to the Talwar class and the indigenously-built Shivalik class destroyers.
"Over the next five years, we expect to induct ships and submarines at an average rate of five platforms per year," Admiral Verma detailed at his farewell press conference in New Delhi, calling upon public and private shipyards in India to scale up production and meet global standards of delivery. 43 of the 46 ships and submarines at present under construction for the Indian Navy are being built at Indian shipyards. Admiral Verma wants delivery of ships in the Delhi class category speeded up to three years.
The 49 new ships and submarines approved for the Navy include seven more follow-on ships of the Shivalik Class under Project 17-A. These are to be built at both MDL, Mumbai and GRSE, Kolkata. Contracts are likely by the end of the current fiscal. The construction of six more submarines under Project 75 (I) is expected to be green-flagged very soon.
Two mine hunters are to be built in South Korea, and subsequently six more at Goa Shipyards under transfer of technology. RFPs for four LPDs and 16 shallow water anti-submarine warfare ships, two diving support vessels and one survey training ships will be issued in the coming months. Also, contracts for four water-jet FACs to be built at GRSE, Kolkata, and one more training ship to be built at a private shipyard are likely to be concluded during the current fiscal. Options for a Deep Submergence Rescue Vessel (DSRV) to ensure the safety of submarine operations are under technical evaluation.
In addition to the eight P-8I Long Range Maritime Patrol (LRMR) aircraft due to be inducted starting 2013, eight Medium Range Maritime Reconnaissance (MRMR) aircraft are also planned for induction. The Indian Navy is also in the market for more Unmanned Aerial Vehicles to further augment its surveillance and reconnaissance capability at sea.
On the rotary wing front, besides the upgrade of the Sea King 42B and Kamov-28 fleets, and new Multi-role Helicopters (MRH) for fleet ships, the Naval Utility Helicopter is also planned for induction by 2016 and the Request for Proposal is imminent.
To drive home the point that India's naval build-up is firmly on track, Admiral Verma pointed out that Navy has fully spent its capital budget over the past three years. The Navy is the only service whose expenditure ratio is loaded in favour of modernisation. "Today, our Capital to Revenue ratio stands at a very healthy ratio of 68:32," the Navy Chief said.
There's also a parallel effort to upgrade and development infrastructure to support the build-up. Phase I of Project Seabird at Karwar was completed last year and the Navy is in the final stages of getting CCS approval for Phase IIA.