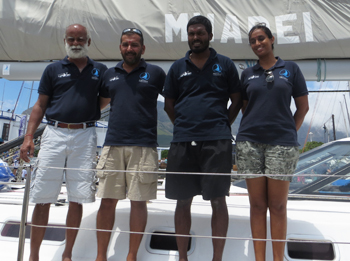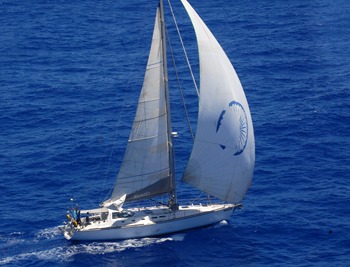 Indian Naval Sailing Vessel (INSV) Mhadei was flagged off from Cape Town on January 4, 2014, to participate in the Cape2Rio Yachting Race 2014. Skippered by the highly decorated Commander Dilip Donde, the first Indian solo circumnavigator Mhadei has a crew of four, including Commander M.V.V. Satish, the trainee skipper, Commander TGS Bedi and, for the first time, a lady officer Lieutenant Commander Shweta Kapur.
This is a beginning of a new chapter in India's maritime hiStory as an Indian lady is undertaking ocean sailing half way across the globe. The race that has begun from Cape Town, South Africa will terminate at Rio-de Janerio, Brazil and has over 30 boats participating.
On completion of the race, INSV Mhadei will shape its return leg to Goa, with a crew turn around at Rio and at Cape Town. One lady officer will be part of the crew in each leg of the voyage. By the time Mhadei returns to Goa the Indian Navy would have trained three lady officers in the art of ocean sailing. These lady officers will form the core team of a prospective 'all-women crew' for a circumnavigation of the globe. A subsequent solo circumnavigation of the globe by a lady officer is also planned.
INSV Mhadei set sail from Goa, India on November 25, 2013, and arrived in Cape Town on December 27, after an arduous journey of over 5,000 miles. It may be recalled that Mhadei is an Indian-built yacht that was delivered to the Indian Navy in February 2009 by Aquarius Fibreglass at Goa. In the four years since, Mhadei has logged over 80,000 nms, has been part of two solo circumnavigations; first in 2009-10 under Commander Dilip Dhonde, and then non-stop in 2012-13 under Lieutenant Commander Abhilash Tomy. The 17.1 metre, 23 tonne boat built of wood core fibre glass has a 25 metre mast. It has five sails — one each of mainsail, Genoa, Jib, two Gennakers and a Storm Jib. Mhadei's association with the Mother City has been long. Much of her equipment, including mast and rigging, sails, etc. have been sourced from Cape Town and have stood her in good stead during her circumnavigations.
Lieutenant Commander Shweta Kapoor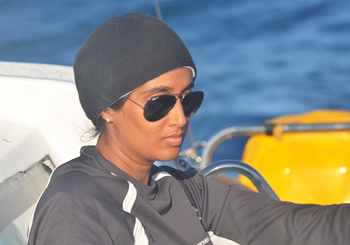 Lieutenant Commander Shweta Kapoor, the daughter of an Indian Naval Captain, joined the Navy in Aug 2007. An adventure sports enthusiast, she has often volunteered for adventure activities.Besides scuba diving, Shweta enjoys sky diving and open sea swimming, apart from serious sailing. Shweta volunteered for this historic occasion making her a pioneer among women in India to participate in this gruelling Trans-Atlantic Ocean race.
Speaking on her experiences over the past month, Shweta says "It was amazing to sail across the Indian Ocean, and so far the gods have been kind. We have had to put up with a great deal of rolling and pitching, but I have learnt to adjust and am okay. It's good that I am with three experienced officers who keep teaching me the ropes at all times. I guess that by the end of this voyage, I would have picked up a fair bit of experience." In her messages to her family and friends, she reiterates that her love for adventure surpassed any desire for a fat corporate salary. She looks forward to the race and scaling even further heights in the future with her newly acquired ocean sailing skills.
A postgraduate in physics, she has been part of the Indian Navy's marching contingent for the Republic Day parade thrice — in 2009, 2012 and again in 2013, the year it won the best award in its category. The military is in the Kapoor blood — Shweta's younger brother Sumit Kapoor is a Lieutenant in the Indian Army.