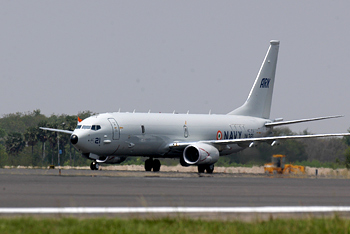 P-8I makes its maiden landing at INS Rajali
The first of the eight Boeing P-8I long-range maritime reconnaissance and anti-submarine warfare aircraft of the Indian Navy arrived at Naval Air Station Rajali, Arakkonam, Tamil Nadu, on May 15. Vice Admiral Bimal Verma, Chief of Staff, Eastern Naval Command, presided over the induction ceremony that was attended by Commodore Puneet Bahl, Commanding Officer, INS Rajali, representatives from the Command and Integrated Headquarters and Ministry of Defence (Navy).
The P-8I aircraft, based on the Boeing 737-800 (NG) airframe, is the Indian Naval variant of the P-8A Poseidon that Boeing has developed for the US Navy. The aircraft is equipped with both foreign as well as indigenous sensors for maritime reconnaissance, anti-submarine operations and electronic intelligence missions. The aircraft is fully integrated with state-of-the-art sensors and highly potent anti-surface and anti-submarine weapons.
These LRMR/ASW aircraft have been procured under the contract signed in 2009. The Indian Navy is in process of acquiring an additional four P-8I aircraft under the option clause. The induction of the P-8I aircraft into the Indian Navy would greatly enhance India's maritime surveillance capability in the Indian Ocean Region.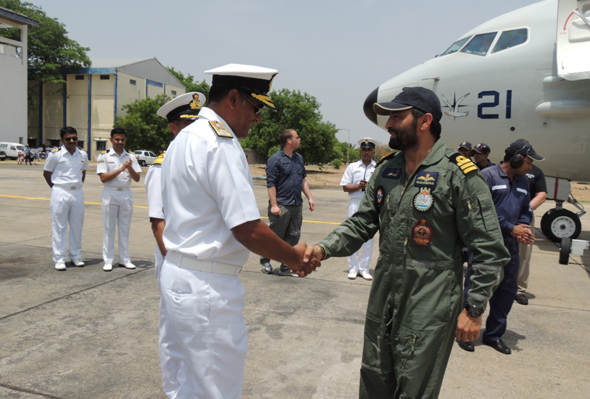 Vice Admiral Bimal Verma, Chief of Staff, Eastern Naval Command receives Commander H.S. Jhajj, Officer-in-Charge, P-8I cell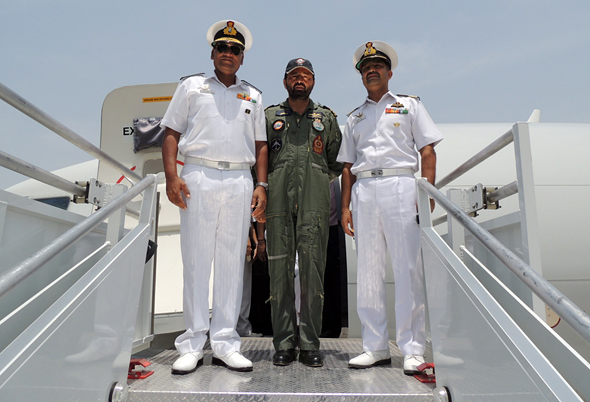 Vice Admiral Verma with Commodore P.K. Bahl, CO Rajali and Commander H.S. Jhajj
Vice Admiral Verma with Indian aircrew and the American team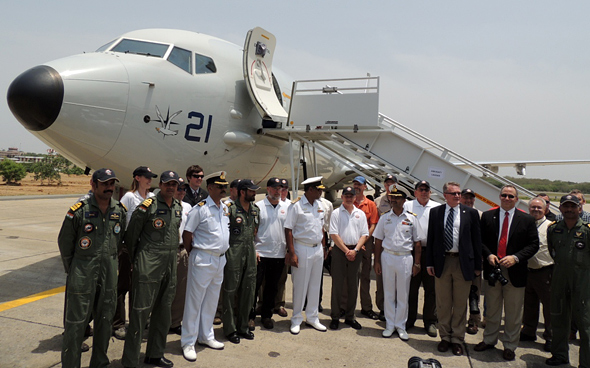 Indian and American teams with the aircraft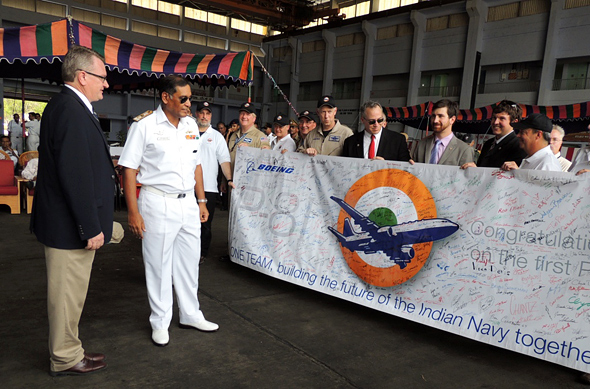 The P8-I delegation presenting a banner signed by his team members to Vice Admiral Verma